ROYAL NAVY SOUTH ATLANTIC COMMAND - ROYAL NAVY A B 36 SHIPS
12)ARK ROYAL (ACFT CARRIER)
---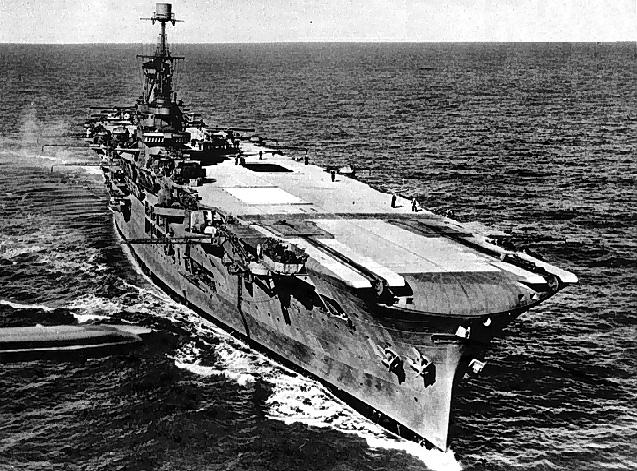 ---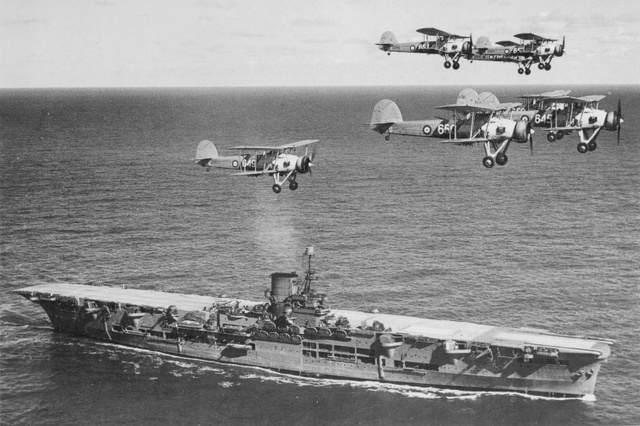 ---
Pictures. www.wikipedia.org
---
---
Completed: 1937
---
Displacement: 27,720 tons (full loaded)
---
Length: 800 ft
---
Beam: 94,8 ft
---
Draught: 27,8 ft
---
Propulsion: 6 Admiralty 3-drum boilers, 3 Parsons geared turbines; 102,000 shp
---
Speed: 31 kts
---
Complement 1,580
---
Armament: 16 × 4.5 inch (114 mm) guns (8 × 2), 32 × 2 pounder (1.5 in) Pom-poms (4 × 8), 32 × .50 calibre (12.7 mm) machine guns (8 × 4)
---
Armour: 4.5 inches (110 mm) belt, 3.5 in (89 mm) deck over boiler rooms and magazines.
---
Aircraft carried: 50/60, 1941 36 Fairey Swordfish, 18 Fairey Fulmars.
---
Fate: Sunk 14 Nov 41 after being torpedoed by U-81 on the previous day some 60 miles from Gibraltar.
---
Ark Royal in south Atlantic Hunting the Graf Spee
---
In October 1939 Ark Royal was redeployed to Freetown to operate off the African coast in the hunt for the German commerce raider Graf Spee. The carrier was assigned to Force K, and sailed with the battlecruiser HMS Renown to the South Atlantic. On 9 October, aircraft from Ark Royal spotted the German tanker Altmark, which supplied Graf Spee. The tanker was disguised as the US vessel Delmar, which fooled the British into passing her by.
---
On 5 November, Ark Royal captured the German merchant SS Uhenfels, which was attempting to reach Germany. The ship was later taken into British service as a cargo ship and renamed Empire Ability. Several neutral merchant ships were also spotted by the carrier's aircraft, twice causing crews to believe they were under attack and abandon ship. A note explaining the situation was dropped in a bag to a Norwegian vessel's crew, and they re-boarded; an attempt to repeat this exercise with a Belgian crew failed when the bag was dropped down the ship's funnel.
---
By this time, Graf Spee had put into Montevideo to repair damage received during the battle of the River Plate. Several British cruisers followed the raider, and patrolled the harbour entrance while reporting Graf Spee's position to the fleet. Ark Royal and Renown were dispatched to join the British ships outside the harbour, but as they were 36 hours away, the British naval attaché came up with a plan to make the Germans believe that the two capital ships had already arrived.
---
An order for fuel for Ark Royal was placed at Buenos Aires, 140 miles (230 km) west of Montevideo. This was leaked to the press, passed on to the German embassy in Montevideo and given to Graf Spee's captain, Hans Langsdorff This contributed to Langsdorff's decision to scuttle his ship.
---
---
She was torpedoed on 13 November 1941 by the German submarine U-81 and sank the following day. Her sinking was the subject of several inquiries; investigators were keen to know how the carrier was lost, in spite of efforts to save the ship and tow her to the naval base at Gibraltar. They found that several design flaws contributed to the loss, which were rectified in new British carriers.
---
---
Her wreck was discovered by a BBC crew in December 2002, approximately 30 nmi (56 km) from Gibraltar. Pictures by www.hispanismo.org
---
OTHER ARTICLES YOU MAY FIND SIMILAR