U.S. NAVY BASES IN BRAZIL - U.S NAVY BASES
13)USN NAF IPITANGA
---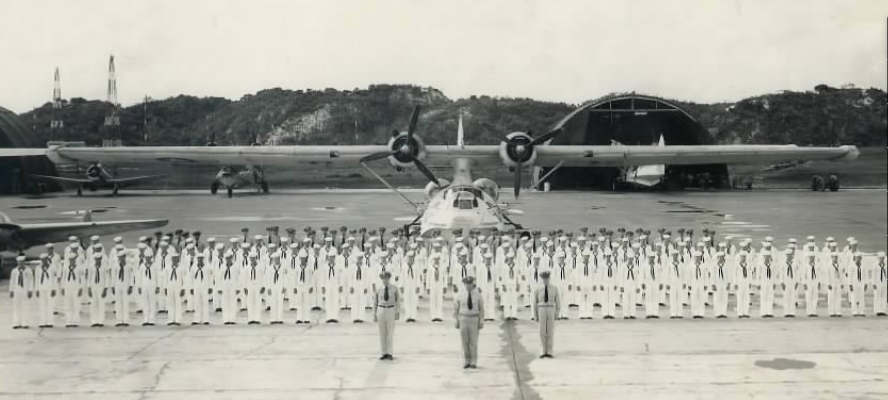 ---
Large view above from the tarmac at Ipitanga Airfield - Bahia with a personnel of US Navy. A Catalina flying boat is seen behind.
---
---
Above, a view from one PBY-5 Catalina from VP 94 taxiing to the ramp (right) where a C-47 Douglas is seen.
---
Ipitanga consisted of a single airstrip, whose seward and upwind end was bordered by 300 foot high sand hills. The Ipitanga river partially bounded the landing field, and swamps existed on nearly all sides of the base. Prevailing winds blew over the the field from the southeast and east, temperatures averaged 77 degrees, and the annual precipitation was about 77 inches with the weather like Recife. Transportation between the field and quarters was difficult, and travel from the base to Salvador the capital of Bahia involved a tortuous thirty-mile road of mud.
---
Salvador was smaller and more picturesque than Recife with about the same recreational and social facilities. A considerable Navy population was already present at Bahia assigned to the Operating Base. However, except for a handful of officers previously detailed to arrange for base facilities, Squadron VB-129 was the first Navy group at Ipitanga (previously used solely by the Army's Air Transport Command and Pan American Airways.)
---
The headquarters squadron was established without benefit of even a nose hangar and the first Base radio was the Bendix transmitter in the plane of the Squadron Commander, Jamie E. Jones. The base had no recreational facilities. However, it was not long before some buildings were transformed into an officer's club and an enlisted man's club, and a warehouse was converted into a movie hall. Aditionally, ground was found for a morale-boosting softball diamond. All hands ate at general mess, which could only provide consistently poor fare, largely due to the difficulties of supply and the inadequacy of existing cooking facilities. The off-duty highlight of duty in Brazil was when VB-129 was able to spare one plane crew at a time of five day leave in Rio de Janeiro. Transportation was provided by the Naval Air Transportation Service (a branch of the U.S. Navy from 1941 to 1948) and the Army's Air Transport Command.
From USN Cdr. David D. Bruhn Ingram's Fourth Fleet Nov 2017.
---
Later, overall conditions at Ipitanga went on a much better degree. It became more popular than previous days with everyone attached to the squadron for a number of reasons. The climate has been excellent and flying conditions just as good. The barracks accommodations turned to be much more comfortable though slightly overcrowded and the food improved in quality being always plentiful. Recreation has been centered almost entirely in athletics such as volleyball, basketball, softball, baseball, tennis, handball, and swimming. When a detachment was ordered to Santa Cruz, frequent ferry trips were necessary. The resulting liberties in Rio made Ipitanga more popular than ever.
---
---
Above. Brazilian Air Force also had a small detachment at Ipitanga with their crews and three aircrafts. They flew the versatile Twin engined Patrol bomber Lockheed PV2 Harpoon and PV1 Ventura.
---
FOLLOWING PAGES ON THE SAME ARTICLE