U.S. NAVY BASES IN BRAZIL - U.S NAVY BASES
10)USN NAF FORTALEZA
---
---
Fortaleza, Pici Field, was made operational on 20/Jun/43. A small US Navy detachment garrisoned that important support base under command of Corvette Captain Harold Swensen. He was a seasoned war pilot and had gotten combat experience during the fierce Japanese attacks on the Philippines. The photo above obtained from Navy blimp K-84.
---
A great deal of credit must be given to him in his effort to raise and develop the base until it became fully operational to receive VP-127 Squadron under Corvette Cap. William Genter, who was sent there from Natal leading a wing of 5 PV-1 Venturas. In Aug 1943, the first echelon of squadron VB-130 arrived at that base sent in replacement of VB-127. It was commandeered by Corvette Cap. Prince.
---
A few months later, one squadron of this unit was sent to Sao Luis NAF. In April 1944, Squadron VB-130 was sent back to Norfolk as an element of FAW-5.The USAAF had established an agreement with the Brazilian government that allowed them access to Pici Field at Fortaleza in early 1943. In August 1943 the U.S. Navy ordered VB-130 (a landplane squadron flying the PV-1 Ventura) to Pici Field where they shared the facilities with the Army.
---
NAF Fortaleza was officially established on 26 November 1943. It supported ASW patrols in offshore waters in conjunction with the seaplane squadrons based at nearby NAS Port-of-Spain, Trinidad. Several other squadrons were eventually rotated through Pici Field before being assigned further south to NAF Recife, Brazil.
---
The NAF portion of the facility was disestablished on 30 June 1945. NAF Fortaleza, Brazil—The northern coast of Brazil provided ideal locations for the development of ASW facilities during WWII to cover the vital South Atlantic shipping routes. Initial naval air patrols at the existing Army installations at Pici Field, Fortaleza, in the state of Ceara in northeastern Brazil, began in March 1943. However, operational experience quickly indicated the need for additional expansion. Consequently, further work began on 14 April 1943 Pici Field. Both Army and Navy flight operations continued throughout the construction.
---
VB-130 arrived at the facility in August 1943. NAF Fortaleza was officially established on 26 November 1943 operating in conjunction with seaplane patrols from Port of Spain, Trinidad and ASW patrols from NAF Fortaleza to cover the vital shipping routes off northern South America. NAF Fortaleza was disestablished on 30 June 1945 At Fortaleza was built a new strip, known as NAF Pici Field, Fortaleza, Brazil (initials for Post of Command), westbound of the town, with work being started in July, 1941.
---
The first landing was in February, 1942, a lost B-17 during a ferry flight from Belém to Natal. Crossing winds made this strip not proper for heavy traffic, so in July, 1943, they begun constructing another air field beside that one of the Brazilian Air Force Base. This turn was a bigger one and was called "Adjacento Field" at an area known as "Cocorote" about 4 miles south of the city, mostly operated by the USAAF (1155th Army Air Force Base Unit) and ATC.
---
---
Above one view of several barracks erected at Adjacento Field Fortaleza.
---
NAF Pici Field, Fortaleza, Brazil remained with minor activity, mainly for the US Navy, receiving VB-127 and VB-130 planes (VB up to Oct.1st, 1944, when changed to VPB designation) and K-84, a detached blimp of ZP-41 based at São Luiz.
---
At the end of WW II (after VB-130 transferring) NAF Pici Field, Fortaleza, Brazil, hold an USAAF C-47 course (Trade Wing Squadron) for prepare aviators in order to provide White and Green Plans (take back home American troops by air) and by August 1945, Navy K-84 took off definitely .
---
When construction of Navy installations to support the operation of two blimps and six patrol bombers was started at Fortaleza on April 14, 1943, the program provided for a paved runway, 5,000 feet by 200 feet, and housing and fueling facilities for the Army.
---
Naval construction, accomplished by a management contract let by the District Army Engineer, required nine months for completion. In addition to personnel facilities, a helium-storage building, four fuel tanks with a total capacity of 20,000 gallons, a paved parking area, a nose hangar, and a blimp take-off mat were constructed. All facilities were used to capacity after completion.
---
Source: Dictionary of US Naval Aviation Squadrons
---
---
K-84 in Fortaleza, Brazil, in October 1943 after its trip from Lakehurst, New Jersey. Source: National Archives
---
---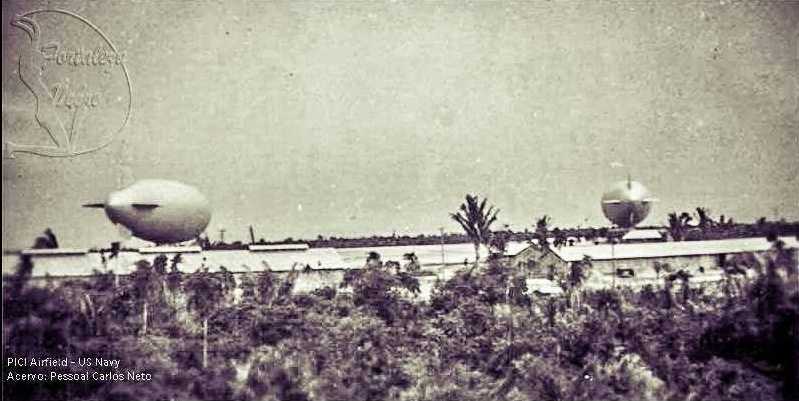 ---
View of Pici Field with two US Navy Blimps moored circa 1944. Picture from the collection of Carlos Neto.
---
---
Above crewmembers of one B-24 "Thunder Mug" at Fortaleza Pici Field during a stop bound for African front. At the bottom the control tower can be seen.
---
---
A group of B-24 seen over the south Atlantic after a stop for replenishing at Fortaleza.
---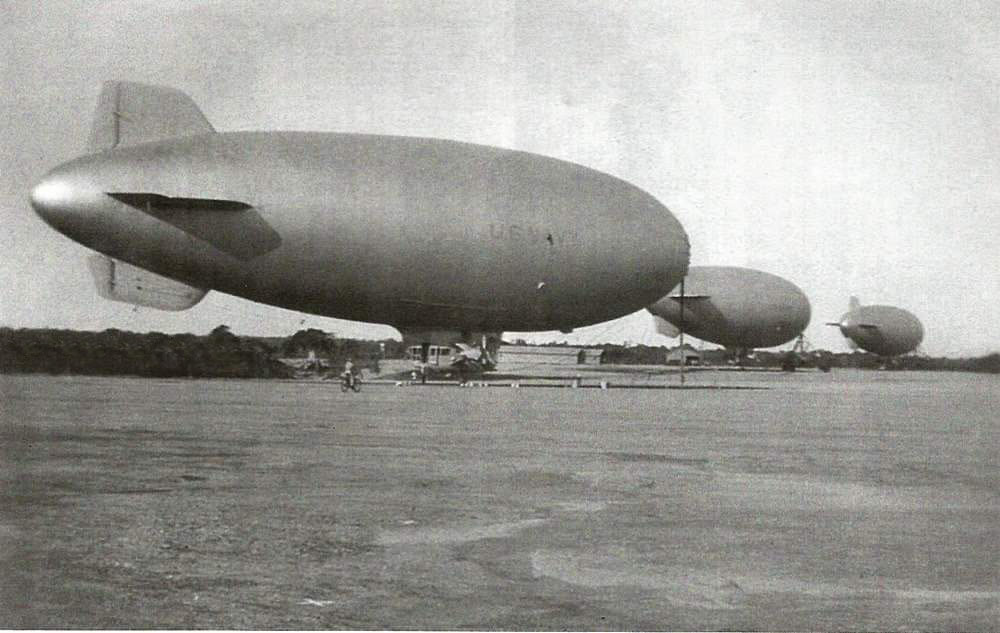 ---
View of three Navy blimps moored at Pici Field circa 1943.
---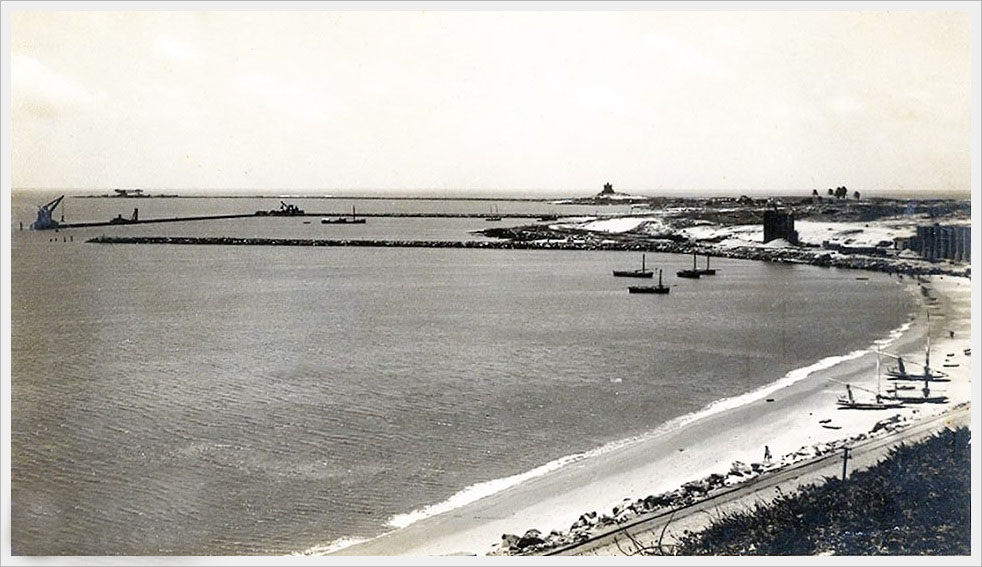 Rare view of the Mucuripe Harbor Fortaleza circa 1944.
---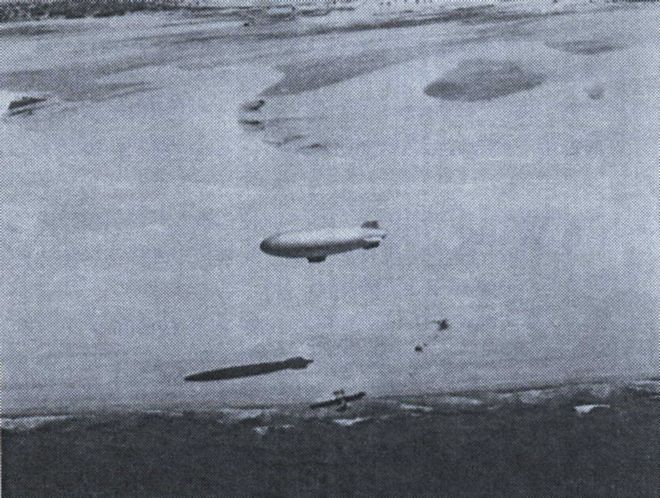 ---
US Navy blimp is seen over the northern coast of the State of Ceara. Dozens of Merchants were sunk in these waters.
---
---
Ideal Club used by USO to provide fun and relaxing moments to the American troops based or in transit by Fortaleza
---
FOLLOWING PAGES ON THE SAME ARTICLE