SURVIVORS ADRIFT IN SOUTH ATLANTIC * - SURVIVORS
15)SURVIVORS USA
---
---
---
Three survivors from the William Boyce Thompson were picked up by the Brazilian escort vessel CS-55 Jaguarao and landed at Fortaleza on 9 July. The 14 men in one of the remaining two lifeboats landed at Fortaleza on 9 July and the other boat landed at Cascavel, on the coast of Ceará , Brazil the same day. In all they numbered 53 survivors
---
---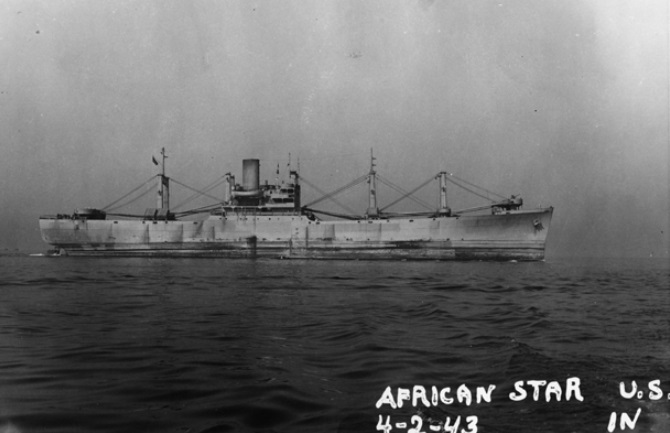 ---
On 13/Jul/43 Brazilian destroyer Maranhao rescued 86 survivors from US merchant SS African Star. This ship had been sunk on the previous day by U-172 in pos. 25º46"S 40º35"W. The survivors had a radio transmitter and signals were picked up by spotting aircrafts. 37 hours after sinking all them were rescued and taken to Rio de Janeiro. There was only one loss when an armed guard was thrown overboard and drowned.
---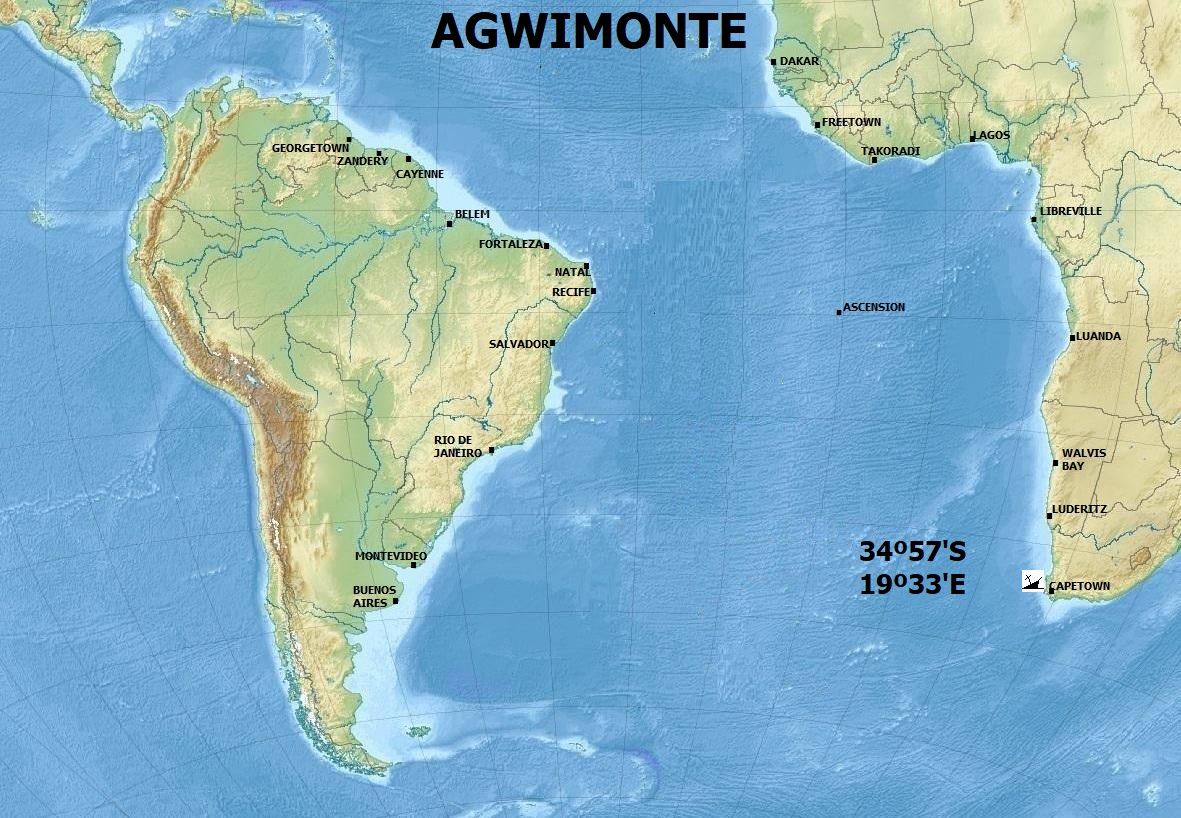 ---

---
The South African armed trawler HMSAS Vereeniging (T 72) picked up 61 survivors from a lifeboat and two rafts and landed them at Port Elizabeth, South Africa on 30 May. The other two boats were sighted by a South African Army aircraft in the afternoon of 29 May. An Army crash boat rescued 8 occupants of those boats 18 hours after the attack and landed them two hours later at Gordon Bay.
---
---
---
The master, the armed guard commander, the 2nd mate, the radio operator, one armed guard and 24 crew members left the ship on a raft. They spent 39 days at sea before making a landfall south of Cayenne French Guyana 2000 miles away) on 5 Jan, 1943. 21 crewmembers were picked up by the Spanish steam merchant Cilurnum on 13 December and were brought to Las Palmas, Canary Islands.
---
---
---
Alcoa Mariner seen as former New Windsor. The lifeboats with 54 survivors were sighted by a US Army patrol aircraft and six hours later the Canadian motor merchant Turret Cape rescued all hands and landed them in Georgetown.
---
---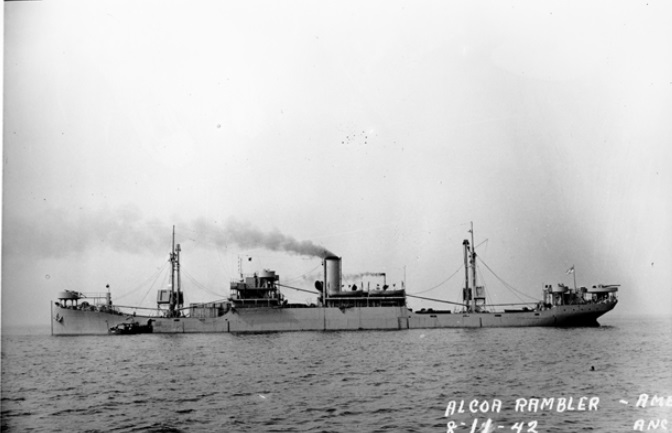 ---
54 Survivors. One lifeboat with 25 survivors, commanded by the master reached Natal. In this boat was the first assistant engineer who was badly burned. He was taken care of by the armed guard commander who dressed his burns and gave him cigarettes and water. He survived and was later hospitalized at Natal. The second lifeboat with 29 men arrived 11 hours later.
---
---
---
The submarine-chaser USS PC-490 picked up seven officers, 19 men and the five armed guards about 13 hours later and landed them at Port of Spain. The Chief Engineer died of burns in an Army hospital at Trinidad. In all 30 men survived.
---
---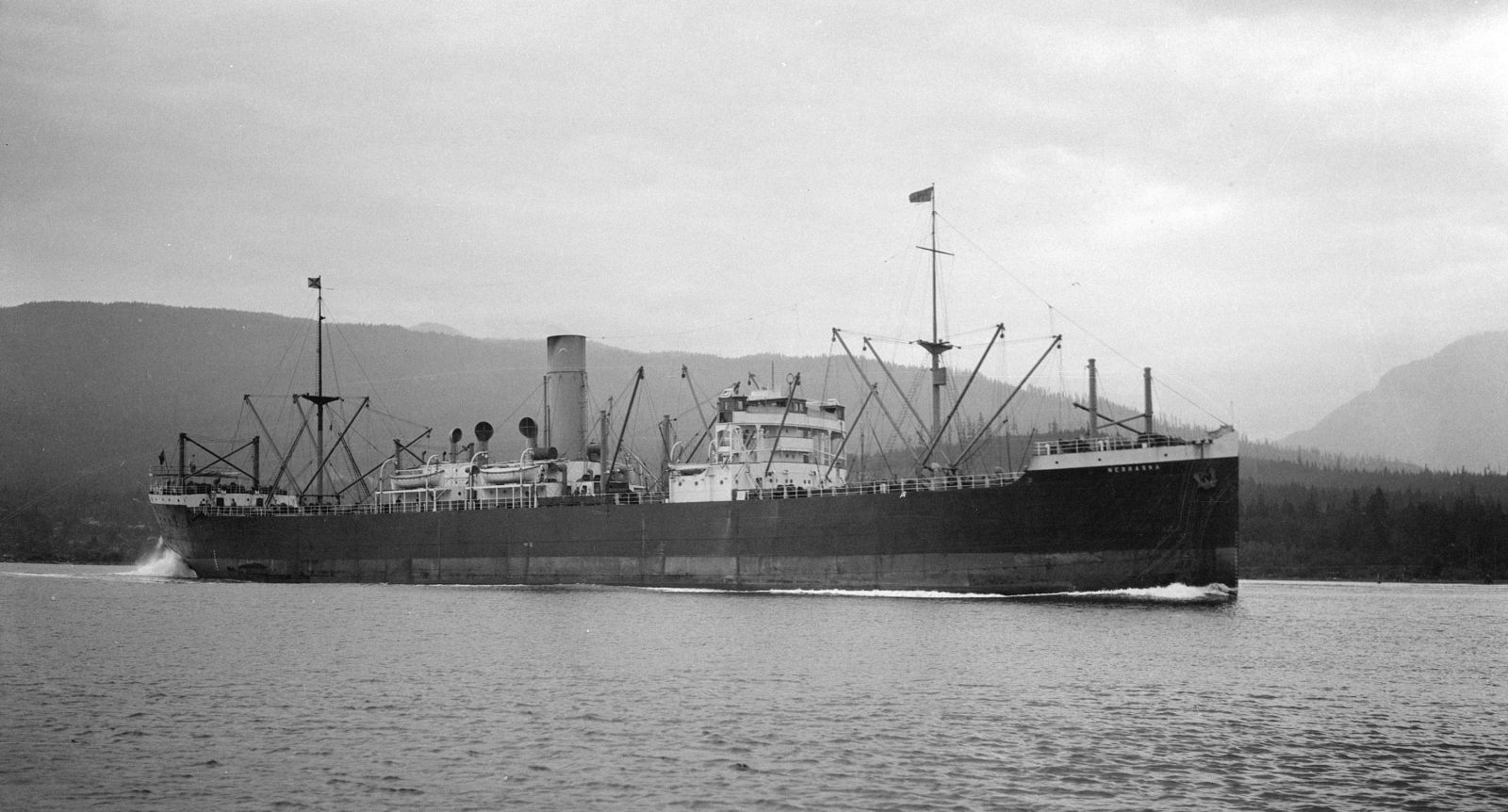 ---
On 8 Apr, 1944, the unescorted Nebraska (Master Bernard Cyril Dodds), dispersed on 4 April from the convoy OS-71, was torpedoed and sunk by U-843 southwest of Ascension Island. Two crew members were lost. The master, 55 crew members, eight gunners and two stowaways were rescued. The boat of the master landed at Bahia, and the boat of the radio operator with 20 survivors landed at Recife on 22 April and the remaining survivors were picked up by the British merchant Kindat and landed at Freetown.
---
FOLLOWING PAGES ON THE SAME ARTICLE