---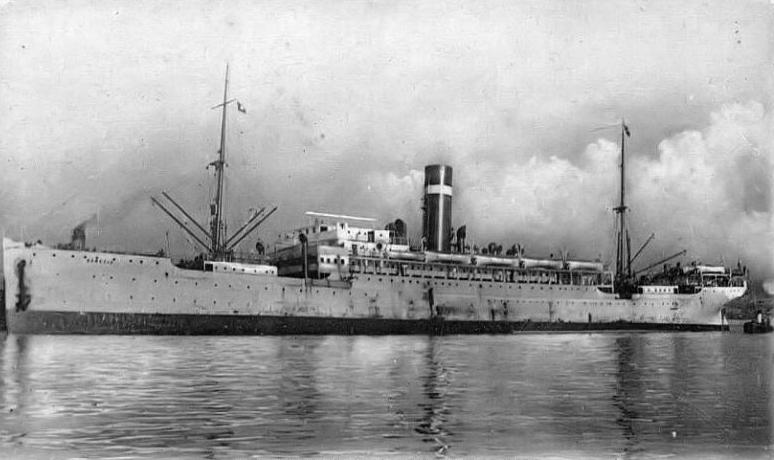 ---
Photo. www.photoship.co.uk
---
---
Built 1938
---
Tonnage 1,673 / 2,940 tons
---
Cargo: General cargo, including tobacco, coffee, cocoa, cocoa butter and drums of vegetable oil.
---
Route: Salvador Bahia - Buenos Aires
---
Sunk 21 JUN 43 by U-513 on pos. 25º 50"S 38º 38"W.
---
0 Dead
---
27 Survivors
---
Completed in June 1938. On 26 Apr 1942, the Venezia picked up 14 survivors from Empire Drum, which had been sunk by U-136 (Zimmermann) two days earlier southeast of New York.
---
At 13.18 hours on 5 Jul 1942, U-134(Schendel) sighted the unescorted Venezia steaming on a northerly course at 13 knots and identified her when approaching for a submerged attack. Schendel saw the Swedish neutrality marking painted on her side, but was not sure about the status of the vessel and radioed the BdU for orders. After being allowed to sink her, the U-boat fired one stern torpedo at 05.13 hours on 6 July about 200 miles southeast of Wilmington, Delaware. This torpedo and a second one fired at 05.29 hours missed because the tracks were apparently spotted and evaded by the ship, which reported the attack by radio and then escaped at full speed. On 24 Apr 1943, the Venezia picked up all 95 survivors from Santa Catalina, which had been sunk by U-129 (Witte) about 370 miles southeast of Cape Hatteras earlier that day.
---
On 21 June 1943 the unescorted and unarmed Venezia (Master K.B. Hansson) was hit in the bow by one torpedo from U-513 about 300 miles southeast of Rio de Janeiro. The ship stopped immediately and settled quickly with a list to starboard. After the crew of 25 and two passengers abandoned ship in two lifeboats, she was struck amidships by a second torpedo and sank in flames. The survivors set sail towards the Brazilian coast, were picked up by a British merchant ship and landed at Rio de Janeiro on Jun 24.
---
By Venezia (Swedish Motor merchant) - Ships hit by German U-boats during WWII - uboat.net
---