CAMP INGRAM RECIFE * - CAMP INGRAM *
2)CAMP INGRAM RECIFE *
---
With the declaration of War against Italy and Germany, and the increasing amounting reinforcements of the Fourth Fleet, Recife gained special military status. Once the quiet provincial town of pre war years was turned into a fortress with intense traffic of Brazilian Army personnel, VP Squadron Airplanes of Fleet Air Wing 16, hundreds of US Army airplanes landing in a constant flow at Ibura Field, just for fuel replenishing and crew resting, they remained only few hours before making the long hop to African coast.
---
This large area, subsidiary of Recife harbor included barracks, ordnance depots, instructional and training centers for the numerous garrisons which served under Fourth Fleet. In the other hand measures were taken to place the huge complex of the Major State of Fourth fleet Headquarters and its annexes in appropriate and comfortable facilities, so that the assigned staff could do their job in satisfactory conditions. A large building in downtown, a mere one mile distant from the harbor was then chosen for that function.
The galleries initially built to commercial purposes, were modified, having the walls removed and in the larger space the officers were provided tables and telephone desks, teletypes operators , interphones, archives and records and a large board with South Atlantic Map where ships positions and progression of the convoys were continuously tracked as well as all merchants sailing independently.
---
During war years, in that Map room, Allied and enemy vessels were monitored and tracked. Routes named "Pig or Lard" and other progressions designated to cover Brazil - Trinidad convoys, were identified with all sort of color labels. Task groups of Task Force 23 of the Fourth Fleet and Task Force 27, were indicated by symbolic numbering system. They also featured air cover and patrol sweeps as well as any suspected approaching submarine. One Nazi flag indicated a sunken Uboat. These specialized duties were undertaken by almost one hundred skilled people.
---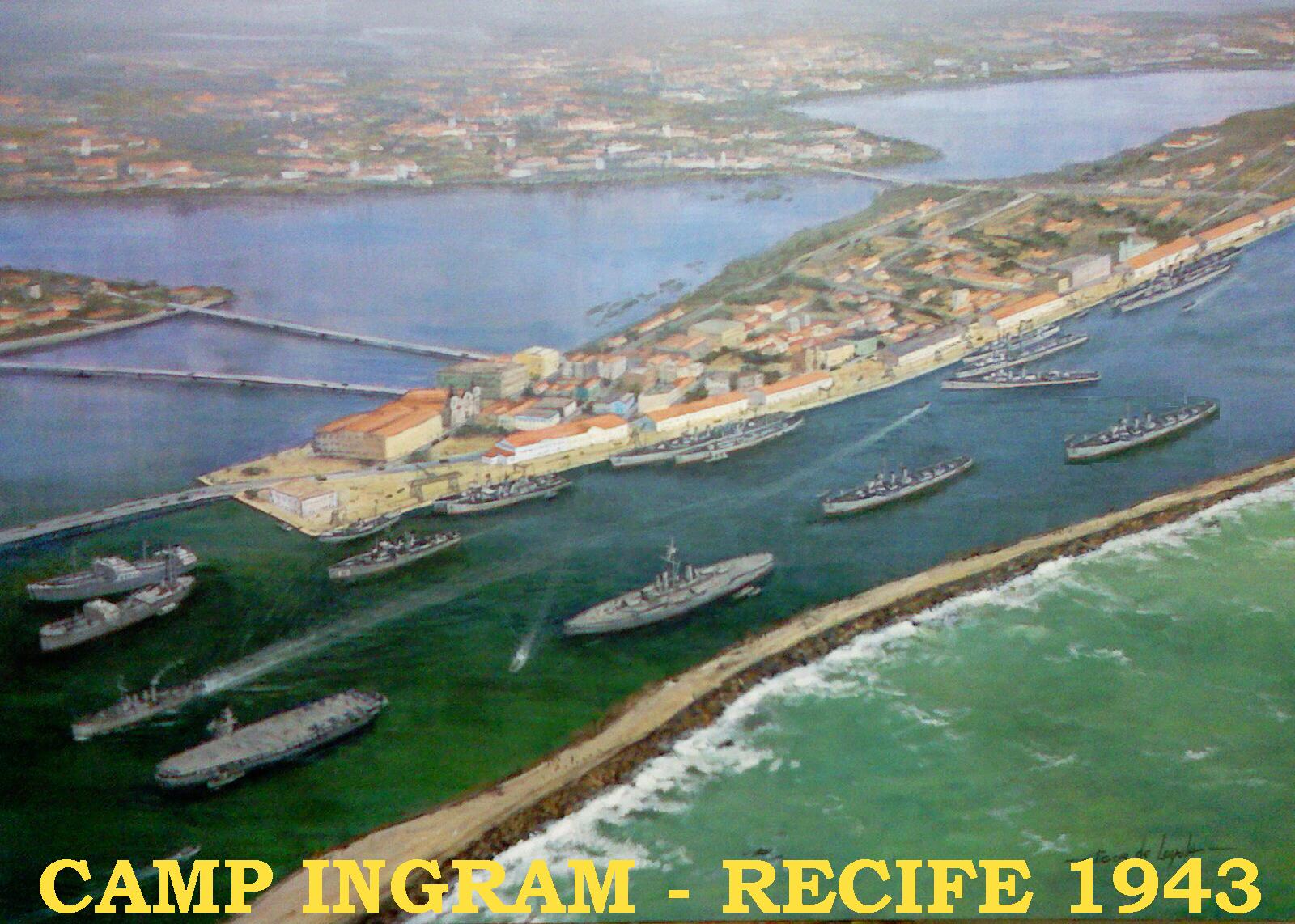 ---
Above, an artistic rendition of Recife harbor which headquartered the US Fourth Fleet with 143 ships in its peak.
---
---
Above, the large South Atlantic map at the Fourth Fleet Headquarters Recife.
---
Control of the navigation plotters was a very specialized task and should be executed with great accuracy by skilled personnel. The South Atlantic Command, set up at Camp Ingram a complete and efficient plotting control of all merchants in their assigned areas, and for this job one Royal Navy officer was designated. He was RNR Frederick F. Feint. Strict collaboration with FNN (Northeast Naval Force), led Fourth Fleet to adopt a rigorous exercise and training program aiming both fleets.
---
These drills were not intended to cope with the submarine menace only. Combat tactics employed tug boats which towed the targets where scored hits were evaluated. Also four Brazilian submarines often took active role in the exercises. They contributed to maintain the high degree of preparedness of both Navies.
---
Thus, the stay of the Fourth Fleet headquarters at Recife, and the assembling of that large fleet, added to dozens ships of the Brazilian Navy, aside of the numerous contingents of US Navy VP Squadrons, Brazilian Air Force units, and national Army detachments, all these factors turned Recife into a first class military bulwark, despite short dimensions of the harbor with all sort of ships, it still had for its defense the battleship the Sao Paulo. Unable to sail for open sea and tackle the modern anti submarine warfare for the smoke she belched, the rusty, outclassed 19,300 ton still preserved her firepower and served as a floating fortress at the inner quay.
---
Her 8 350mm guns were poited out to the sea as a strong deterrence against any intruder U-boat attempt to target the harbor as occurred in Aruba oil depots that was shelled. Her sister ship, Minas Gerais, also performed the same duties at Salvador Bahia. Besides these measures to protect the harbor, 4 minesweepers, YMS 44, 45, 60 and 76 continuously swept the outer access channel where one anti torpedo net was laid.
---
---
Adm. Ernest King Commander in Chief of the U.S.Fleet and Chief of naval Operations, stopped at Recife on 10 Dec 43 to visit Naval facilities on his return from the historic conference of allied leaders in Africa and the near East. Striding along a street at Recife harbor, Adm. King was flanked by Vice Adm. Jonas Ingram Commander of South Atlantic Fourth Fleet and and Lt Jg D. Frost, USNR (left). Photo. Naval Historical Center.
---
---
At Recife, aboard USS Omaha, Secretary of the US Navy Frank Knox, addresses the crew in mid 1943. Just to Mr. Knox,s right is Vice Adm. Jonas Ingram. Photo. Naval Historical Center.
---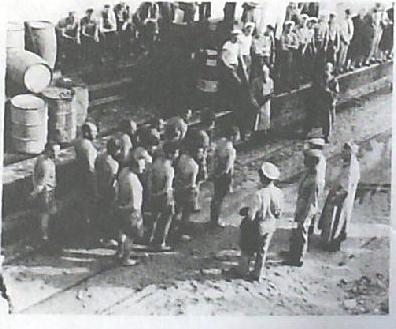 ---
German prisoners of war arrive at Recife harbor on 15 May 43. There they will be interrogated and then sent to a prison camp in the USA. Photo. Naval Historical Center.
---
---
13 German POW seen upon their arrival at Recife harbor on 15 May 43. Photo. Naval Historical Center.
---
---
Map of Recife with shore facilities of US Navy including the harbor, hospitals, ammunition depots, USO, radio stations and others.
---
---
The picture shows the large building where Adm. Ingram established the 4th Fleet Headquarters.
---
---
The plate of the main entrance at the 4th Fleet Headquarters says: In this building the 4th Fleet Commander established his Headquarters.
---
---
Former Secretary of Navy William Franklin Knox addresses American marines on board United States Navy ship Omaha in Brazil. Marines outside a building with 'Atlanta' written on it. Knox at a desk in an office. He speaks to the marines from a jeep at Ibura field with a plane in the background. Knox meets some civilians. Navy band lines up as Knox speaks to the officers and civilians. He boards R5D plane.
By Critical Past Clip 65675048153
https://www.criticalpast.com/video/65675048153_William-Franklin-Knox_American-marines_Ibura-field_United-States-ship-Omaha
---
---
Former Secretary of Navy William Franklin Knox in a jeep arrives at Ibura field, Brazil. Knox, Admiral J H Ingram and Cinclantflt move past the Ibura field. A Navy band lined up on road side plays. Knox, Ingram and other officers on board United States Navy ship Omaha. Knox addresses the marines. Knox in a jeep reviews the marines. He speaks to the marines from the jeep. Knox and two Brazilian officers salute while rendered honors. Knox surrounded by officers and civilians as he speaks to them. Knox boards a R5D plane as a band plays.
By Critical Past Clip 65675048152
https://www.criticalpast.com/video/65675048152_William-Franklin-Knox_Admiral-Ingram_Ibura-field_United-States-ship-Omaha
---
---
Former Secretary of Navy William Franklin Knox arrives at Camp Ingram in Brazil. He along with other naval officers embarks onto United States ship Omaha as marines salute him. He meets naval officers on board the ship.
By Critical Past Clip 65675048154
https://www.criticalpast.com/video/65675048153_William-Franklin-Knox_American-marines_Ibura-field_United-States-ship-Omaha
---
FOLLOWING PAGES ON THE SAME ARTICLE