CAMP INGRAM RECIFE * - CAMP INGRAM *
1)ADM. JONAS H. INGRAM
---
Born Indiana 1886. Retired from US Navy 1947. Died September 9/ 1952. Adm. Ingram was a charismatic, energetic, admirable commander. A tactician in the best sense. In 1941 he had been a destroyer a cruiser and a battleship skipper, also navy public relations and an excellent football player and coach. Adm. Ingram was a short sleeve diplomat, a jack of all trades. In "terra firma" he strove for a closer relationship with Brazilian armed forces and an ever growing friendship with President Vargas ensued. This bestowed him Brazilian admiration and by inference whatever facilities were requested were granted.
---
In Recife, due to scarce means to provide thousands of sailors when ashore with the traditional American diet, he managed one more ingenious prowess. He set up a farm at Recife's outskirts, to supply the task force with vegetables American sailors were used to eat with no additional burden to the already strained U S Navy logistics. He so conquered Brazilian naval ratings, when he did the farewell to Brazilians late in 1944, he was presented with a genuine Brazilian nugget of gold, so he could take with him a piece of Brazil. At sea, Adm. Ingram kept his men with a high degree of training and prepareadiness for battle despite south Atlantic combat scenario was far from being as fierce as the Pacific and North Atlantic.
---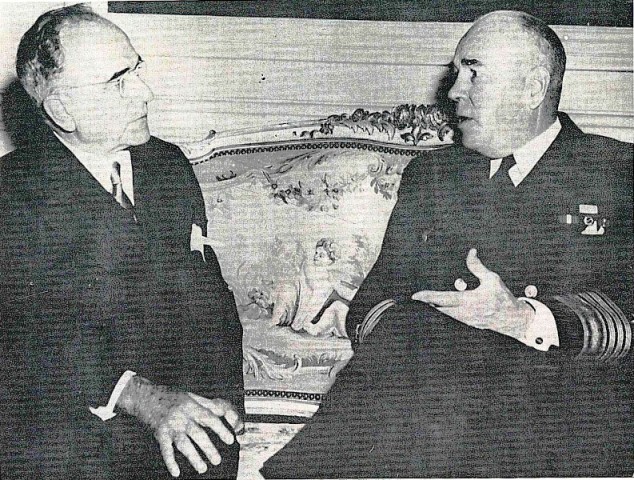 ---
Adm Jonas Ingram and Brasilian President Getulio Vargas. Both had developed strong friendship ties during the war. Vargas used to call him "My Admiralty Lord"
---
---
Adm. Ingram (right) confers with Adm. Dodsworth Martins of the Brazilian Navy during the War II. Photo. Naval Historical Center.
---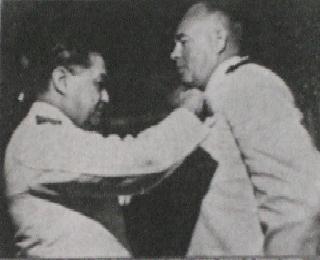 ---
30 Sep. 42. Photo taken as the Brazilian Minister of Marine, Vice Admiral Guilhem, was conferring a decoration upon Vice Admiral Jonas Ingram. Photo Naval Historical Center
---
---
Adm. Ingram addressing his men at Recife
---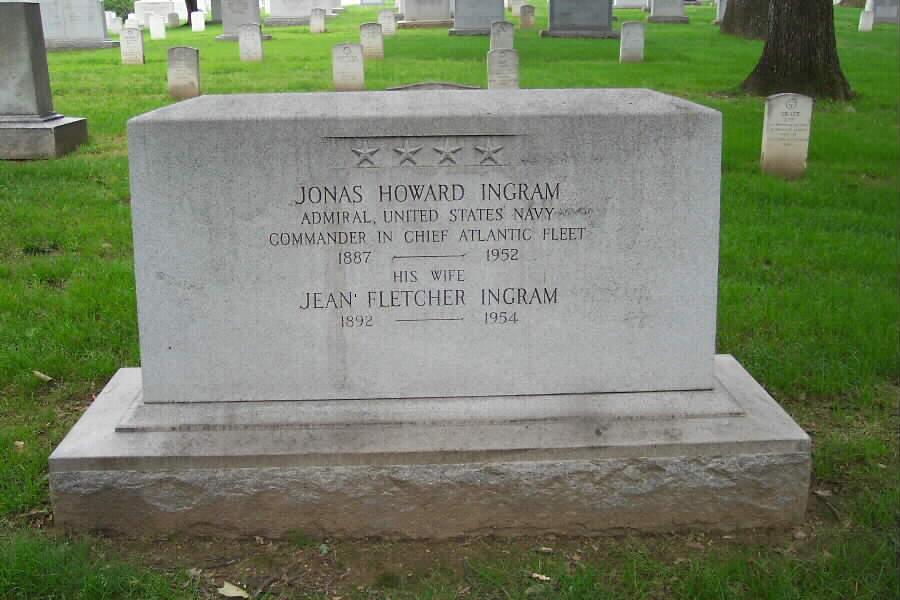 ---
He died at San Diego, California, on September 10, 1952 and was buried in Section 30 of Arlington National Cemetery. His wife, Jean Fletcher Ingram (1892-1954), is buried with him. Photo By M. R. Patterson, 28 June 2003
---
OTHER ARTICLES YOU MAY FIND SIMILAR