BRAZILIAN AIR FORCE FAB * - BRAZILIAN AIR FORCE
22)NORTH AMERICAN MITCHELL B 25
---
Total received: 28
---
General characteristics:
---
Crew: six (two pilots, navigator/bombardier, turret gunner/engineer, radio operator/waist gunner, tail gunner.
---
Length: 52 ft 11 in (16.1 m)
---
Wingspan: 67 ft 6 in (20.6 m)
---
Height: 17 ft 7 in (4.8 m) Wing area: 610 sq ft (57 m²)
---
Empty weight: 21,120 lb (9,580 kg)
---
Loaded weight: 33,510 lb (15,200 kg)
---
Max takeoff weight: 41,800 lb (19,000 kg)
---
Powerplant: 2× Wright R-2600 "Cyclone" radials, 1,850 hp (1,380 kW) each.
---
Performance: Max. speed: 275 mph (239 knots, 442 km/h)
---
Cruise speed: 230 mph (200 knots, 370 km/h)
---
Combat radius: 1,350 mi (1,170 nm, 2,170 km)
---
Ferry range: 2,700 mi (2,300 nm, 4,300 km)
---
Service ceiling 25,000 ft (7,600 m)
---
Rate of climb: 790 ft/min (4 m/s)
---
Wing loading: 55 lb/sq ft (270 kg/m²)
---
Power/mass: 0.110 hp/lb (182 W/kg)
---
Armament: Guns: 12× .50 in (12.7 mm) machine guns: Rockets: 3,000 lb (1,360 kg) bombs + eight 5-inch high velocity aircraft rockets (HVAR) Bombs: 6,000 lb (2,700 kg)
---
During the war, the Forca Aerea Brasileira received 28 B-25s under Lend-Lease, being the only Latin American air arm to do so. The Lend-Lease deliveries were seven B-25Bs, one B-25C, 11 B-25J-15s, and ten B-25J-20s. The seven B-25Bs were delivered in January of 1942. Their serials were 40-2245, 2255, 2263, 2306, 2309, 2310, and 2316. One of them was used only as a ground instructional airframe. B-25C 41-12558 was delivered in July 1942 for use in a mechanic's training school.
---
The remaining 21 Lend-Lease aircraft were all B-25Js, delivered between August and November of 1944. Their serials were 44-29007/29011, 29015/29020, and 29493/29502. All were assigned FAB serials in the 5000 and 5100 range. Following the end of the war, between July 11, 1946 and October 2, 1947, at least 64 additional B-25s were delivered to Brazil under the American Republic Projects and subsequent military assistance programs. In addition, a war-weary B-25C 41-12872 was given by the USAAF 12th AF to the 1st Brazilian Fighter Group in Pisa, Italy and used as a squadron hack.
---
It was never given a FAB serial number. FAB B-25s participated in the war against the U-boats in the southern Atlantic. Mitchell B 25 B, C and J models were deployed in several bases. They formed the first Patrol bomber squadron assembled in Fortaleza. One of them made the first attack against one enemy submarine in May 1942.
---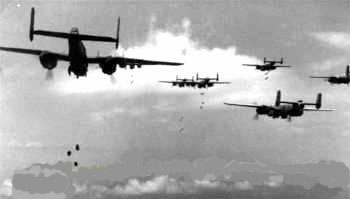 ---
Detail of one B 25 squadron releasing their bombs during a practice drill over the sea. Brazilian Air Force soon acquired a high degree of preparedness thus relieving US Patrol squadrons of long range Liberators for hunting U boats in high seas.
---
---
One B25 showing Brazilian colors flying another long patrol sweep somewhere in the south Atlantic. Brazilian crews were soon familiarized with the meanders of the modern electronic warfare.
---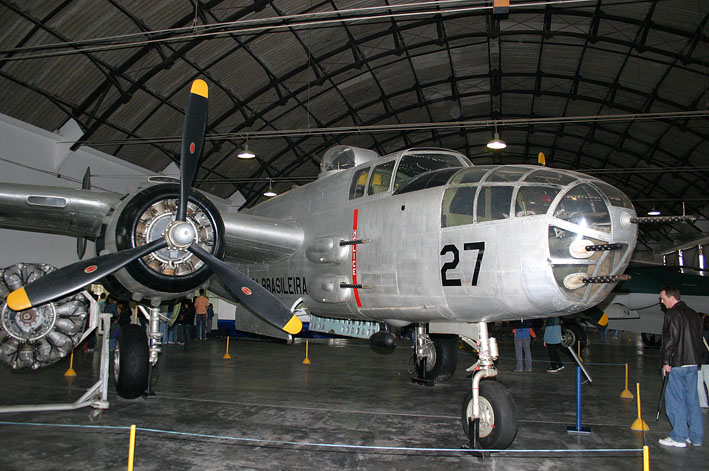 ---
Fully restored B 25 J seen in permanent display at the Museu Aeroespacial do Brasil.
---
---
An impressive view of the B-25 assembly line at the factory at Kansas City Mo.
---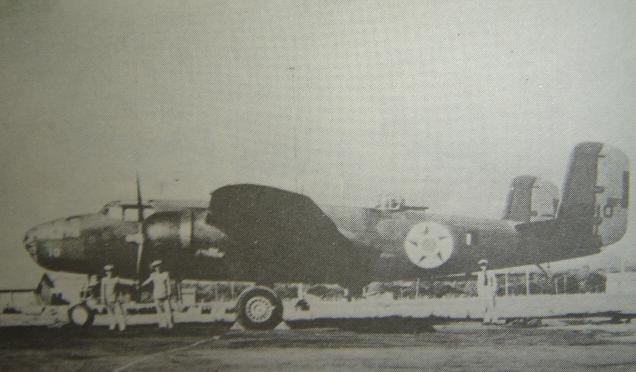 ---
A rare view of one of the first B-25 assigned to Fortaleza PICI FIELD.
---
---
One B 25 G from the Bombing Converting Group, one of the predecessors of other Squadrons scattered through the Brazilian coast.
---
---
A group of B 25 seen in one Brazilian airbase
---
---
A group of B 25 over Northeastern coast during a routine patrol mission.
---
FOLLOWING PAGES ON THE SAME ARTICLE