U S NAVY 4th FLEET AT RECIFE - SHIP INDEX DD
2)DD 152 DU PONT
---
---
USS Du Pont seen circa 1942 after modifications which introduced 3 inch guns, two torpedo mounts, anti aircraft guns and two depth charge racks and six Mk 6 depth charge mortars. By Joe Radigan. Photo. www.navsource.org
---
CLASS WICKES
---
Displacement 1,154 Tons.
---
Dimensions, 314' 5" (oa) x 31' 8" x 9' 10" (Max)
---
Armament 4 x 4"/50, 2 x 1pdr AA (1 x 3"/23AA In Some Ships), 12 x 21" tt..
---
Machinery, 26,000 SHP; Parsons Design Turbines, 2 screws.
---
Speed, 35 Knots.
---
Crew 103.
---
With the outbreak of war in Europe Du Pont was recommissioned 16 October 1939 for duty on the Neutrality Patrol. She patrolled along the east coast, trained reservists, and spent several periods training with submarines out of New London. Between 7 July 1941 and 26 February 1942 she escorted five vital convoys to Argentia, Newfoundland and Iceland, continuing escort and antisubmarine patrol duty in the Atlantic as far north as Argentia and south to the Caribbean. Du Pont, 16 March 1942, rescued 30 survivors from a torpedoed merchantman. From 8 May 1942 to 19 January 1943 she guarded convoys from New York and Norfolk to Key West and Guantanamo Bay.
---
After overhaul Du Pont returned to the Caribbean to escort tanker convoys between Aruba, Netherlands West Indies and Guantanamo Bay until 17 May 1943 when she sailed from Aruba to the Mediterranean. She arrived at Algiers, Algeria, 1 June, and put into Casablanca 6 days later. The destroyer sailed on 9 June for New York in the escort for Card (CVE-11), rescuing four men from downed aircraft during hunter killer operations enroute. She arrived at New York 6 July.
---
Between 17 July and 12 September 1943 Du Pont made two voyages to the United Kingdom on convoy escort duty. On 26 September she sailed from Norfolk for an antisubmarine patrol with a hunter-killer group centered on Card. On 6 October she joined the screen for Bogue (CVE-9) during exercises in Casco Bay and Long Island Sound. The group sailed from Norfolk 14 November to give close support to a Gibraltar-bound convoy. On the return passage one of Bogue's planes sighted and bombed a surfaced German submarine, U-178, 12 December. Du Pont and George E. Badger (DD-196) continued the attack driving the submarine to the surface on the morning of the following day.
---
The destroyers opened fire and after the submarine's conning tower exploded, rescued 46 survivors including the captain as U-173 sank in 26° 19' N. 29° 58' W. Du Pont shared in the Presidential Unit Citation awarded the Bogue task group for distinguished success in operations against submarines.Du Pont escorted a convoy to Gibraltar and back to Boston between 25 January and 9 March 1944, then returned to escort duty in the Caribbean.
---
---
USS Du Pont seen at New York in July 1943 fitted with new radars and forward Hedgehogs. By Joe Radigan. Photo. www.navsource.org
---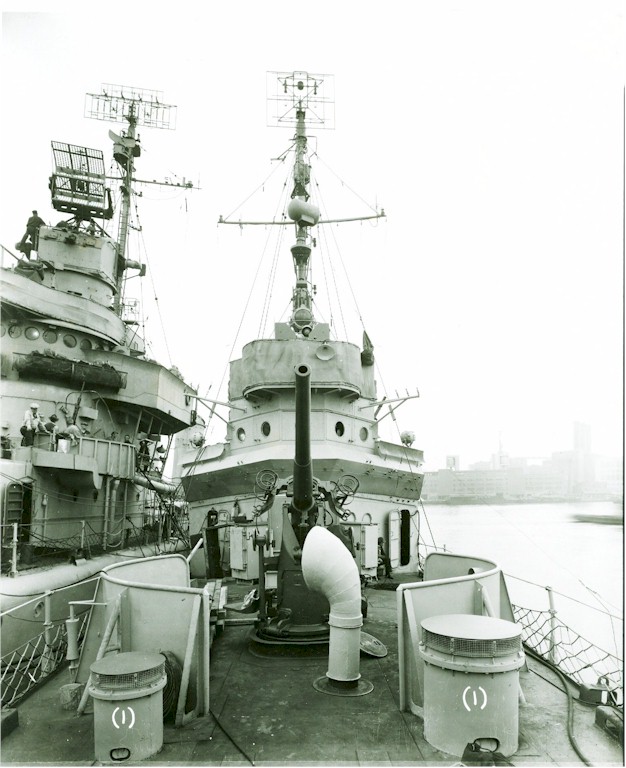 ---
USS Du Pont seen in New York September 1943. By Ed Zajkowski. Photo. www.navsource.org
---
OTHER ARTICLES YOU MAY FIND SIMILAR