U S NAVY 4th FLEET AT RECIFE - SHIP INDEX DD
4)DD 155 COLE
---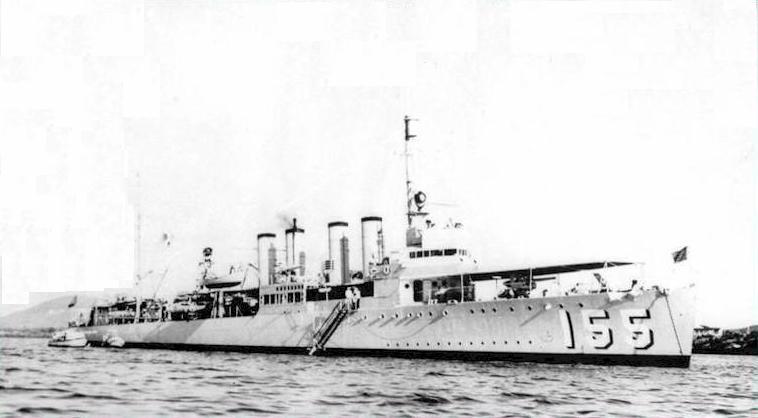 ---
Photo. www.navsource.org
---
CLASS - WICKES
---
Displacement 1,154 Tons
---
Dimensions, 314' 5" (oa) x 31' 8" x 9' 10" (Max)
---
Armament 4 x 4"/50, 2 x 1pdr AA (1 x 3"/23AA In Some Ships), 12 x 21" tt..
---
Machinery, 26,000 SHP; Parsons Design Turbines, 2 screws.
---
Speed, 35 Knots.
---
Crew 103.
---
Recommissioned 16 October 1939, Cole joined the neutrality patrol in the Atlantic. From 10 June 1941 she escorted convoys to Newfoundland and Iceland making five such voyages by 28 January 1942. From 14 March to 28 September, the destroyer patrolled and escorted convoys along the east coast, making one convoy run to the Virgin Islands. She put to sea from Norfolk 24 October for the invasion of North Africa on 8 November during which she landed 175 men of the 47th Infantry under fire on a pier at Safi, Morocco.
---
Cole received the Presidential Unit Citation for her fine performance of this hazardous mission. Returning to Boston 1 December she resumed convoy duty and between 18 December 1942 and 16 February 1943 she operated between the east coast, Newfoundland, and Nova Scotia, then made a voyage to Gibraltar in March. The destroyer returned to the Mediterranean, reaching Mers-el-Kebir, Algeria, 23 May.
---
Along with patrol and escort duties in the Western Mediterranean Cole took part in the invasion of Sicily 10 July 1943, acting with a British submarine as a beach identification group, and later guarded transports during the assault on Salerno 9 September. She returned to Charleston, S.C., for overhaul 24 December, after which she resumed convoy escort duty along the east coast and in the Caribbean, making one voyage to Casablanca in March 1944. On 3 December 1944, she began duty as a plane guard for carriers conducting air operations out of Quonset Point, R.I., which continued until 31 August 1945. She was reclassified AG-116 30 June 1945. Cole was decommissioned 1 November 1946, and sold 6 October 1947.
---
---
Photo. www.navsource.org. By Ed Zajkowski.
---
OTHER ARTICLES YOU MAY FIND SIMILAR