U.S. NAVY BASES IN BRAZIL - U.S NAVY BASES
26)PARNAMIRIM FIELD
---
SOUTH HEADQUARTERS ATLANTIC DIVISION, AIR TRANSPORT COMMAND Postmaster, Miami, Florida
---
A PREVIEW OF YOUR NEXT AIR TRANSPORT COMMAND STOP NATAL
---
After crossing 1888 miles of the Atlantic Ocean from Dakar, you will arrive at Parnamirim Field in Natal, Brazil. On arrival your plane will be sprayed by the Brazilian Medical Authorities. The necessity for this action was occasioned about a year and one-half ago when malaria bearing mosquitoes were found alive on planes arriving here fromAfrica. During this period of desensitization (about five minutes) your temperature will be taken by our own Medical men and any requests for medical attention should be directed to this attendant.
---
During this same period, the Priorities and Traffic Officer will pick up the Passenger Card that you will find attached to this sheet. Fill in these cards prior to your arrival so they will be ready for this officer. From the aircraft you will be taken as a group to our Transient Service Building. Here you will be given the correct local time (three hours earlier than Dakar time). Report at this time if you do not have your Dog Tags. You will be required to have them before proceeding north. An escort will be assigned your group to be of all possible assistance in offering directions or information.
---
You will then proceed to the area where latrine and shower facilities are located. After showing, clean underwear and sox will be issued on an exchange basis for enlisted men so desiring. Then to the Officers or Enlisted Men's Messes where hot meals will be served on a twenty-four hour basis. Two hours after your arrival you will return to the Transient Service Building where you will be advised your northbound flight number and approximately your departure time. Some will depart north immediately, others may be delayed due to weather or air traffic tie-ups. If there is an extended delay, you will be given a room where you may sleep until called.
---
FOR THOSE WHOSE TIME PERMITS
---
Day rooms for Officers and Enlisted Men will be open at all hours. Pool tables, ping pong tables, darts, transient library and reading rooms, writing desks, Red Cross Canteen and information desks will be available here. An athletic area will provide: lots of sun bathing, volley ball, shuffle board, archery range, tennis, soft ball, horse shoes and hobby shops. There will be an athletic director to help you organize your teams and provide the equipment. We should warn you now not to expose yourself to this tropical sun for more than 20 minutes at any one time.
---
Our Post Exchange will have all the usual items together with many local products which you may care to take back as a memento of your visit to Brazil. The Base Theatre will have two showings each evening. In addition movie shorts will be shown in the Recreation Area 24 hours a day. Ponta Negra Beach is approximately seven miles from the Base and trucks will be available for Transportation. The City of Natal, however, is off limits for all transient personnel. You will be given no work details during your stay in Natal.
---
BAGGAGE
---
Access to your checked baggage will be granted only when unusual circumstances warrant and such permission will be granted only by the Transient Service .
---
CENSORSHIP CABLEGRAMS: EFM
---
(Fixed Text Messages) and straight messages may be sent from the Base Censor's Office.
---
PACKAGES
---
Due to limited wrapping facilities, it is recommended that all purchases at the PX be carried rather than mailed.
---
LETTERS
---
Writing is not recommended as your plane will reach the States long before any letter you may mail here. If they are sent, they will contain only information of a personal nature. You may, however, mention you are in Brazil.
---
YOUR FLIGHT FROM NATAL
---
After your rest period, two types of aircraft will be assigned for the balance of your trip. There will be a Douglas C-47s (Skytrains) carrying twenty passengers each and Curtiss C-46s (Commandos) carrying 30 passengers each. For additional comfort several litters will be set up in the C-47s so that all may have an opportunity to rest during some leg of the flight. Your Plane Group Leader will be given a suggested plan of equitable assignment of litters so that each may have his proportionate share of litter time.
---
SOME FACTS ABOUT THE NATAL BASE
---
Parnamirim Field was activated as a part of the South Atlantic Division, Air Transport Command in June 1942. Since that date and up until "V-E Day", 18,579 combat aircraft, 24,899,771 pounds of high priority cargo, 3,910,766 pounds of mail and 39,364 urgently needed personnel have been flown from this field to the men on the fighting fronts. The same flights return through Natal and have carried strategic materials, sick and wounded and thousands of personnel. Also 4,143,266 pounds of your mail has been flown back to the U.S.
---
Twenty-four hours a day seven days a week have been spent by these men to see that the planes, men and materials have moved with the greatest possible speed. We will be looking forward to seeing you in Natal and with the facilities available we will do everything possible to make your stay pleasant and comfortable. /s/Thomas D. Ferguson Colonel, Air Corps Commanding.
---
Extracted from "The 461st Liberaider"
---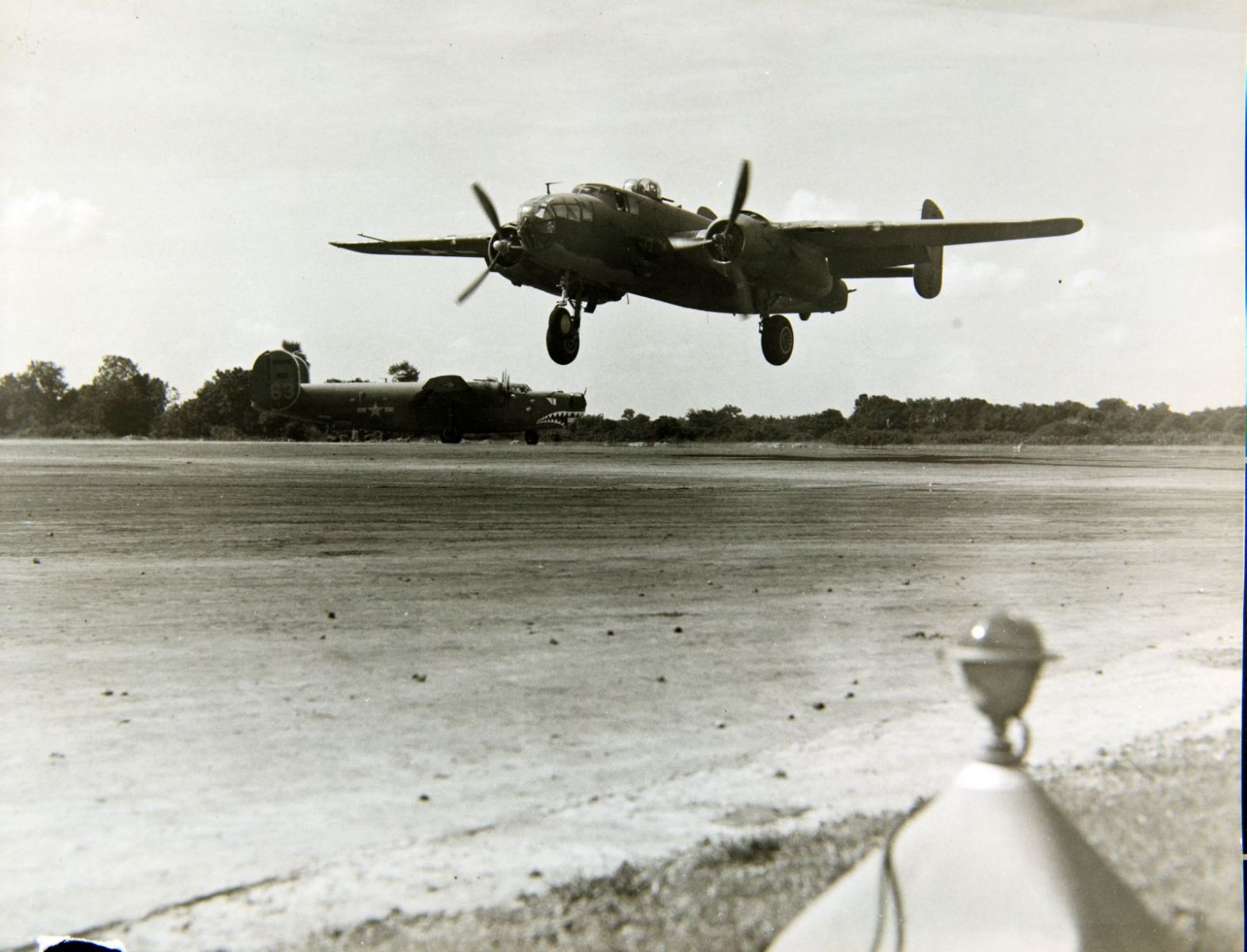 ---
Above one USAAC B 25 seen on flare to touchdown at Parnamirim Field. In the bottom one B 24 wait the turn to align and roar its engines at full power for another mission.
---
FOLLOWING PAGES ON THE SAME ARTICLE