U BOATS IN ACTION SOUTH ATLANTIC - U 103 U 134
8)U 123
---
---
Ordered 5 Dec 1937
---
Laid down 15 Apr 1939 AG Weser, Bremen (werk 955)
---
Launched 2 Mar 1940
---
Commissioned 30 May 40 Kptlt. Karl Heinz Moehle
---
Commanders
30 May 1940 - 19 May 1941 Kptlt. Karl Heinz Moehle (Knights Cross)
---
19 May 1941 - 31 Jul 1942 Kptlt. Reinhard Hardegen (Knights Cross)
---
1 Aug 1942 - 17 Jun 1944 Oblt. Horst Von Schroeter (Knights Cross)
---
Career
12 Patrols
---
30 May 1940 - 30 Sep 1940 2. Flotille (training)
---
1 Oct 1940 -17 Jun 1944 2. Flotille (active service)
---
18 Jun 1944 - 1 Aug 1944 2. Flotille (Frontschulboot)
---
Career 42 ships sunk with a total of 219,924 tons
---
1 auxiliar warship with 3,209 tons
---
1 warship with 683 tons
---
5 ships damaged with 39,584 tons
---
1 warship with 13,984 tons.
---
Decommissioned on 17 June 1944 at Lorient and laid up in box K3 of the U-boat pen. Scuttled there on 19 August 1944. Wreck captured by US forces in May 1945 and handed over to France.
Post War information Became the French submarine Blaison. Stricken 18 Aug 1959 as Q165.
---
---
In the south Atlantic U-123 sank 6 ships with a total of 37,188 DWT
---
NANKING - CASTILLO MONTEALEGRE - EMPIRE BRUCE - KANBE - HOLMBURY - HMS P-615
---
NANKING
---
CASTILLO MONTEALEGRE
---
EMPIRE BRUCE
---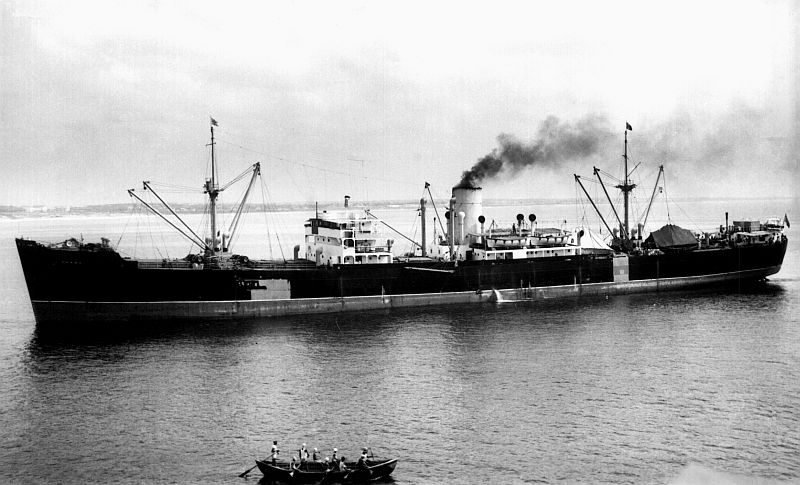 KANBE
---
HOLMBURY
---
HMS P 615
---
FOLLOWING PAGES ON THE SAME ARTICLE