SHIPS SUNK WITH PLANES IN THEIR DECKS - PRECIOUS CARGO LOST
19)MARKEN U-111
---
---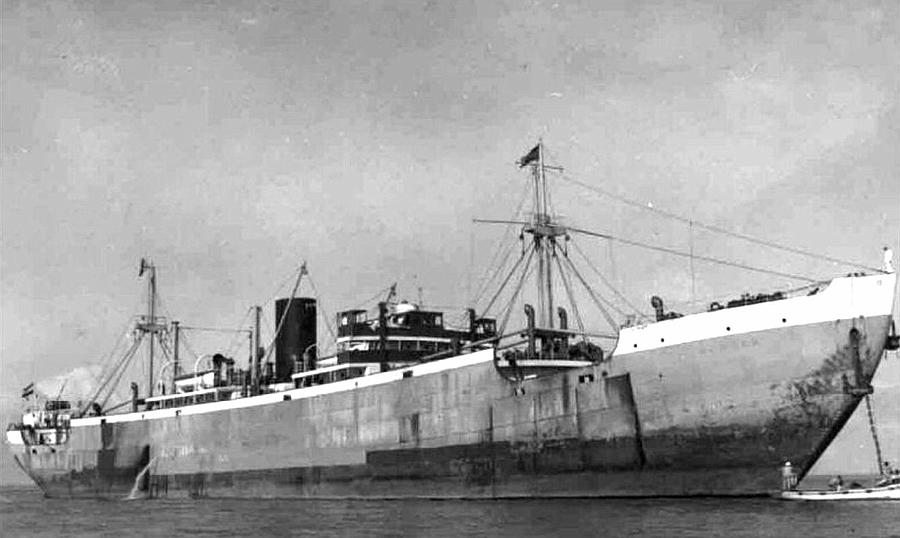 ---
Photo. www.photoship.co.uk
---
---
Built 1937
---
Tonnage 5,719 / 8,910 tons
---
Cargo: Ballast and five training aircrafts
---
Route: Cardiff - Port of Spain, Trinidad (3 Sep) - Capetown - Calcutta
---
Sunk 10/09/41 by U-111 on pos 01º 36'N 36º 55'W.
---
0 Dead
---
37 Survivors
---
Launched as Tysa for NV Maatschappij "Vrachtvaart", Rotterdam and completed in January 1937 as Marken for NV Stoomvaart Mij "Rotterdam" (W. Ruys & Zonen), Rotterdam.
---
At 19.53 hours on 10 September 1941 the unescorted Marken (Master Anthonie Kokké) was hit on the port side in #2 hold by one torpedo from U-111 while steaming on a zigzag course at 12 knots about 335 miles north-northeast of Fortaleza, Brazil. The explosion blew the hatch covers off and lifted one of the aircraft carried as deck cargo into the air. The crew stopped the engines and began to abandon ship in two lifeboats after it was reported that the wireless gear and the 4in gun at the stern (the ship was also armed with four machine guns) were out of action, all hands having left about 15 minutes after the hit.
---
Shortly afterwards a second torpedo struck on starboard side in #4 hold, falling the main mast and causing the ship to sink quickly. The U-boat then surfaced and approached the lifeboats to question the survivors. Initially the conversation was in English but soon carried on in German, asking for the name of the ship and nature of cargo. The commander asked if any of the boats needed food, brandy or a compass, offering to supply them if necessary, but no assistance was required so he only gave them the course to the nearest land. The survivors were picked up after 54 hours by the Panamanian steam tanker Stanvac Manila which was attracted by the use of a flashing lamp and landed at Santos on 19 September.
---
By www.uboat.net
---
FOLLOWING PAGES ON THE SAME ARTICLE