SHIPS HIT SWEDEN 11 - SWEDISH SHIPS LOST
6)NANKING U-123
---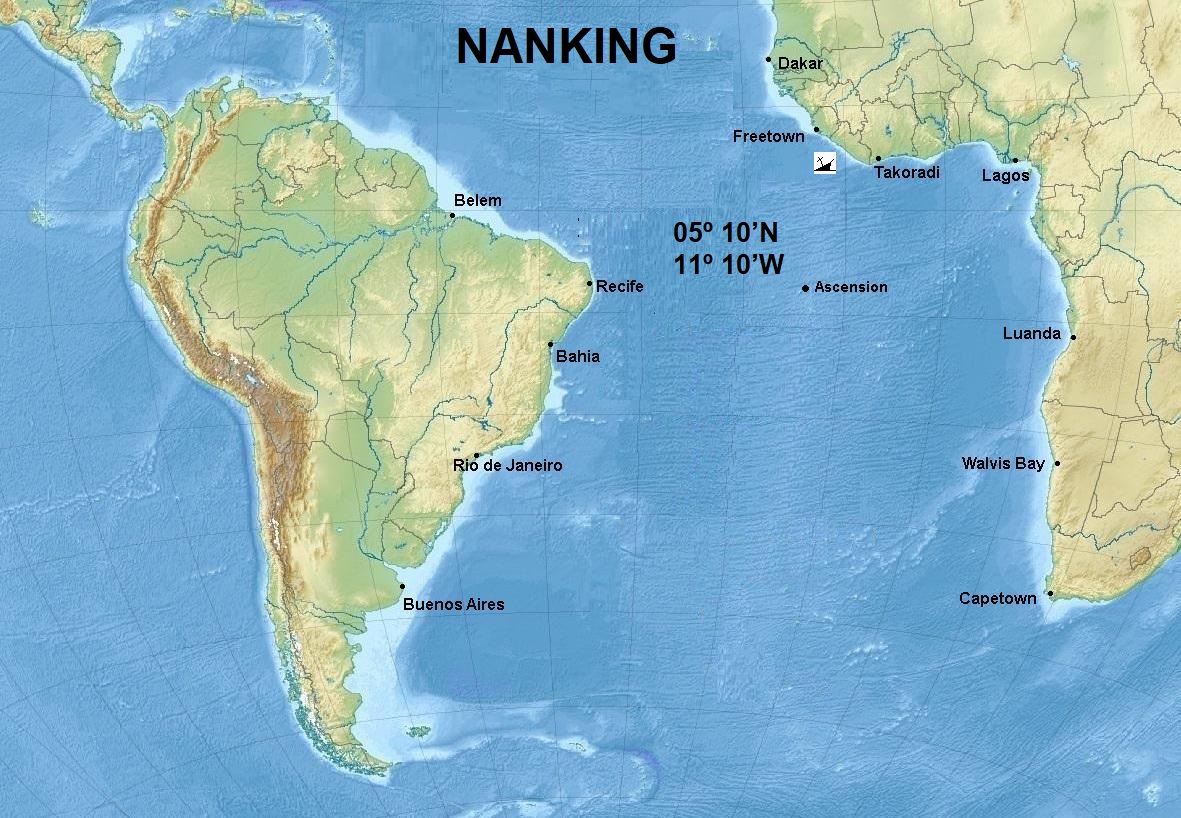 ---
---
Photo. www.photoship.co.uk
---
---
Built: 1924
---
Tonnage: 5,931 / 9,830 tons
---
Cargo: 8,500 tons of kyanite ore, ground nuts and cotton
---
Route: Bombay - Mormugao - Capetown - Takoradi - Freetown - Liverpool
---
Sunk 29 APR 43 by U-123 on pos. 05º 10'N 11º 10'W.
---
0 Dead
---
32 Survivors
---
At 23.34 hours on 29 April 1943 the unescorted and unarmed Nanking (Master Lars Hugo Berggren) was hit on the port side in the after part of #2 hold by one of two torpedoes from U-123 while sailing on a non-evasive course at 11.5 knots about 70 miles south-southeast of Monrovia. The crew immediately abandoned ship in the two lifeboats in difficult circumstances as it was a pitch black night and she was still making a little headway because the engines were not stopped. Furthermore two air whistles were going full blast which made it impossible to hear orders.
---
At 00.01 hours on 30 April, the U-boat fired a coup de grâce that missed ahead and was just preparing another attack when the ship sank vertically by the bow twelve minutes later. The survivors were not questioned by the Germans and the boats soon lost contact to each other. The boat of master and five crew members was towed for the last 10 miles by a native sailing vessel until making landfall at Grand Bassa, Liberia. The 25 occupants in the other boat later landed at Santa Cruz, Canary Islands.
---
By Nanking (Swedish Motor merchant) - Ships hit by German U-boats during WWII - uboat.net
---
FOLLOWING PAGES ON THE SAME ARTICLE