SHIPS HIT NORWAY 39 - NORWEGIAN SHIPS CARGO LOST
24)MIRLO U-130
---
---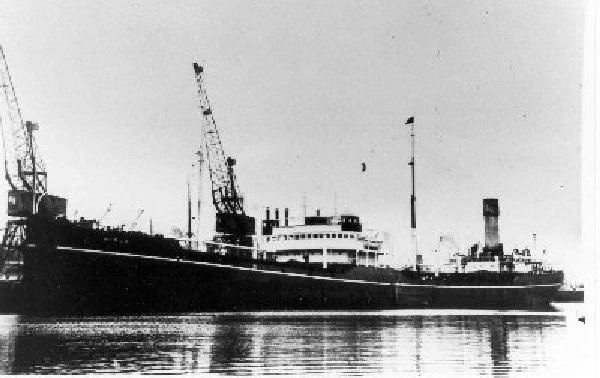 ---
Photo www.sjohistorie.no
---
---
Built 1922
---
Tonnage 7,455 / 11,334 tons
---
Cargo: 10,000 tons of fuel oil and diesel.
---
Route: Trinidad - Freetown
---
Sunk 11 AUG 42 by U-130 on pos 06º 04'N 26º 53'W
---
0 Dead
---
37 Survivors
---
Completed in January 1922. Since 1940 in Admiralty service as Royal Fleet Auxiliary (RFA).
---
At 14.27 hours on 11 Aug, 1942, the unescorted Mirlo (Master Olav Reinertsen) was hit on the starboard side in the foreship by one of two torpedoes fired by U-130 about 870 miles west-southwest of Freetown and the crew abandoned ship in three lifeboats. The U-boat came alongside and took the master on board for questioning. He then asked Kals if he could reboard the tanker and search for a missing man, this was allowed and the master rowed back to his ship and found the seriously wounded able seaman Sverre Gustavsen.
---
After they had recovered him, Kals apologized for having to sink his ship and fired a coup de grâce at 15.29 hours, which sank the tanker. He then gave some first aid items to the master and sent him back in the lifeboat, because he already had two prisoners from Malmanger on board. After three days in stormy weather, the lifeboats got separated. On 18 August, the 11 men in the boat of the first mate were picked up by HMS Banff (Y 43) and landed in Freetown the next day.
---
On the same day, the 15 men in the boat of the second mate were located by HMS Boreas (H 77) and landed in Freetown on the 23 August. The remaining lifeboat was found over 100 miles southwest of Freetown by the British armed trawler HMS Canna on 20 August and also landed in Freetown two days later, where the injured man was brought to a hospital where he was found to have a very severe skull fracture in addition to other injuries.
---
The Mirlo had left Port of Spain in convoy with twelve other ships, after travelling 300 miles the convoy was dispersed on 3 August and the ship continued alone. At 20.32 hours on 3 August, U-155 (Piening) fired a spread of two torpedoes at the tanker in grid EE 9773, but the attack was noticed and she turned quickly to starboard. Piening heard one torpedo hit but it did not detonate, while the other passed in front of the bow. The gun crew then fired a shot from the 4in gun in the direction of the U-boat and the master ordered a southerly zig-zagging course at high speed, shaking off the attacker.
---
By Mirlo (Norwegian Steam tanker) - Ships hit by German U-boats during WWII - uboat.net
---
FOLLOWING PAGES ON THE SAME ARTICLE