SHIPS HIT NORWAY 39 - NORWEGIAN SHIPS CARGO LOST
21)LITIOPA U-68
---
---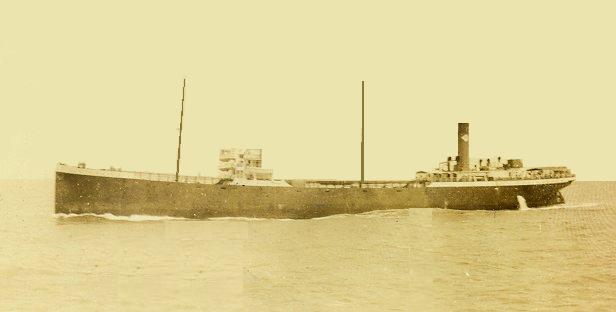 ---
Photo. www.sjohistorie.no by Paul Norsett
---
---
Built 1917
---
Tonnage 5,356 / 8,000 tons
---
Cargo: Ballast
---
Route: Lagos - Freetown
---
Sunk 22 OCT 43 by U-68 on pos. 06º 18'N 11º 55'W
---
0 Dead
---
35 Survivors
---
Built as Oleary 1917 renamed Dockleaf 1920 renamed Litiopa. Since 1940 in Admiralty service as Royal Fleet Auxiliary (RFA).
---
During the night on 21 Oct, 1943, the Litiopa (Master Trygve Olsen) heard twice that depth charges were dropped by her sole escort, HMS Orfasy (T 204), but then a heavy explosion nearby shook the tanker. At 23.53 hours, the trawler had been hit by one torpedo from U-68, exploded and sank with all hands. At the same time, the U-boat had fired two torpedoes at the tanker but missed.
---
She was missed again with a FAT at 00.40 hours on 22 October and at 02.11 hours by a T-3 torpedo, which apparently exploded only 50m behind the U-boat. At 04.27 hours, U-68 began shelling the Litiopa for 20 minutes with all weapons. A coup de grâce at 04.48 hours malfunctioned as circle runner and the U-boat reopened fire at 04.59 hours. Another two coups de grâce were fired at 05.41 and 05.52 hours but both missed, so the shelling continued from 06.00 until 06.27 hours.
---
In all 58 rounds from the deck gun were fired of which at least 50 had been hits and the U-boat left the burning and sinking tanker in the dawn. The crew had abandoned ship in four lifeboats, which were separated in the dark, but in the morning two of them returned to their ship, which was still floating, but badly damaged and on fire. Later ammunition started to explode and by noon the tanker was listing and eventually sank. The remaining two boats arrived at Robertsport that day, while the two others joined them the next day.
---
By Litiopa (Norwegian Steam tanker) - Ships hit by German U-boats during WWII - uboat.net
---
FOLLOWING PAGES ON THE SAME ARTICLE