SHIPS HIT FRANCE 6 - FRENCH SHIPS LOST
3)SAINT BASILE U-547
---
---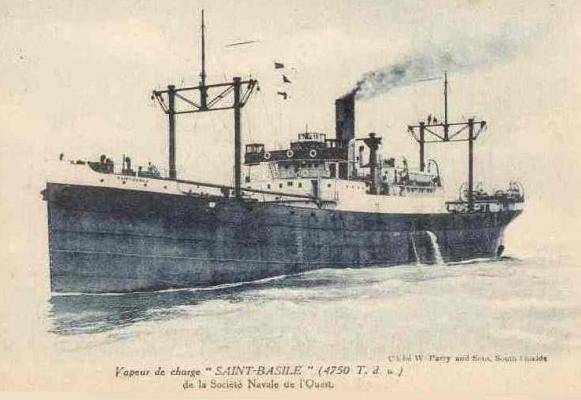 ---
---
Built 1920
---
Tonnage 2,778 / 4,790 tons
---
Sunk 14 JUN 44 by U-547 on pos. 05º 30"N 09º 14"W.
---
Cargo: General cargo, including wood.
---
6 Dead
---
58 Survivors
---
When sailing in convoy consisting of Saint Basile and two A/S trawlers HMS Birdlip (T 218), HMS Turcoman off Greenville, Liberia they were attacked by U-547 which sank HMS Birdlip (T 218) at 01.36 hours with a Gnat and at 02.56 hours the merchant Saint Basile.
---
The Saint Basile was hit by one torpedo, broke in two and sank with the loss of six lives. The ship carried 38 crew members, five gunners and 21 Senegalese soldiers. HMS Inkpen rescued 15 survivors from HMS Birdlip and 43 from Saint Basile being 22 French and 21 DEMS Senegalese ratings.
---
By https://uboat.net/allies/merchants/ship/3262.html
---
FOLLOWING PAGES ON THE SAME ARTICLE