SHIPS HIT BRITAIN 239 * - S T U
24)SYLVIA DE LARRINAGA ( SUB GIULIANI)*
---
---
https://www.naval-history.net/Maps1939-08RNStations.GIF
---
---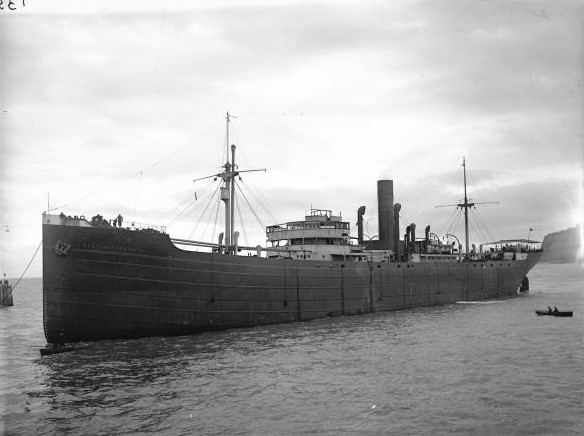 ---
Photo. https://www.peoplescollection.wales/items/605290
---
---
Built: 1925
---
Tonnage: 5,118 / 8,130 tons
---
Cargo: 2,000 tons of manganese
---
Route: Capetown - Trinidad - Baltimore.
---
Sunk 14 AUG 42 by Italian submarine Reginaldo Giuliani on pos. 10º 49"N 33º 35"W
---
3 Dead
---
50 Survivors
---
On 14 August 1942 the British Sylvia de Larrinaga was sunk by a spread of torpedoes from Italian submarine Reginaldo Giuliani.
---
On board were 17 survivors rescued 2 days before from British tanker SS Vimeira, who get back in their lifeboat from SS Vimeira and will be picked up by Norwegian MV Siranger on September 11, after drifting for 28 days.
---
SS Vimeira was sunk in the South Atlantic on 11 August 1942 by U–109 on pos. 09° 20'N 28° 30'W. The same fate had SS Siranger sunk by U- 155 on 24 Oct 1943 on pos. 00º 00"N 38º 45"W.
---
The ship, sailing alone, was torpedoed and sank within four minutes. Despite the rapid sinking only three lives were lost. All the others on board, including 16 survivors of another vessel, got away in two boats, on four rafts and in a motor boat. The men on the rafts were picked up by the boats and all eventually reached safety. The Chief Officer, who was in charge of one boat which made a voyage of 13 days, showed courage and resource in his control of operations and it was due to his excellent organisation and seamanship that the boat with its 25 occupants reached' safety.
---
He was ably assisted by Carpenter Rosa who righted one of the boats which had capsized in launching and who displayed initiative and resource throughout. The motor boat, containing seventeen survivors, made a voyage of 28 days before being picked up. It was in charge of Second ' Officer Campbell 'who, despite the fact that he had been torpedoed twice in three days, displayed courage, skill and leadership in handling the boat and in the care; of its occupants during the long voyage. He had previously been in charge of this boat when his own ship was sunk.
---
By https://www.thegazette.co.uk/London/issue/35941/supplement/1256
---
FOLLOWING PAGES ON THE SAME ARTICLE