SHIPS HIT BRITAIN 239 * - M N O
18)NEW TORONTO U-126
---
---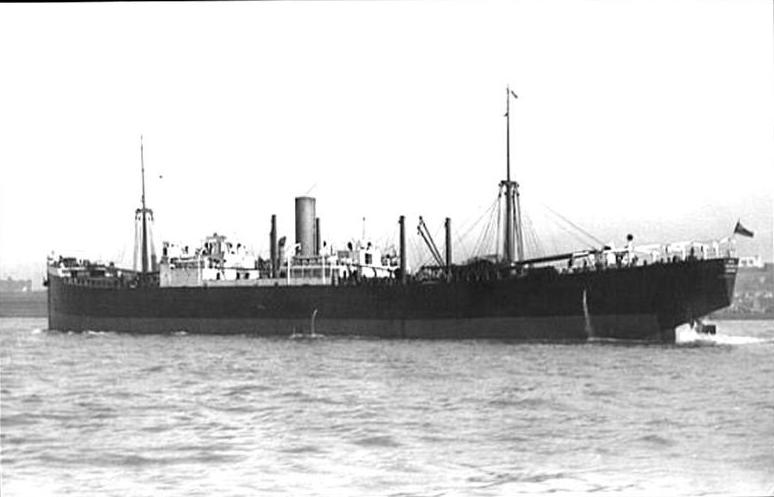 ---
Photo. www.photoship.co.uk
---
---
Built 1919
---
Tonnage 6,568 / 10,450 tons
---
Route: Forcados, Nigeria - Lagos - Accra - Liverpool
---
Cargo: 8,000 tons of African produce, including kernels, seeds, 240 tons of cotton, 140 tons of palm oil, 45 tons of Kapok, 23 tons of wolfram, 12 tons of tin, 3 boxes of gold and 10 bags of mail
---
Sunk 5 NOV 42 by U-126 on pos. 05º 57' N 02º 30'E
---
4 Dead
---
85 Survivors
---
At 20.59 hours on 5 Nov 1942 the New Toronto (Master Claude James Kewley) was hit on the port side by one of two torpedoes from U-126 while steaming on a non-evasive course at 8.5 knots in a clear, starlit night about 24 miles south of Kotonou. The torpedo struck in #2 hold abreast of the bridge, blew the hatch covers off and destroyed the port forward lifeboat. The British motor launch HMS ML-263 (SubLt P.C. Rendle, RNVR) was stationed off the port quarter as her sole escort and immediately approached the suspected firing position at high speed. As both aerials came down, no distress signals could be sent before the master, 53 crew members, six gunners (the ship was armed with one 4in and five machine guns) and 29 passengers, including 17 Kroomen and 10 cattle drovers, abandoned ship in the remaining three lifeboats and five rafts within 10 minutes.
---
The ship had swung round with an immediate list to starboard after the hit, but then rolled back to port and settled slightly by the head. In the meantime, the surfaced U-boat passed ahead of the vessel and fired a coup de grâce at 21.17 hours. The torpedo struck her on the starboard side in #3 hold, just after the master had left the ship as last man in the starboard forward lifeboat, which was swamped by the huge column of water thrown up by the hit.
---
The motor launch then dropped several depth charges on an Asdic contact, presumably the wake left behind by the U-boat. U-126 evaded the escort and left the area after firing a second coup de grâce at 21.54 hours. New Toronto sank slowly by the stern after being hit on the starboard side by the third torpedo. Three crew members and one cattle drover were lost.
---
The Asdic set of HMS ML-263 broke down after dropping the depth charges and her crew only heard the diesel engines of the attacker, but never sighted the U-boat. The motor launch began to pick up the survivors about one hour after the initial attack, navigating skillfully between much wreckage to each boat and raft that were scattered all over the place. Subsequently a square search was carried out for the missing men until 00.50 hours on 6 November and then a course was set for Lagos to land the survivors, arriving after seven hours.
---
HMS ML-263 soon left Lagos again with HMS ML-1042, HMS Fandango (T 107) (Lt A.G. Fisher, RNR), HMS Kelt (FY 112) (Lt G.B. Butler, RNVR) and HMS Runswick Bay (FY 750) (Lt J.M. Anderson, RNVR) to return to the sinking position of New Toronto in order to search for the missing men and to tow in the lifeboats, but they only found dead cattle and small wreckage and returned to port on 7 November.
---
By: New Toronto (British Steam merchant) - Ships hit by German U-boats during WWII - uboat.net
---
FOLLOWING PAGES ON THE SAME ARTICLE