SHIPS HIT BRITAIN 239 * - J K L
10)LACONIA MoWT U-156
---
---
---
Photo. www.photoship.co.uk
---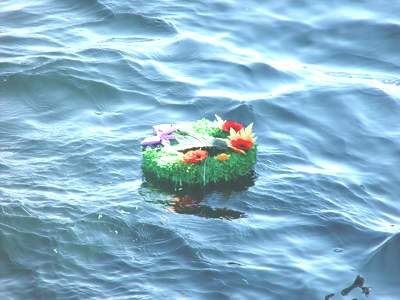 ---
Built: 1922
---
Tonnage: 19,695 / 13,180 tons
---
Cargo: 366 passengers, 1809 Italian prisoners of war and 200 tons of general cargo
---
Route: Suez - Aden - Mombasa - Durban - Capetown - Canada
---
Sunk 12 SEP 42 by U-156 on pos. 05º 00'S 11° 38'W
---
1658 Dead
---
1083 Survivors
---
On 5 Sep 1939, the steam passenger ship Laconia was requisitioned by the Royal Navy as armed merchant cruiser. On 1 Oct 1941, the ship was transferred to the Ministry of War Transport (MoWT) and used as troopship.
---
At 22.07 hours on 12 Sep 1942 the unescorted Laconia (Master Rudolph Sharp, OBE) was hit by two torpedoes from U-156 about 360 miles northeast of Ascension Island and sank at 23.23 hours. The master, 97 crew members, 133 passengers, 33 Polish guards and 1394 prisoners were lost. The U-boat began picking up survivors, took lifeboats in tow and notified the BdU about her rescue operation.
---
---
Picture above show the survivors encroached on the tine deck of U 156
---
On 15 September, U-506 (Würdemann), U-507 (Schacht) and the Italian submarine Cappellini (Marco Revedin) arrived and participated in the rescue. The next day, U-156 and another U-boat were attacked by American B-24 Liberator aircraft operating from Ascension, this incident lead to the famous Laconia order
---
Between 17 and 20 September, 1083 survivors (among them 415 Italians) were picked up from lifeboats or directly from the U-boats by the Vichy French warships Gloire, Dumont d´Urville and Annamite and taken to Dakar. The 668 Allied survivors were brought to Casablanca by Gloire on 26 September. On board were 1 officer and 178 ratings of the Royal Navy, 17 officers and 87 ratings from the British Army, 9 officers and 70 ratings from the Royal Air Force, 8 officers and 178 men from the Merchant Navy, 1 officer and 69 ratings from the Free Polish Army and 50 women and children.
---
By Laconia (British Troop transport) - Ships hit by German U-boats during WWII - uboat.net
---
FOLLOWING PAGES ON THE SAME ARTICLE