SHIPS HIT BRITAIN 239 * - D E F
35)EMPIRE WHIMBREL MoWT U-181
---
---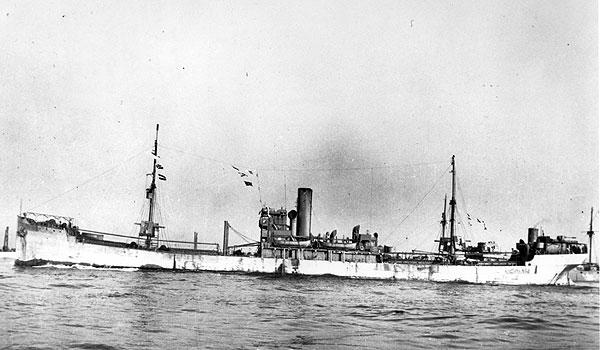 ---
Photo www.uboat.net
---
---
Built 1919
---
Tonnage 3,663 / 5,983 tons
---
Cargo: 5,339 tons of refrigerated and tinned meat
---
Route: Buenos Aires - Rio Grande - Freetown - UK
---
Sunk 11 APR 43 by U-181 on pos. 02º 31' N 15º 55' W
---
0 Dead
---
53 Survivors
---
Completed in July 1919 as American Monasses for US Shipping Board (USSB) and later laid up as part of the reserve fleet. 1941 given to Britain and renamed Empire Whimbrel by Ministry of War Transport (MoWT).
---
At 05.56 hours on 11 Apr, 1943, the unescorted Empire Whimbrel (Master Alfred Ernest Williams) was hit by two G7e torpedoes from U-181 about 420 miles southwest of Freetown. The U-boat had missed the vessel, reported under her former name Monasses, with two G7e torpedoes at 03.30 hours. The Germans questioned the survivors before opening fire with the deck gun and the 37mm AA gun at 07.15 hours. The ship sank 15 minutes later, after being hit by 20 of 28 rounds from the deck gun.
---
The barrel of the new 37mm AA gun exploded on the first shot, wounding Matrosengefreite Wilhelm Williger and Erich Will of its gun crew and Bootsmaat Heinz Kühne standing at the 20mm AA gun. Doctor Lothar Engel tried to save the badly wounded MtrGfr Williger by amputating the left leg, but he died after a few hours and was buried at sea the next day. On 12 April, MtrGfr Will was transferred to U-516 (Wiebe) and landed at Lorient on 4 May. On 25 June, Lüth took aboard Matrose Heinrich Müller from the German supply ship Charlotte Schliemann as replacement for the lost sailors.
---
The master, 45 crew members and seven gunners were picked up by HMS Wolverine (D 78) (Lt I.M. Clegg, RN) and HMS Witch (D 89) (LtCdr S.R.J. Woods, RNR) and landed at Freetown.
---
By https://uboat.net/allies/merchants/ship/2859.html
---
FOLLOWING PAGES ON THE SAME ARTICLE