SHIPS HIT BRITAIN 239 * - A B C
35)BRUY»RE U-125
---
---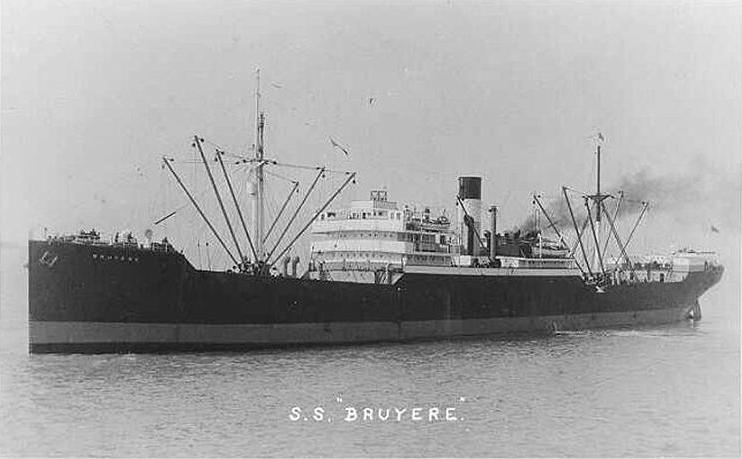 ---
Photo. www.photoship.co.uk
---
---
Built 1919
---
Tonnage: 5,335 / 8,080 tons
---
Route. Buenos Aires - Rio de Janeiro - Freetown - UK
---
Cargo 6,729 tons of foodstuffs and general cargo, including cased meat, hides, cotton and rice
---
Sunk 23 SEP 42 by U-125 in position 04º 55' N 17º 16' W
---
0 Dead
---
51 Survivors
---
At 23.34 hours on 23 Sep 1942 the unescorted Bruyère (Master Thomas William Major) was hit on the port side by two stern torpedoes from U-125 after a chase of eight hours about 250 miles southwest of Freetown. Both torpedoes struck in almost the same spot in #2 hold, just forward of the bridge and opened a large hole in the side, causing the ship to list 15° to port and to settle by the bow. The list made it difficult for the 45 crew members and six gunners (the ship was armed with one 4in and five machine guns) to abandon ship in the four lifeboats and one of the boats was lowered before the ship had lost her way and drifted astern with only five men in it.
---
However, all men abandoned ship safely within 20 minutes after the radio operator managed to send a distress signal. At 00.24 hours on 24 September, a coup de grâce hit on the starboard side in #2 hold, almost opposite of the hits on the port side and caused the ship to sink slowly by the head, finally plunging down vertically by the bows at 01.17 hours. The Germans questioned the survivors in two of the four lifeboats before leaving the area, receiving no answer when asking for the master.
---
The four lifeboats set sail for Freetown, but they became separated in darkness and did not meet again. 27 men in two of the boats were picked up by HMS Petunia (K 79) (LtCdr J.M. Rayner, RD, RNR) on 28 and 29 September and the five men in the boat that had drifted away were rescued by HMS Decoy (H 75) (LtCdr G.I.M. Balfour, RN), all survivors were taken to Freetown. On 30 September, the master and 18 men in the fourth boat were picked up by the British anti-submarine trawler HMS St. Wistan (4.015) (Lt W.H. Forster, RNR) after being spotted by a Hudson aircraft the day before and landed at Freetown on 2 October.
---
By https://uboat.net/allies/merchants/ship/2200.html
---
FOLLOWING PAGES ON THE SAME ARTICLE