SHIPS HIT BRITAIN 239 * - A B C
20)BARON OGILVY U-125
---
---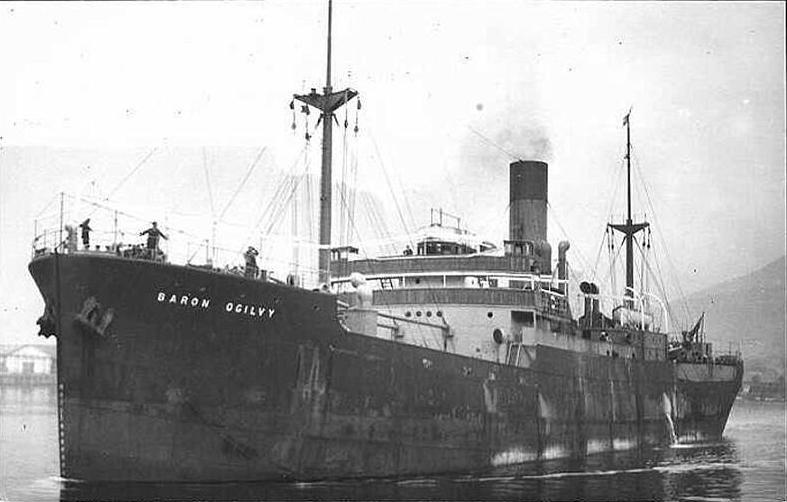 ---
Photo. www.photoship.co.uk
---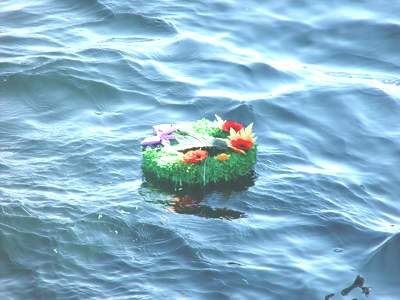 ---
Built 1926
---
Tonnage: 3,391 / 5,780 tons
---
Cargo: 5,150 tons of iron ore
---
Rio de Janeiro - Freetown - UK
---
Sunk 29 SEP 42 by U-125 on pos. 02º 30'N 14º 30'W
---
8 Dead
---
32 Survivors
---
At 12.55 hours on 29 Sep 1942 the unescorted Baron Ogilvy (Master John Steven) was hit on the starboard side in #5 and #4 holds by two torpedoes from U-125 southwest of Cape Palmas, Liberia. The explosions blew the hatch covers, parts of the cargo and debris high into the air, fell the main mast and severed the aerial, preventing the sending of a distress signal. The crew of 33 men and seven gunners (the ship was armed with one 4in, one 12pdr and five machine guns) had difficulties to abandon ship as both lifeboats were damaged and both rafts aft had been destroyed.
---
The starboard boat swamped on launch, but was nevertheless used to pick up survivors swimming in the water or clinging to debris or rafts. Its radio set was unusable as it had been disabled by flooding and the boat was subsequently lost. The ship quickly settled aft, remained at an angle of 60° until #3 bulkhead gave way and then sank by the stern about eight minutes after the torpedo hits. Four crew members and four gunners were lost. The U-boat surfaced, took photos, picked up the name board of the vessel and questioned the survivors, who told them that the master and chief engineer were lost. The Germans did not believe this but soon left the area without taking prisoners.
---
The master, 28 crew members and three gunners spent rest of the day patching up the holes in the port lifeboat, salvaging equipment and provisions from the water-logged starboard boat and rafts and then set sail in the crowded port boat for Freetown. On 1 October, they sighted a small convoy and unsuccessfully tried to attract attention by flare signals, the chief officer sustaining severe burns when one of them inadvertently ignited in his hand. On 5 October, the survivors and their lifeboat were picked up by the Portuguese steam passenger ship Mouzinho in 05°40N/11°22W and landed at Capetown on 21 October.
---
By Baron Ogilvy (British Steam merchant) - Ships hit by German U-boats during WWII - uboat.net
---
FOLLOWING PAGES ON THE SAME ARTICLE