SHIPS HIT BRAZIL 33 - BRAZILIAN SHIPS LOST
25)PARNAHYBA U-162
---
---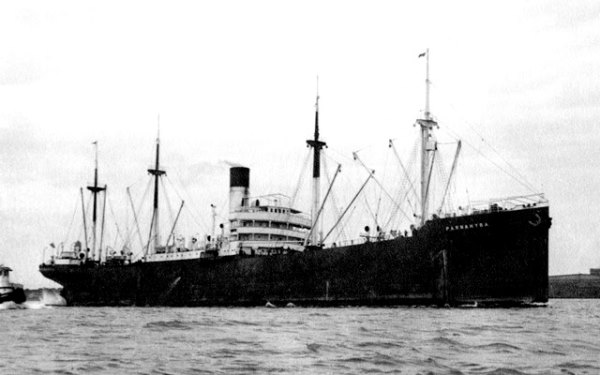 ---
Photo by Parnahyba (Brazilian Steam merchant) - Ships hit by German U-boats during WWII - uboat.net
Ambrose Greenway Collection
---
---
Built 1913
---
Tonnage 6,692 tons
---
Cargo: 7,500 tons of general cargo including 40,950 bags of coffee, 30,000 of cocoa, 27,155 of bran, 25,000 bales of leather, 17,585 of castor and 15,108 of various loads totaling 155,739 volumes.
---
Route. Rio de Janeiro - Pernambuco - New York
---
Sunk by U-162 on pos. 10º12"N 57º16"W
---
7 Dead
---
65 Survivors
---
Parnahyba, ex Alrick, was one ship of Brazilian Lloyd merchant fleet. With 6692 tons, she was launched in 1913 in England. Torpedoed and sunk by an unknown submarine when enroute from Recife bound to the port of New Orleans. The attack came when the ship was off Barbados. Her master was Raul Diegali. At about 03:00 pm, on the first of the may 1942, the ship was shaken by the explosion of one torpedo which hit the vessel portside at the #2 hold. The engines stopped.
---
Due to the great rush of water flowing into the compartment, captain Diegali ordered his men to abandon ship. Steamer Parnahyba was armed with 120 mm aft deck gun emplacement manned by 4 men headed by a sergeant that could do nothing to counteract the attack, once it was made with the submarine submerged. They followed his master's order and abandonment was performed orderly with the crew and passengers occupying 3 lifeboats. The fourth was damaged by the explosion.
---
The second radioman was the last to leave the listing ship, but could send SOS and gave the ship's position: 10º 12' n 057º 16' w. When the 3 lifeboats crowded with survivors was a mere one mile from the doomed vessel, the submarine surfaced and gave the coup de grace to the Parnahyba in death throes. She was shelled and machine gunned, but the old ship still remained at surface for two more hours in slow agony before plunging beneath the waves.
---
23 survivors in one lifeboat were rescued by the Spanish steamer Cabo Horne and taken to Rio de Janeiro. The second lifeboat was seen and rescued by Canadian steamer Turret Cap which landed them at Georgetown. Out of the 72 crewmen seven were lost.
---
FOLLOWING PAGES ON THE SAME ARTICLE