SHIPS HIT BRAZIL 33 - BRAZILIAN SHIPS LOST
13)BUARQUE U-432
---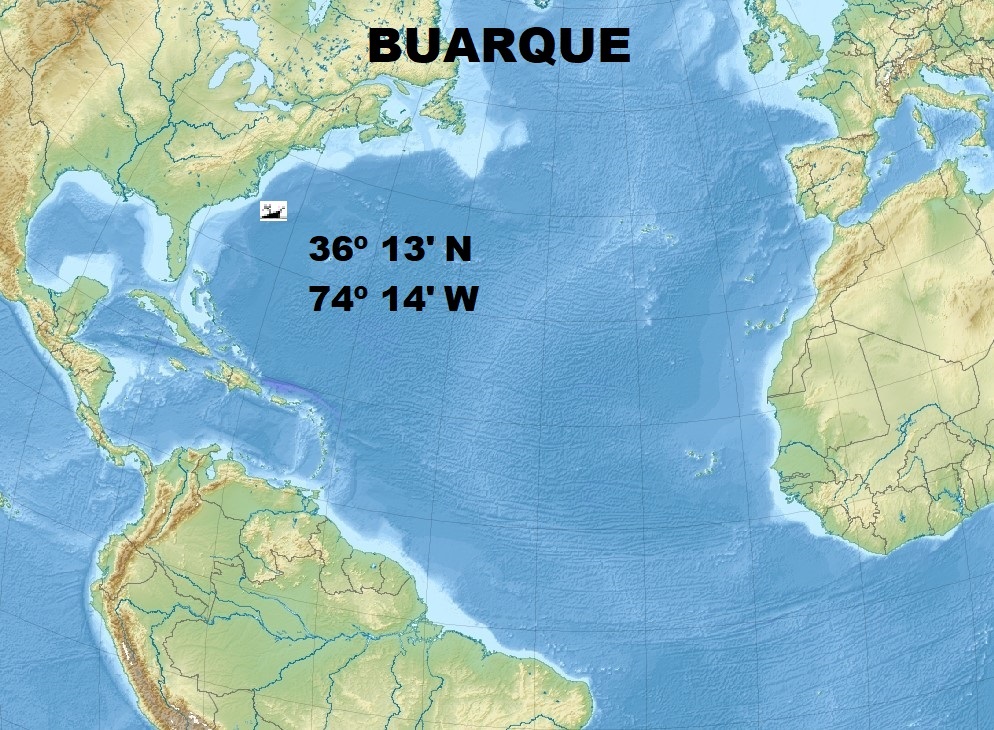 ---
---
Photo. http://www.timetableimages.com/maritime/images/asl30si.htm
---
---
Built 1919
---
Tonnage 5,152 / 7,140 tons
---
Cargo: Passengers and general cargo including coffee, cotton, cocoa and hides
---
Route. Rio de Janeiro - Recife - Natal - Belém - La Guaira - Curaçao - New York
---
Sunk 14 Feb 42 by U-432 on pos. 36º 13'N 074º 58'W
---
1 Dead
---
84 Survivors
---
The first Brazilian merchant attacked after the severing of diplomatic relations with axis powers was the steamer Buarque. Owned by Brazilian Lloyd and sailing to New York, Buarque was a passenger ship with 5.152 gross tons. Ex American built Scamperim, launched 1919. She was outbound from La Guaira , Venezuela , when at 45' past midnight on February 14th 1942 off Norfolk she was hit at port side in # 1 bunk . She began listing and sinking in slow. In complete darkness, master Joao Moura ordered the crew to abandon ship. Four life boats were lowered when passengers and crew boarded them in perfect order.
---
When the boats were a few yards from the ship then #1 hold blew up and 15 minutes later the doomed ship received another torpedo impact at engine room, what broke her in two and sunk fast. 74 of her crew and 10 more passengers were saved. One death was verified when one Portuguese passenger had a heart attack.
---
At the moment of the attack the steamer was at position 36º 13'N 074º 58'W. An S.O.S. was sent by emergency station once the radio room had been damaged during the attack. The temperature at the moment was below 0º Celsius, what made the salvage task a truly ordeal. In the previous night, an unidentified aircraft overflew the steamer and dropped a flare.
---
Following that, a submarine loomed a few yards from the ship, but taking no hostile action and dived when the ship was passing off Cape Hatteras, South Carolina. Out from the 4 lifeboats packed with survivors, two were spotted by American planes, only 6 hours after the sinking, and their occupants were rescued by US coast guard Calypso, at 3:30 pm in the same day; while lifeboat # 1 where the captain boarded, was located in the following day, and assisted by US Navy destroyer Jacob Jones and, finally the remaining lifeboat was found and rescued by US tanker Eagle from Standard Oil. All occupants landed safely and were given medical assistance at 5th naval district at Newport News.
---
---
Above USS Jacob Jones DE 130. Photo http://www.navsource.org/archives/06/images/130/0613010.jpg by David Buell
---
FOLLOWING PAGES ON THE SAME ARTICLE