ROYAL NAVY SOUTH ATLANTIC COMMAND - ROYAL NAVY N P Q R 16 SHIPS
5)NORMAN (DESTROYER)
---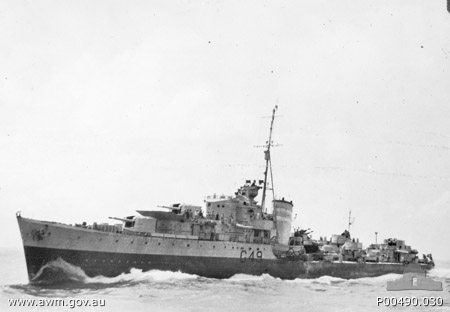 ---
---
Completed: 1941
---
Displacement: 1,760 tons (standard), 2,550 tons (full load)
---
Length: 356 ft 6 in
---
Beam: 35 ft 8 in
---
Draught: 16 ft 4 in
---
Propulsion: Parsons geared turbines, 40,000 hp
---
Armament: 6 x 4.7-inch guns, 1 x 2-pounder 4 barrel Pom Pom, 1 x 40 mm Bofors
3 x 20 mm Oerlikons, 2 x .5-inch machine guns, 2 x .303 Lewis machine guns, 10 x 21-inch torpedo tubes (2 pentad mounts)
Depth charges
---
Speed: 36 kts
---
Complement: 226
---
HMAS Norman (G49) was an N class destroyer laid down by John I. Thornycroft and Company at Woolston, Hampshire on 27 July 1939, launched on 30 October 1940 and commissioned on 29 September 1941.
---
She was manned by Australians and commissioned in the Royal Australian Navy but remained the property of the British Government. As part of her Australian deployment, Norman served with the British Eastern Fleet from January 1942 to February 1945, after which she joined the British Pacific Fleet
---
While serving in the south Atlantic HMAS Norman took 25 crewmembers from British MoWT Empire Nomad which was sunk when sailing in ballast by U-159 in pos. 37º.50"S, 18º.16"E, being the master, 19 crew members and five gunners that were picked up by the Panamanian motor tanker Elisha Walker, and landed at Capetown. 10 men were lost.
---
OTHER ARTICLES YOU MAY FIND SIMILAR