ROYAL NAVY SOUTH ATLANTIC COMMAND - ROYAL NAVY J K L M 14 SHIPS
8)MILFORD (SLOOP)
---
---
Photo. www.desertwar.net
---
---
Completed: 1940
---
Displacement: 1123 tons
---
Length: 281 ft
---
Beam: 35 ft
---
Draught: 8,3 ft
---
Propulsion: 2 × QF 4 in (100 mm) Mk V guns (2×1), 4 × .5 inch anti-aircraft machine guns (1×4)
---
Complement: 95
---
Speed: 16 kts
---
HMS Milford U 51 was based at Freetown since the war outset for defence of convoy between Gibraltar and south Africa. In Jan 40, she was sent to Simonstown for refit. Returned Freetown in April to resume position. In that month had her pennant number changed to U 51.
---
She provided Escort for military convoy W35A on Jan 41 to Cape of good Hope. In June 42 Milford was detached from convoy WS 19 from Capetown to Freetown to prepare for refit at Rio de Janeiro at Brazilian Navy Arsenal where she remained until September. In Freetown she remained for one more year went for refit in Clyde shipyard. In Dec 43 was withdrawn from service due to poor condition of hull.
---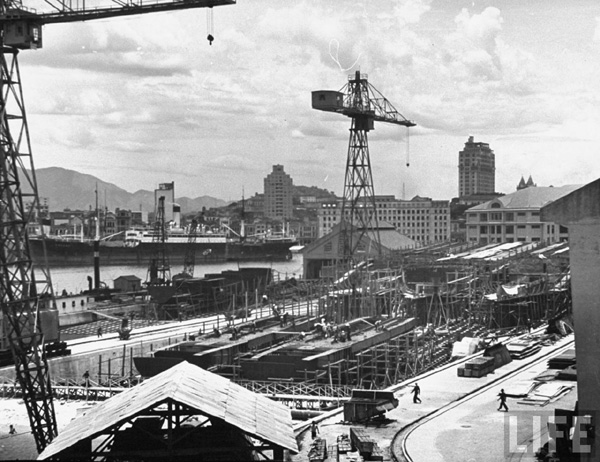 Brazilian Navy Arsenal Rio de Janeiro. Photo LIFE Magazine
---
In south Atlantic she took part in the salvage of the american ship Thomas Ruffin torpedoed 9 Mar 43 by U-510 on pos. 07º40"N 52º07"W. 52 survivors were rescued by U 51, USS Courage (PG 70), USS Borie (DD 215) and USS PC-592. Thomas Ruffin was towed by HMS Milford (U 51) to the naval dock in Port of Spain, arriving on 17 March. After some repairs she was towed to Mobileand declared a total loss.
---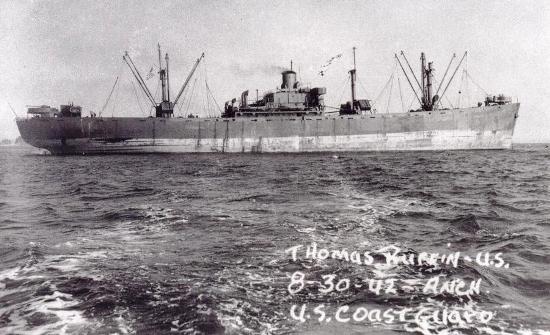 ---
On 30/05/43 the American merchant Flora McDonald was torpedoed by U- 126 in position 07.15N, 13.20W when escorted by HMS Fandango (T 107). The ship was loaded with 6270 tons of cocoa, mahogany and rubber. 7 men were lost. HMS Fandango rescued all survivors, 60 and headed for Freetown.
---
The next day, the British tug HMS Zwarte Zee (W 163), escorted by the British sloop HMS Milford (L 51) and the British corvettes HMS Woodruff (K 53) and HMS Tamarisk (K 216), took the still burning vessel in tow for Freetown at 5.5 knots. At 18.00 hours on 1 June, they beached the ship in Freetown Harbor where the cargo of rubber was salvaged. The Liberty ship burned for 16 days and was later declared a total loss.
---
OTHER ARTICLES YOU MAY FIND SIMILAR