ROYAL NAVY SOUTH ATLANTIC COMMAND - ROYAL NAVY J K L M 14 SHIPS
5)LONDON (HEAVY CRUISER)
---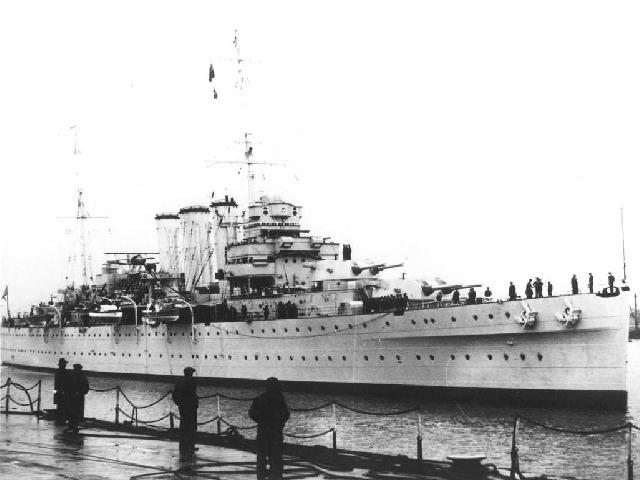 ---
Photo. www.wikipedia.org
---
---
Completed: 1929
---
Displacement: 9,750 tons standard, 13,315 tons full load
---
Length: 633 ft
---
Beam: 66 ft
---
Draught: 21 ft
---
Propulsion: Eight Admiralty 3-drum boilers, Four shaft Parsons geared turbines, 80,000 shp (60 MN)
---
Armament: 8 x BL 8 inch (203 mm L/50) Mk.VIII in twin mounts Mk.I*, 4-8 x QF 4 inch (102 mm L/45) Mk.V in single mounts HA Mk.III, 4 x QF 2 pdr (40 mm L/39) Mk.II in single mounts HA Mk.I, 8 x QF 0.5 inch (12.7 mm L/50) Mk.III in quad mounts Mk.I, 8 x 21 inch (533 mm) torpedoes in quad mounts
---
Speed: 32
---
Complement: 784
---
Range: 9120 miles
---
Aircraft: One Supermarine Walrus, one catapult
---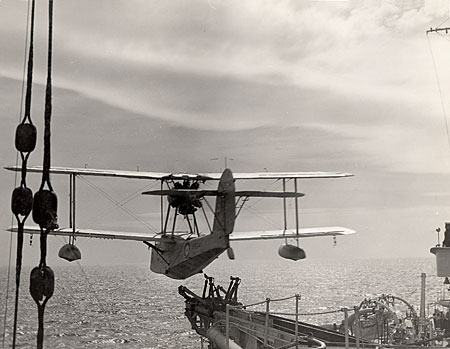 ---
Walrus being launched from HMS Exeter. Photo. www.exetermemories.co.uk
---
London was involved in the pursuit of the German battleship Bismarck in May 1941. She was then assigned to operate off the South African coast. On 5 June 1941 London and the destroyer HMS Brilliant intercepted the German supply tanker Esso Hamburg in pos. 07º 35'N 31º25'W. Esso Hamburg carried 7400 tons of fuel oil, 1200 tons of Diesel oil for own consumption, 20 crated torpedoes, 2,000-3,000 tons of fresh water, 300 tons of special boiler water, 2,500 20.5 cm. shells. Provisions for 2,000 men in special packings. After scuttling the ship 87 Germans were made POW.
---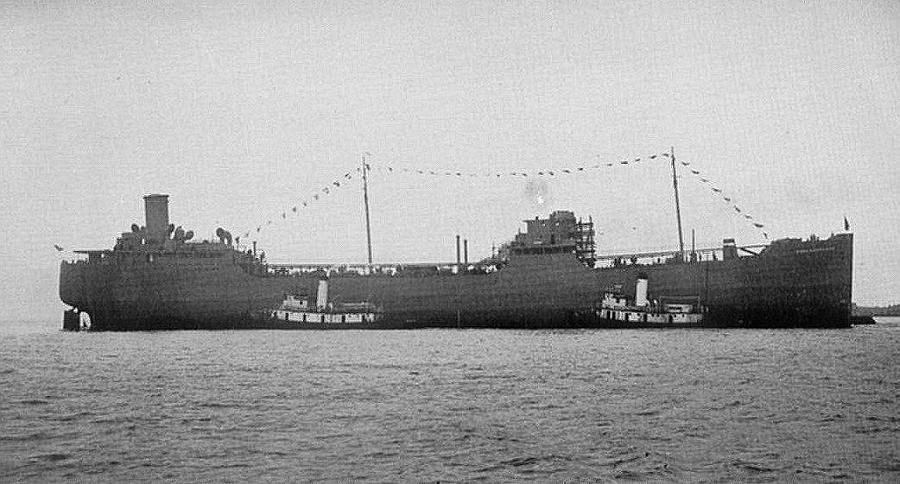 ---
Esso Hamburg. Photo. www.photoship.co.uk
---
Later in that same day the German Egerland was caught in the supply area off the Freetown-Natal route in pos. 07º 00'N 31º 00'W. The ship was laden with 500 barrels of lubricating oil for U boats, 50 torpedoes, drinking water to supply U-boats, Provisions in special packing including smoked meat, stowed aft, which went bad in the heat, canned fruit, lemons and tobacco and cigarettes for about 500 men for four months. A great deal of supplies were intended to serve the surface raiders. The tanker was scuttled by her crew. 94 men were made POW.
---
On the 26th, she intercepted the German tanker Babitonga, in pos. 02º05"S 27º42"W , which had been tasked to refuel the commerce raider Atlantis. Again, the Babitonga's crew scuttled her. 37 men were made POW.
---
OTHER ARTICLES YOU MAY FIND SIMILAR