ROYAL NAVY SOUTH ATLANTIC COMMAND - ROYAL NAVY J K L M 14 SHIPS
3)KILDWICK (PATROL VESSEL)
---
---
Photo. www.en.wikipedia.org
---
---
Completed: 1943
---
Displacement: 640 tons
---
Length 180' 6" ft
---
Beam: 33' ft
---
Draught: 9' 8" ft
---
Propulsion: Two 1,800bhp General Motors 12-567A diesel engines, Falk single reduction gear,
two shafts.
---
Armament: One 3"/50 dual purpose mount, three 40mm mounts, five 20mm mounts, two dct, four dcp, two dcp (hh)
---
Speed: 15 kts
---
Complement: 100
---
Returned U.S.N. in December 1946.
---
Former USS PCE 832, HMS Kildwick Z 07, was transferred to Great Britian 27 September 1943.Between February 5th and December 17th 1944, HMS Kildwick provided escort support for 13 convoys, between Freetown (Sierra Leone) and the UK and on the Freetown – Takoradi (Ghana) – Lagos (Nigeria) West African triangular route.
---
On 26/02/44, when on convoy STL-12 about 130 miles west of Takoradi with several ships including British Silvermaple they were attacked by U 66 on pos. 04º 44'N 03º 20'W. 47 crew members, nine gunners and one passenger were picked up by HMS Kildwick (Z 06) and landed at Takoradi on the following day.
---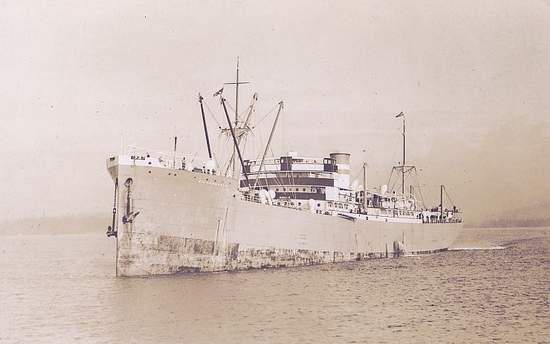 ---
British Silvermaple. Photo. www.wrecksite.eu
---
OTHER ARTICLES YOU MAY FIND SIMILAR