ROYAL NAVY SOUTH ATLANTIC COMMAND - ROYAL NAVY E F H I 15 SHIPS
3)ENGADINE (AC TRANS VESSEL)
---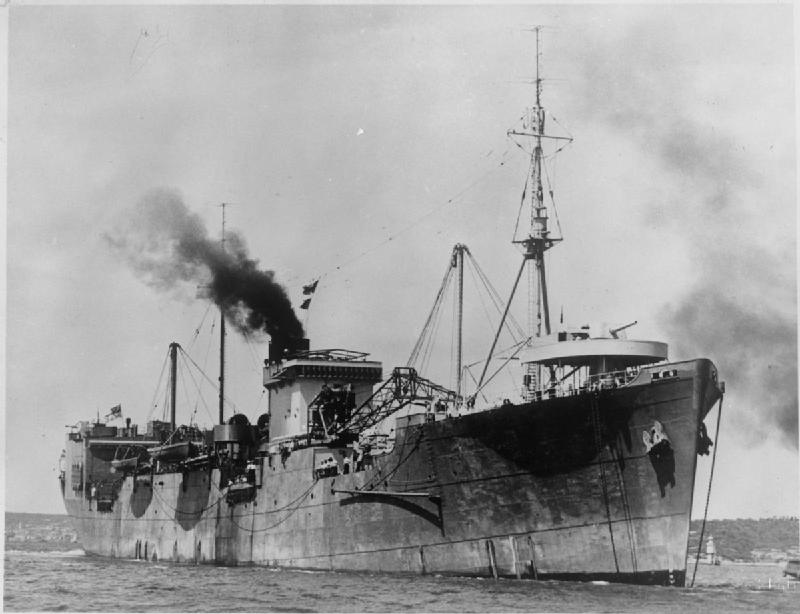 ---
Photo.www.wikipedia.org
---
---
Completed: Nov 1941
---
Displacement: 9,909 long tons (10,068 t)
---
Length: 464 ft
---
Beam: 63 ft
---
Draught: 30 ft
---
Propulsion: 2 × steam triple expansion and exhaust turbines
---
Speed: 16 kts
---
Complement: 78
---
Aircraft carried: 20 folded or 40 dismantled
---
HMS Engadine and her sister HMS Athene were both deployed at Takoradi and Capetown for aircraft transportation for RAF bases along African Coast. Engadine was used as Seaplane Depot ship.
---
HMS Engadine was a 9,909 ton cargo ship laid down at the Greenock Dockyard Company, Greenock, Scotland on 16 March 1940, launched on 26 May 1941 and completed on 17 November 1941.
---
She was originally built for the Clan Line, and named Clan Buchanan (the previous Clan Buchanan having been sunk by the German raider Pinguin on 28 April 1941). However she was taken over by the British Royal Navy before completion and renamed in honor of the first HMS Engadine for use as a seaplane depot ship.
---
She was loaned to the US Navy from November 1942 until July 1943. At the end of the war, she was sold back to the Clan Line in 1946 and reverted to her original name. The ship was eventually scrapped at Cartagena, Spain in November 1962.
---
---
OTHER ARTICLES YOU MAY FIND SIMILAR