ROYAL NAVY SOUTH ATLANTIC COMMAND - ROYAL NAVY E F H I 15 SHIPS
12)HAWKINS (HEAVY CRUISER)
---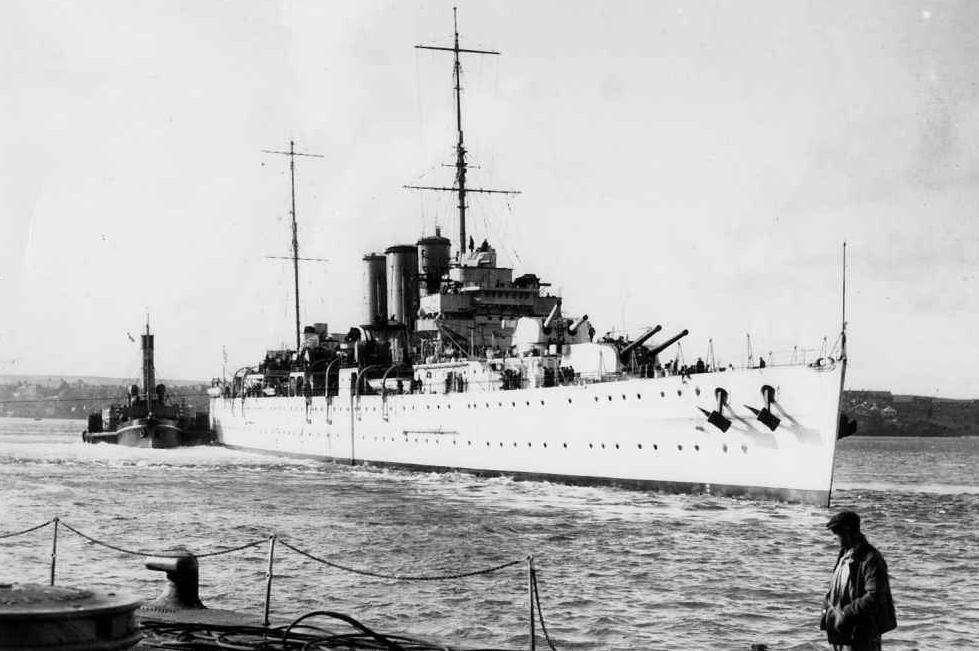 ---
Photo. www.wikipedia.org
---
---
Completed: 1919
---
Displacement: 12,190 tons (full load)
---
Length: 605 ft
---
Beam: 65 ft
---
Draught: 20,5 ft (full load)
---
Propulsion: Eight Yarrow-type oil-fired water-tube boilers, Two coal fired boilers (until 1929 - then ten oil fired boilers), Parsons geared steam turbines, Four shafts, 60,000 shp
---
Range: 5,400 miles at 14 kts
---
Armament: 7 x BL 7.5 inch Mark VI in single mounts CP Mk.V, 4 x QF 12 pdr 20 cwt Mk.I on single mounts HA Mk.II, 4 x QF 12 pdr 20 cwt Mk.I on single mounts HA Mk.II, 2 x QF 2 pdr Mk.II on single mounts HA Mk.I, 2 x submerged & 4 x fixed above water 21 inch torpedo tubes
---
Speed: 30 kts
---
Complement: 800
---
When the Second World War broke out in 1939, Hawkins was rearmed and recommissioned to become the flagship to Rear Admiral Henry Harwood, after the Battle of the River Plate. She patrolled off the South American coast, operating as far south as the Falklands.
---
On 12/Feb/40 German Merchant Wakama before an imminent capture by HMS cruiser Hawkins and HMS Dorsetshire, was scuttled by own crew off Rio de Janeiro on position 22º 35'S 41º 39'W. 46 survivors were taken as POW.
---
---
German blockade runner Wakama.
---
On 5 September 1940 HMS Hawkins sailed to Simonstown, South Africa for a refit. Before she could make use of the dry dock, it was occupied by the aircraft carrier HMS Hermes, which was undergoing repairs after having been damaged in a collision with a merchant ship. Hawkins was diverted to Durban where she spent seven weeks waiting before she was able to dock in the Selborne dry dock at Simonstown.
---
On 6 Jan 41 Hawkins also rescued nine of the crew from the tanker SS British Premier, seen below, which had been torpedoed off Freetown by U-65 in pos. 06º 20'N 13º 20'W on 24/12/1940.
---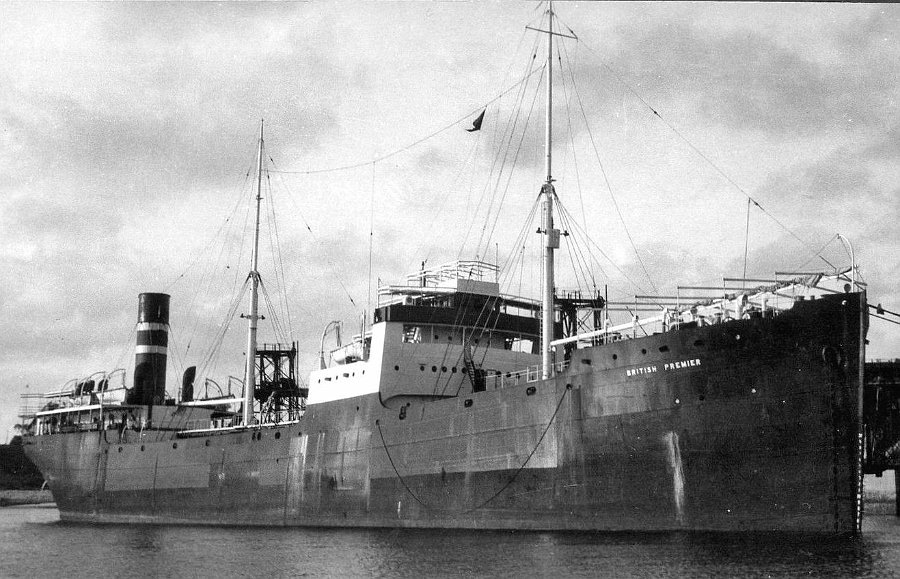 ---
OTHER ARTICLES YOU MAY FIND SIMILAR