ROYAL NAVY SOUTH ATLANTIC COMMAND - ROYAL NAVY E F H I 15 SHIPS
1)EAGLE (ACFT CARRIER)
---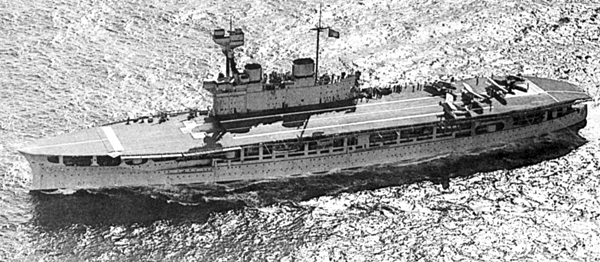 ---
---
Completed: 1924
---
Displacement: 21,630 tons standard, 26,000 tons loaded
---
Length: 667.5 ft
---
Beam: 94 ft
---
Draught: 24.7 ft
---
Propulsion: Brown-Curtis geared turbines, four shafts, 32 boilers; 50,000 shp
---
Armament: 9 × 6 inch guns, 12 × 20 mm Oerlikons, 4 × 2 Pounder pom pom
---
Complement: 950
---
Aircraft carried: 21 Hawker Sea Hurricane
---
Speed: 22,5 kts.
---
Range: 4000 miles at 18 kts.
---
In March 1941 she was assigned to Freetown. Her aircraft, flying from Port Sudan, attacked Italian ships at Massawa en route. She arrived at Freetown in early May, carrying out patrols in the South Atlantic searching for German raiders and supply ships. In October 1941 she returned to Britain for a refit at Cammell Laird shipyard, Birkenhead, this continuing until January 1942.
---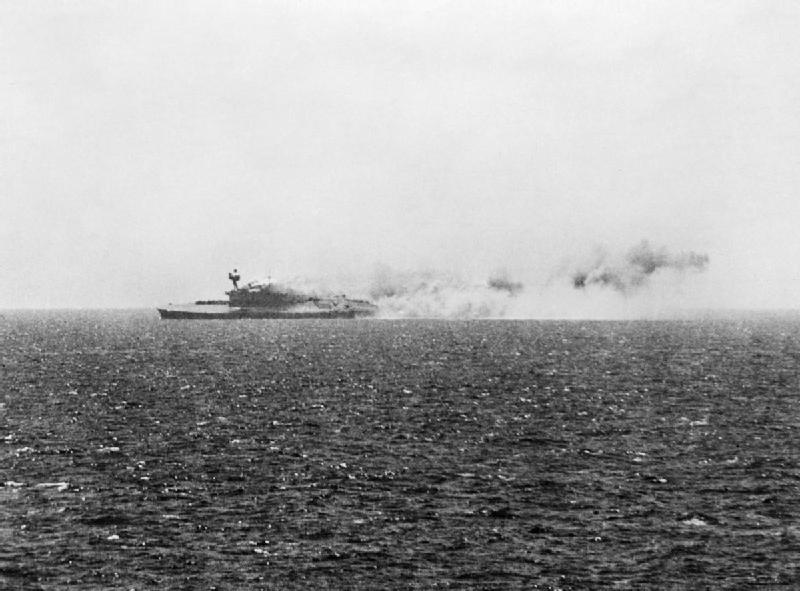 ---
Fate: Sunk by U-73 on 11 August 1942. Eagle covered Operation Pedestal together with the carriers Victorious and Indomitable. Eagle carried 16 Sea Hurricanes of 801 and 813 Squadrons as well as four reserve aircraft for the operation. On the early afternoon of 11 August, Eagle was hit by four torpedoes from the German submarine U-73, commanded by Helmut Rosenbaum, and sank within four minutes, 70 nautical miles (130 km; 81 mi) south of Cape Salinas at position 38°30″N 3°12.00″E
---
---
View of carrier Eagle in her death throes. Photo. www.vintagewings.ca
---
131 officers and men, mainly from the ship's machinery spaces, were lost in the sinking, Sixteen Sea Hurricanes were lost; four from 801 were aloft when the ship was torpedoed, and landed on other carriers. The destroyers Laforey and Lookout and the tug Jaunty rescued 67 officers and 862 sailors.
---
OTHER ARTICLES YOU MAY FIND SIMILAR