ROYAL NAVY SOUTH ATLANTIC COMMAND - ROYAL NAVY C D 30 SHIPS *
27)DRAGON (LIGHT CRUISER)
---
---
Photo. https://en.wikipedia.org/wiki/HMS_Dragon_(D46)#/media/File:ORP_Dragon.jpg
---
---
Completed: 1918
---
Displacement: 4,928 tons
---
Length: 445 ft
---
Beam: 46,5 ft
---
Draught: 14,5 ft
---
Propulsion: Six Yarrow-type water-tube boilers, Parsons geared steam turbines, Two shafts, 40,000 shp (30 MW)
---
Speed: 29 kts
---
Range: 2,300 miles
---
Complement: 462
---
Armament: 1942: 6 × 152 mm Mk XII guns, 2 × 102 mm Mk V AA guns, 6 × 40 mm 2 pdr Pom-pom AA, 12 × 533 mm torpedo launchers
---
In January 1940 Dragon was nominated for duty in south Atlantic. In February went for refit and new assignment in the Mediterranean, until June when she was transferred to South Atlantic Station for convoy defence, remaining until August when she was assigned for convoy Escort duties to Durban. Returned September to Simonstown for duties in West African waters.
---
On 23 Aug, when supporting landings at Dakar she was hit by shore batteries. On November 3rd returned to Freetown when resumed convoy defence duties in South Atlantic until Aug 1941. On 5 May 1941 HMS Dragon rescued the master, 38 crew members and four gunners from British merchant Queen Maud sunk by U-38 on pos. 07º 54'N 16º 41'W. Survivors were picked up by the Portuguese merchant Mirandella, transferred to HMS Dragon that landed them at Freetown on 8 May.
---
Loaned to Polish Navy Jan 1943. Scuttled as a breakwater during Normandie landings.
---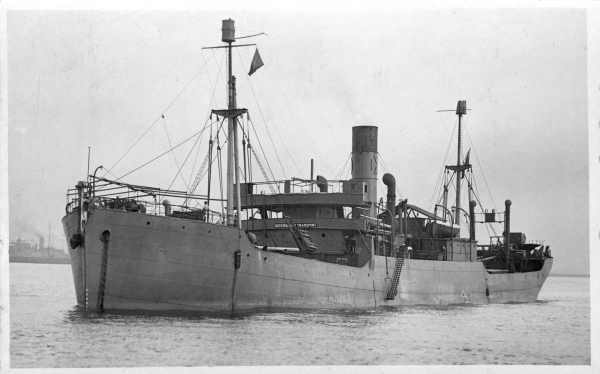 ---
Queen Maud. Photo. State Library of Victoria
---
FOLLOWING PAGES ON THE SAME ARTICLE