ROYAL NAVY SOUTH ATLANTIC COMMAND - ROYAL NAVY A B 36 SHIPS
6)ALCANTARA (ARMED M. CRUISER)
---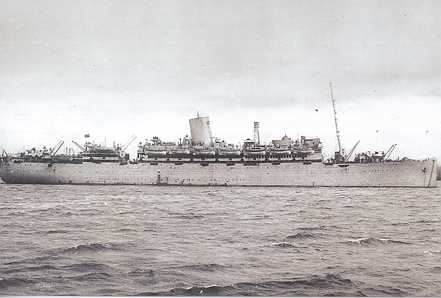 ---
Photo. www.iwm.co.uk
---
---
Completed: 1927
---
Displacement: 22,181 tons
---
Length: 656 ft
---
Beam: 78 ft
---
Propulsion: Burmeister & Wain diesels, twin propellers
---
Speed: 16 kts
---
Complement: 254
---
Armament: 6 in (150 mm) guns
---
Fate: Broken up 1958
---
AMC Alcantara was under Capt. J G Ingham (Rtd). Simonstown dock.
---
In December 1939, all painted gray, Alcantara sailed to the East Coast of South America to provide services, and returning to the familiar waters of her career as a liner
---
The AMC was reinstated to the naval forces of the South American Division South Atlantic under the command of Rear Admiral Sir Henry Harwood - who, aboard the cruiser Hawkins, was responsible for the safety of the routes in that area. Sir Harwood still savoring the joy of the victory of the naval forces under his command on the famous German battleship Graf Spee in December 13, 1939.
---
The main task of the HMS Alcantara was sailing along the Brazilian coast on patrol to protect the British merchant traffic and at the same time, demand and intercept any German merchant who tried to escape to Germany as blockade runners. For proper execution of these missions, it was essential to listen to the traffic, radio, between ground stations - which allow to know, plus vital information on maritime traffic, the names of ships involved, their cargo, destination and travel above all, the dates of movements.
---
On 28 July, Thor encountered the British armed merchant cruiser HMS Alcantara, which was armed with eight six inch (150 mm) main guns. Kähler turned away from Alcantara and tried to outrun her for three hours until he realized Alcantara was faster than Thor. At that point Kähler decided to turn and fight, hoping to inflict enough damage on Alcantara to allow Thor to escape.Thor scored three early hits on Alcantara: one between her bridge and funnel, a second aft, and a third on her waterline that caused flooding in her engine room, forcing Alcantara to reduce speed.Thor turned away from Alcantara and received two hits from her six-inch guns, killing three crew members. Instead of risking further combat, Thor made her escape under cover of a dense smokescreen.
---
After the battle with Alcantara, Thor repaired her battle damage, cleaned her boilers and changed her disguise. Thor rendezvoused with the supply ship Rekum on 25 August and then returned to Brazilian waters. Two weeks later, on Sept 8, the Yugoslav Federico Glavic was stopped, but allowed to proceed unmolested, as Yugoslavia was neutral at the time. On 26 September Thor's float plane discovered the Norwegian whale-oil tanker Kosmos, which was carrying over 17,000 tons of whale oil. The Kosmos would have been a highly valuable prize ship, but the fact that she was short of fuel, slow, and easily recognizable made keeping her as a prize unfeasible. Kähler ordered Kosmos to be sunk by gunfire.
---
By https://en.wikipedia.org/wiki/German_auxiliary_cruiser_Thor
---
In the south Atlantic AMC Alcantara rescued survivors from US Merchant George Clymer sunk 07 Jun 42 by German raider Michel in pos. 17 40'S 20 00'W
---
FOLLOWING PAGES ON THE SAME ARTICLE