ROYAL NAVY SOUTH ATLANTIC COMMAND - ROYAL NAVY A B 36 SHIPS
17)AURICULA (CORVETTE)
---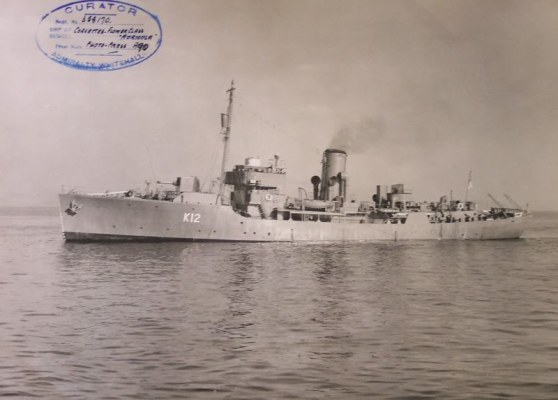 ---
---
Photo. www.theflowerclasscorvetteforums.yuku.com
HMS Auricula seen when hit a mine off Madagascar
---
---
Completed: 1940
---
Displacement: 940 tons full 1,180 tons
---
Length: 62,48 meters
---
Beam: 10,06 meters
---
Draught: 4,04 meters
---
Armament: 1 × 102mm, 1 × 40mm , 4-6 × 20mm / 12.7mm, ASW (0-1×hedgehog, 1-2×DCL, 1-2×DCR)
---
Propulsion: 2 × S.E cylindrical boilers, 1 × vertical triple expansion reciprocating engines @ 2750 hp, 1 (shaft)
---
Speed: 16 kts
---
Complement: 85
---
HMS Auricula (Lt.Cdr. Sidney Lord Bannister Maybury, RN) was mined in Courrier Bay, Madagascar in position 12º12'S, 49º19'E on 5 May 1942 and foundered the next day while under tow.
---
Auricula was based in Liverpool and spent most of 1941 in escort work across the Atlantic. She was fitted with RDF in Londonderry and transferred to Freetown later in the year and patrolled the West Coast of Africa. She was moved again to Lagos, where many of the crew got malaria, and sailed for Cape Town calling in on Walvis Bay. She arrived at the Cape on Good Friday 1942 and proceeded on to Durban, the assembly port for part of the fleet carrying troops for the invasion of Madagascar.
---
Early in the operation she hit a mine and sank the next day. Casualties were mostly head and leg injuries and the injured were transferred to the SS Batory, the Polish trans Atlantic liner that was acting as hospital ship. The injured were then transferred to the SS Atlantis, a Greek passenger vessel, that took them to Durban.
---
---
FOLLOWING PAGES ON THE SAME ARTICLE