ROYAL NAVY SOUTH ATLANTIC COMMAND - BRITISH ROYAL NAVY LOSSES SOUTH ATLANTIC
2)HMT BIRDLIP T 218
---
---
---
Above HMT Birdlip sister ship Bredon. Photo https://en.wikipedia.org/wiki/HMT_Bredon_(T223)#/media/File:HMT_Bredon.jpg
---
---
---
Completed 7 Sep 1941
---
Displacement 750 tons
---
Length 180 ft
---
Draught 10 ft
---
Armament 1 x 12 pdr AA guns, 3 x 20mm AA (3x1)
---
Propulsion: Reciprocating engines, 1 shaft 970 HP
---
Fate: On 14 Jun, 1944, U-547 attacked a small convoy, consisting of the Saint Basile and the three A/S trawlers HMS Birdlip (T 218), HMS Turcoman and HMS Inkpen (T 225) off Greenville, Liberia and sank HMS Birdlip (T 218) (T/Lt I.B.E. Humphrey, RNVR) at 01.36 hours with a Gnat and at 02.56 hours the merchant Saint Basile. Survivers boarded 2 Carley floats and made ashore hours later and were hospitalized at Freetown.
---
In the south Atlantic HMS Birdlip saw active service. She rescued 61 crewmembers from British Merchant Bandar Shapour sunk 30/Apr/43 by U-515 on pos. 07º 15"N 13º 49"W. She also took part in the rescue of 97 crewmembers of British City of Singapore sunk 01/04/43 by U-515 in pos. 07º 55' 14º 16'W.
---
---
Above, crewmembers from HMS BIRDLIP can be seen at the ship's deck. Picture kindly sent by Ron Leach.
---
---
British ship Bandar Shapour. Photo. www.photoship.co.uk
---
On 1st May 1943 the master, 30 crew members and eight gunners from British Corabella sunk in the previous day by U-515 in pos. 07º 14'N 13º 40'W were picked up by the A/S trawler HMS Birdlip (T 218) and landed at Freetown the next day. Also 111 crewmembers of British Nagina were also rescued by the HMS Birdlip. The British merchant was sunk by U-515 in pos. 07º 19' N 13º 50' W.
---
By www.uboat.net
---
EXCERPTS FROM SS BANDAR SHAHPOUR CAPTAIN
---
When Birdlip unloaded her human cargo of 253 survivors at Freetown at noon of 1st May, Captain W.A Chappell from Bandar Shahpour discovered that the dangers of being sunk were not all nautical. The accomodations provided his officers and his Goanese crew were appaling. The so-called Grand Hotel rooms provided assigned to his officers were so stinking and unhygienic, it was a wonder, he stated, that they did not all dye from disentery or typhoid: and the Sabbars Hotel, which housed his native crew, was so foul that every men among them became sick. "They were simply wallowing in filth," he reported, " and the food provided was uneatable" some were only given a piece of bread, with jam, after being 36 hours without food." No baths were available. It was worse, he said than the boardinghouses in Bute Street, Cardiff.
---
Source: https://bi.hcpdts.com/reflowable/scrollableiframe/9780062039460
---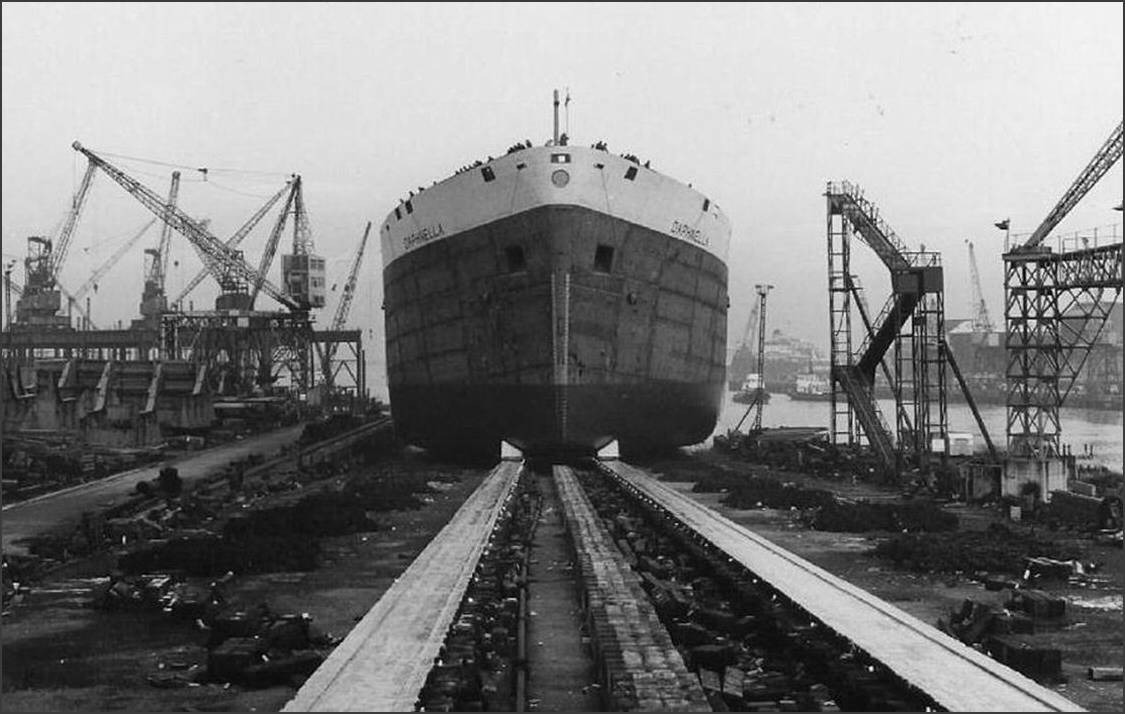 ---
M.V. Corabella
---
---
British ship Nagina. Photo www.photoship.co.uk
---
OTHER ARTICLES YOU MAY FIND SIMILAR