- SHIPS TANKERS
12)SUPPLY SHIP TANNENFELS
---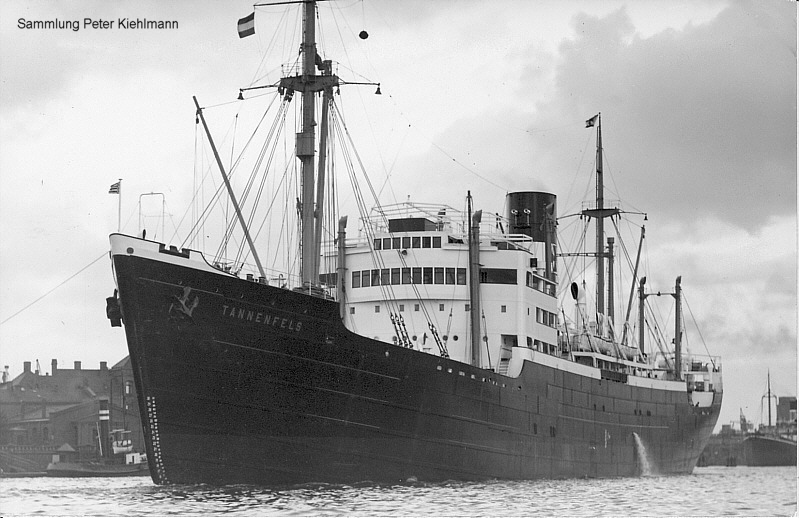 ---
Photo. http://www.ddghansa-shipsphotos.de/
---
Built: 09 APR 1938
---
Commissioned: 11 JUN 1938
---
Tonnage: 7,840 GRT / 10,663 DWT
---
Length: 155,47 m
---
Beam: 18,69 m
---
Draught: 8,26 m
---
Propulsion: 2x6 Cylinder double acting Diesel engines.
---
Speed: 16 knots
---
Crew: 45
---
Armament: 37mm and 20 mm machine guns: 1 15 Cm SK C/28
---
Fate: 8/ 1944. - Sunk as a blockade ship in the river Gironde near Bordeaux.
---
MS Tannenfels was a German cargo ship owned by DDG Hansa, put into service in 1938. She served as a blockade runner during World War II.
When the war broke out in 1939, Tannenfels was at Kismayo, in Italian Somaliland. She remained there until January 1941, when British troops entered Italian Somaliland. She then sailed for Europe via the Cape of Good Hope, eventually reaching German-occupied France.
---
She was taken over by the Kriegsmarine and commissioned as an auxiliary naval vessel. She was fitted with machine guns and some larger naval guns for self-defense. During the next year and a half, she was employed as a blockade runner, slipping past British patrols to deliver supplies to German armed merchant cruisers at sea. In December 1942 at Bordeaux, she was damaged by limpet mines placed by British commandos (Operation Frankton), and was no longer seaworthy. She was eventually scuttled as a blockship in the Gironde River in 1944.
---
CHRONOLOGY.
---
9/1939: - At the outbreak of WW2 Tannenfels was in the port of Kismayo, in Italian Somaliland
---
31/1/1941: - Start return voyage to Europe via Cape Good Hope
---
25/2/1941 - Tannenfels rendezvoused over Saya de Malha Bank between the Seichelles and Mauritius, on Indian Ocean with raider Atlantis, Battlecruiser Adm. Scheer, the Norwegian tanker Ketty Brovig and the 5,154 British motor freighter Speybank captured by Atlantis southwest of India on 31 January 1941 being bound from Far East to New York with 1,500 tons of manganese, 300 tons of rubber, jute, teak, tea, ilmenite and monazite.
---
10/3/1941 - After serving as scouting vessel to Atlantis, Tannenfels set course for Bordeaux.
---
19/4/1941: - Arrival at Bordeaux, France
---
2/2/1942: - Service as Blockade Runner. Voyage to Japan. The voyage became a saga for Tannenfels once already in the south Atlantic the No 2 Hold caught fire blowing drums of chemical into the air and nearly reached a hundred drums of ether-chloroform. Still in the south Atlantic Tannenfels ran into a hurricane which damaged her superstructure, but she delivered the remaining cargo of chemicals, tractors and machine-tools.
---
12/5/1942: - Arrival at Yokohama, Japan
---
8/8/1942: - Return voyage to Europe 20/9/1942. Tannenfels rendezvoused with raider Michel in the South Atlantic. On 23rd the sea waves subsided and the transfer of fuel and supplies could be completed. On 24th raider Michel had orders to depart to meet another ship while Tannenfels order was to remain at that point and wait until Michel returned.
There, Tannenfels would receive 19 crewmembers from Michel and also 69 prisoners to be transported back to homeland. Tannenfels also had orders to wait along with Michel for the arrival of raider Stier which occurred at 25th September. On that day they transferred supplies and the airplane while Michel departed.
---
27/09/1942 - Tannenfels and Stier met the US Merchant SS Stephen Hopkins and in the ensuing battle SS Stephen Hopkins and raider Stier were sunk. Survivors from Stier among thirty severely injured were rescued by Tannenfels with raider's loss of 2 crewmembers. On the vicinities of Azores she was overflown by some carrier planes and later by one Sunderland
---
2/11/1942: - Arrival at Bordeaux, France where she delivered her cargo of rubber, edible oils, fats, wolfram, titanium, copper, wood oil, opium and quinine.
---
12/12/1942: - Damaged during British commando raid in port of Bordeaux
---
25/8/1944: - Sunk as blockade ship in the river Gironde near Bordeaux
---
---
Above, supply ship Tannenfels seen as a blockade ship at River Gironde. Photo: http://www.ddghansa-shipsphotos.de/
---
FOLLOWING PAGES ON THE SAME ARTICLE