RAIDER STIER 4 SHIPS SUNK - ACTION IN THE SOUTH ATLANTIC SCHIFF 23
1)RAIDER STIER SCHIFF 23
---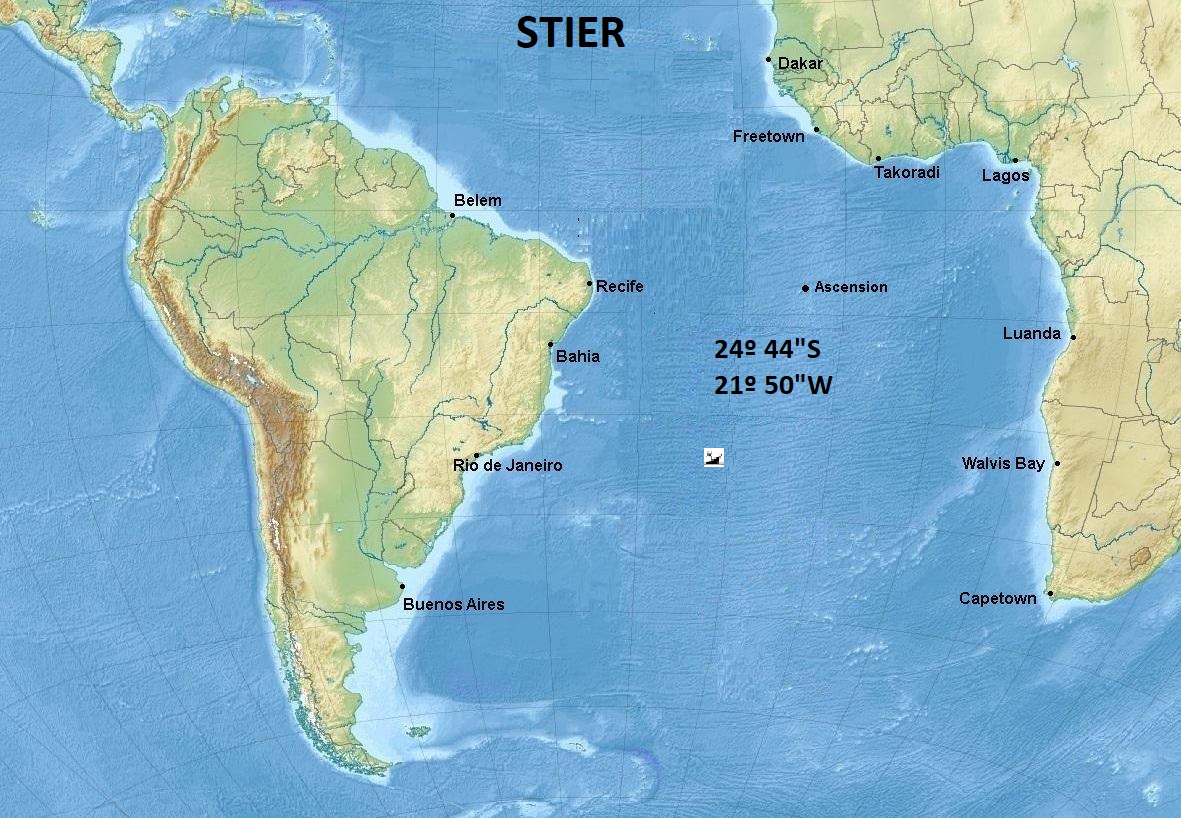 ---
---
Built 1936 as Cairo
---
Tonnage 4,778 / 7,245 tons
---
Crew 325
---
Main armament 6 x 155mm guns, 1 x 37 mm, Two torpedo tubes 2 Arado Aircrafts
---
Sunk on position 24º 44'S 21º 50'W
---
3 Dead
---
322 Survivors
---
Built by Germaniawerft in 1936 as the freighter Cairo, she was operated by the Atlas Levant Line (ALL) until being requisitioned for Kriegsmarine services in November 1939. After merchant warfare operations in the Baltic Sea, she was converted into a mine layer and was planned to be used during Operation Sea Lion. After this operation was canceled, the now renamed Stier was modified into an auxiliary cruiser in April 1941, first at the Wilton shipyard Rotterdam and later at Oderwerke, Stettin, and Kriegsmarinewerft, in Gotenhafen (Gydnia).
---
On 27 September 1942 Stier encountered the Liberty ship Stephen Hopkins en route from Cape Town to Paramaribo. Closing in foggy conditions the two ships sighted each other around 08:52 at a distance of 4,000 yards. Gerlach sent his men to action stations; the master of the Stephen Hopkins was suspicious of the unidentified vessel and did the same. The Stephen Hopkins had a small defensive armament (1 × 4 inch gun astern, and several machine guns), but when firing commenced, around 08:55, she put up a spirited defence. She scored several hits on Stier, damaging her engines and steering gear. However, overwhelmed by fire from Stier, the Hopkinsdrifted away; by 10 am she had sunk.
---
Forty-two of her crew were killed in the action, and three more died later; the fifteen survivors finally reached Brazil 31 days later. Stephen Hopkin's commander, Captain Paul Buck, was posthumously awarded the Merchant Marine Distinguished Service Medal for his actions. So was US Merchant Marine Academy cadet Edwin Joseph O'Hara, who single-handedly fired the last shots from the ship's 4-inch gun.
---
Meanwhile, Stier had been fatally damaged; unable to make headway, and not responding to the helm, Gerlach made the decision to abandon ship. Stier exploded and sank at 11:40. All but three of her crew survived and were rescued by the German supply ship Tannenfels, which was accompanying Stier at the time of the action and returned to France on the blockade runner.
By Wikipedia
---
Raider Stier was the only German armed merchant to be sunk by one merchant when exchanged fire with US Liberty ship Stephen Hopkins 27/Sep/42 in mid south Atlantic. The 8500 ton US Merchant was in her maiden voyage in ballast from Capetown to Paramaribo Dutch Guyana with a call at Bahia – Brazil. In one hour of fierce battle both ships went badly damaged by certain hits having the Stephen Hopkins lost 37 of her 56 crewmembers.
---
Despite heavier in armament Raider Stier also sustained severe damage including a certain shot that hit the rudder making the ship unable to maneuver. Also the oil tanks were punctured by shells which made the fluid to spill over to one hold where several torpedoes were stored with the impending risk of explosion. Realizing the great danger his ship went on, Captain Gerlach decided to order to scuttle the ship at once. 3 men died during the combat while the rest was rescued by supply ship Tannenfels which undetected made her way to the French Biscay port of Bordeaux.
---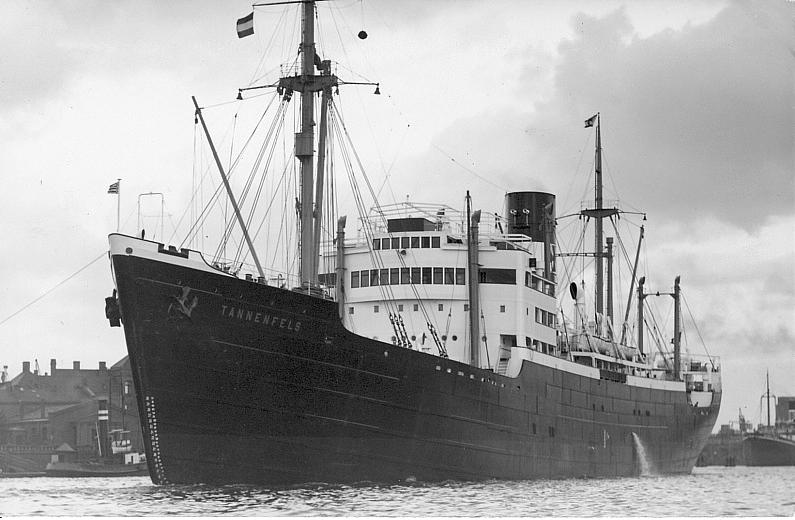 ---
Tannenfels seen above. Photo. http://gmic.co.uk/uploads/monthly_11_2008/post-760-1227237292.jpg
---
During her career Raider Stier sank 4 Merchants with a total tonnage of 33,387 DWT.
---
---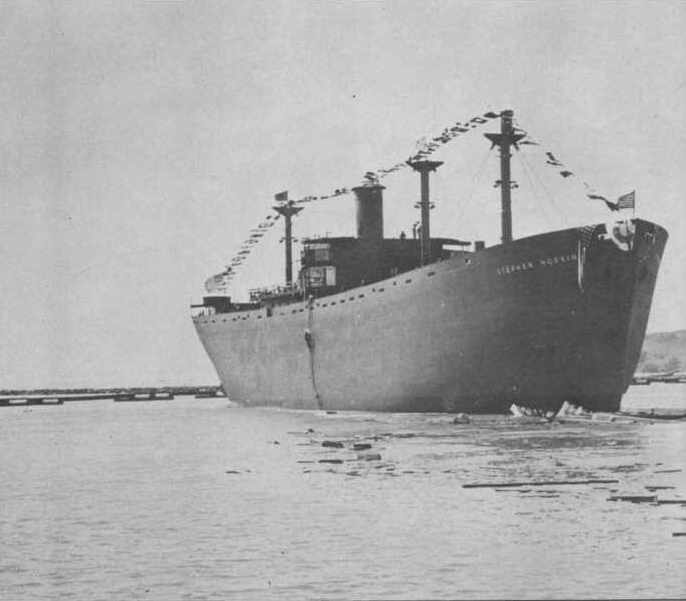 STEPHEN HOPKINS
---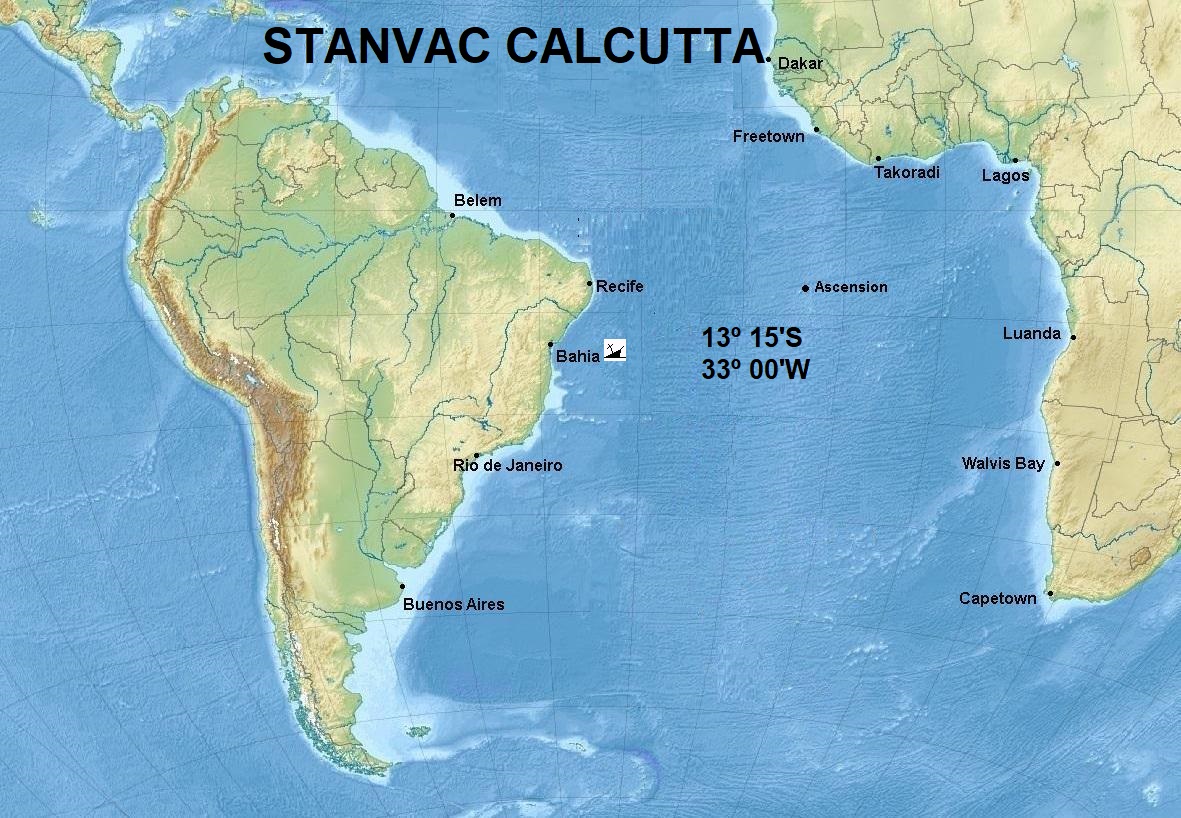 ---
STANVAC CALCUTTA
---
---
---
DALHOUSIE
---
---
---
GEMSTONE - Above sistership Lodestone.
---
FOLLOWING PAGES ON THE SAME ARTICLE