RAIDER ADMIRAL GRAF SPEE * 8 SHIPS SUNK - BATTLE OF THE RIVER PLATE
17)HMNZS ACHILLES
---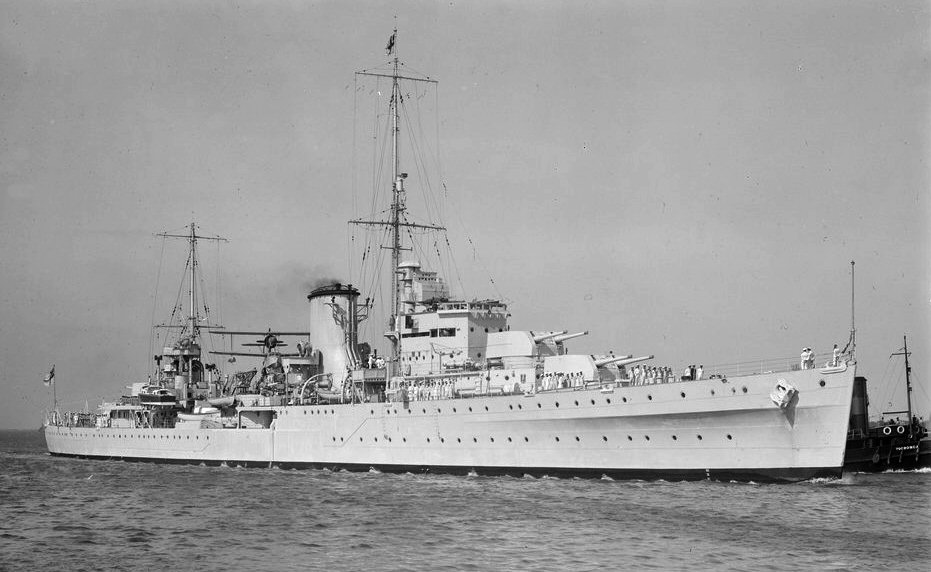 ---
Name: HMS Achilles Namesake: Achilles
---
Builder: Cammell Laird, Birkenhead, England
---
Laid down: 11 June 1932 Launched: 1 September 1932
---
Commissioned: 10 October 1933
---
Out of service: Loaned to Royal New Zealand Navy 1 October 1936
Identification: Pennant number: 70
---
Honours and awards: River Plate 1939
---
Fate: Sold to Indian Navy 5 July 1948
---
Name: HMNZS Achilles
---
Commissioned: 1 October 1941 Decommissioned: 17 September 1946
---
Identification: Pennant number: 70
---
Honours and awards: Guadalcanal 1942-43, Okinawa 1945
---
Fate: Returned to Royal Navy 17 September 1946
---
Class and type: Leander-class light cruiser
---
Displacement: 7,270 tons standard 9,740 tons full load (Oct 1945)
---
Length: 555.5 ft (169.3 m) Beam: 56 ft (17 m) Draught: 19.1 ft (5.8 m)
---
Installed power: 73,280 shaft horsepower (54,640 kW)
---
Propulsion: Four Parsons geared steam turbines Six Yarrow boilers Four shafts
---
Speed: 32.5 knots (60 km/h) Range: 5,730 nmi (10,610 km; 6,590 mi) at 13 kn (24 km/h)
---
Complement: peacetime 550 wartime 680
---
Armament: Original configuration:
---
8 × BL 6 inch Mk XXIII naval guns 4 × 4 in guns 12 × 0.5 in machine guns
8 × 21 in torpedo tubes
---
Armour: 3 in magazine box 1 inch deck 1 inch turrets
---
Aircraft carried: Catapult-launched Fairey Seafox Amphibious Supermarine Walrus
Radio controlled DH.82 Queen Bee
---
HMNZS Achilles was a Leander-class light cruiser which served with the Royal New Zealand Navy in the Second World War, the second of five in the class. Originally constructed by the Royal Navy, she was loaned to New Zealand in 1936 before formally joining the new Royal New Zealand Navy in 1941. She became famous for her part in the Battle of the River Plate, alongside HMS Ajax and HMS Exeter and notable for being the first Royal Navy cruiser to have fire control radar, with the installation of the New Zealand-made SS1 fire-control radar in June 1940.
---
After Second World War service in the Atlantic and Pacific, she was returned to the Royal Navy. She was sold to the Indian Navy in 1948 and recommissioned as INS Delhi. She was scrapped in 1978.
---
In the early morning of 13 December 1939, a force consisting of Achilles, Ajax and Exeter detected smoke on the horizon, which was confirmed at 06:16 to be a pocket battleship, thought to be the German battleship Admiral Scheer but which turned out to be Admiral Graf Spee. A fierce battle ensued, at a range of approximately 20 kilometres (11 nmi). Achilles suffered some damage. In the exchange of fire, four crew were killed, her captain, W. E. Parry, was wounded; 36 of Graf Spee's crew were killed.
---
The range reduced to about 4 nautical miles (7.4 km) at around 07:15 and Graf Spee broke off the engagement around 07:45 to head for the neutral harbour of Montevideo which she entered at 22:00 that night, having been pursued by Achilles and Ajax all day. Graf Spee was forced by international law to leave within 72 hours. Faced with what he believed to be overwhelming odds, the captain of Graf Spee, Hans Langsdorff, scuttled his ship rather than risk the lives of his crew.
---
Following the Atlantic battle, Achilles returned to Auckland, New Zealand on 23 February 1940, where she underwent a refit until June. After German raider activity in the South Pacific during 1940 Achilles escorted the first Trans-Tasman commercial convoy, VK.1, composed of Empire Star, Port Chalmers, Empress of Russia, and Maunganui leaving Sydney 30 December 1940 for Auckland. After Japan entered the war, she escorted troop convoys, then joined the ANZAC Squadron in the south-west Pacific.
---
Achilles met HMAS Canberra, flagship of Rear-Admiral John G. Crace, and HMAS Perth in December 1941 to form an escort for the Pensacola Convoy.
---
While operating off New Georgia Island with US Navy forces, a bomb damaged her X turret on 5 January 1943. Between April 1943 and May 1944 Achilles was docked in Portsmouth, England for repairs. Her damaged X turret was replaced by four QF 2 pom poms in a quadruple-mount. Sent back to the New Zealand Fleet, Achilles next joined the British Pacific Fleet in May 1945 for final operations in the Pacific War.
---
By wikipedia
---
FOLLOWING PAGES ON THE SAME ARTICLE