L.A.T.I. ITALIAN AIRLINES IN BRAZIL * - L.A.T.I. * ITALIAN AIRLINES
3)PERMISSION TO OPERATE
---
Law Decree No. 2620 of September 24, 1940 Authorizes the "Ala Littoria SA", to maintain air traffic in Brazil to implement the international line Italy - South America, subject to conditions.
---
THE PRESIDENT OF THE REPUBLIC, using of the powers conferred by Article 180 of the Constitution and in accordance with Arts. 47 of Decree No. 20914 of January 6, 1932 and 36 of the Code of the Brazilian Air DECREES:
---
Article 1 is hereby authorized to "Ala Littoria S / A" keep your airline International Italy-South America, from Natal to the south end of the country, making stops in Recife, Bahia, Rio de Janeiro, Santos and Porto Alegre and according to the following conditions: 1st - This permission is granted on a temporary basis and may be revoked provided that the Government considers this as appropriate; 2nd - The government reserves also the right to suspend whenever it deems appropriate, air traffic in part or whole of its route in the country, without so watch the "Ala Littoria S / A" right to protest or claim any damages or any other kind of complaint;
---
3rd - It shall follow the coastal air route, and mandatory landings at airports, customs entry and exit of the national territory; 4th - The crew will be the nationality of the aircraft registration or Brazilian; 5th - At the traffic allowed herein may only be made two trips weekly in each direction; 6th - The permitee can not run the transport of passengers, cargo, parcels, or postal mail between any parts of the country; 7th - The "Ala Littoria S / A" by itself or its agents, undertakes to faithfully fulfill all the provisions of this Decree and relevant laws, regulations or instructions that exist or will exist, relating or applicable to their services and provide the information and provide data which are requested by the Department of Civil Aviation, relating to the same services;
---
8th - The lawsuits that may result from lack of compliance with this permit will be processed in the courts of the Brazilian capital of the Republic. Sole Paragraph. This permission is granted without monopoly or privilege of any kind and without burden to the Union Art 2nd Revokes the context requires otherwise. Rio de Janeiro, September 24, 1940, 119 and 52 of the Independence of the Republic. Getulio Vargas.
---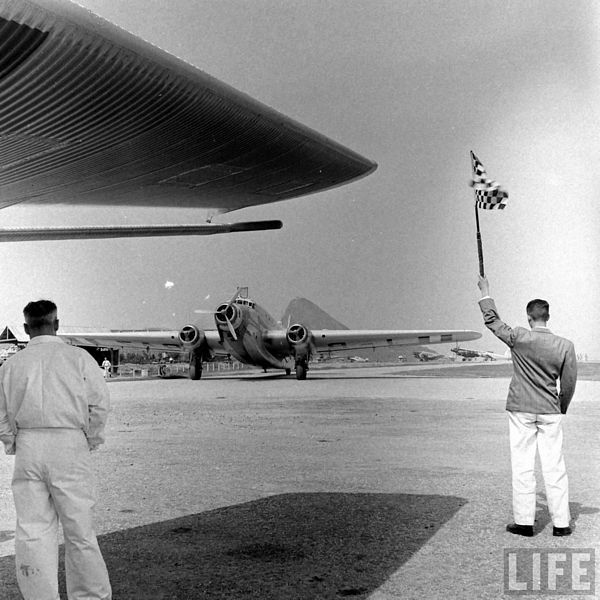 ---
Detail of the first landing of one Savoia Marchetti at Rio de Janeiro following a long journey across the south Atlantic. Photo. LIFE Magazine
---
OTHER ARTICLES YOU MAY FIND SIMILAR