---
Another property that became available relatively late to the American sailors was the Atlanta Recreation Center. Admiral Ingram wanted to create a rehabilitation center for sailors who had a long journeys and hard work at sea. So It was sought in a conference with the interventor in the state of Pernambuco, Agamenon Magalhaes to a state hospital located in the area of Tejipio located in mid of woods used for treatment of respiratory diseases, (Especially tuberculosis, to be in an area where there is a climate for treatment) So the area was assigned to the US Navy.
---
After a while, the Federal Interventor acceded to the request of Admiral and secured the hospital use and its complex to the Fourth Fleet Command. So the plans were immediately prepared, being indicated Captain Ret. W. G. Roper as responsible for the project. He worked tirelessly on this task, managing to instil the same energy in their subordinates. By October 1943, the establishment at Tejipio was ready for occupancy, receiving its first contingent of men. The name chosen for the site was Atlanta Recreational Center. Months later, there was also installed a radio station to the South Atlantic Area, a function hitherto performed by Ibura Field in conjunction with Jiquia Field and Pina Radio Station.
---
Atlanta Recreational Center was visited and inspected by the Secretary of the U.S. Navy Frank Knox whe he visited Recife for conference with authorities of the Fourth Fleet late in 1943.
---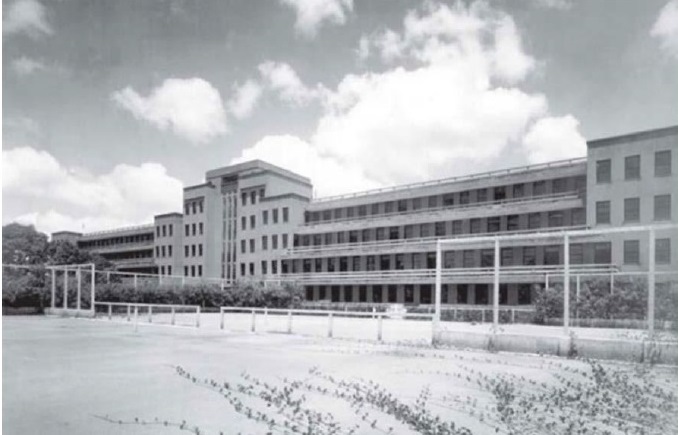 ---
---
In the photo above, U.S. Navy Secretary Frank Knox being welcomed at Atlanta Recreational Center.
---
---
U.S. Navy Secretary seen on left arriving at Atlanta Recreational Center
---
---
Above, a large number of American sailors seen on the balcony of Atlanta Recreational Center, watching a soccer match, as there was a vast grassy area in front of the building.
---