BRAZILIAN NAVY SOUTHERN NAVAL FORCE - SOUTHERN NAVAL FORCE
15)TORP BOAT SERGIPE CT7
---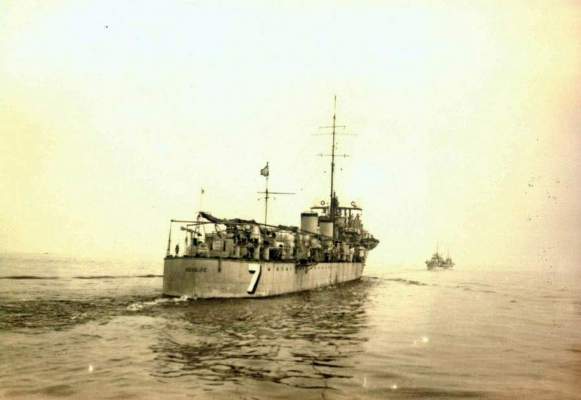 ---
Above Torpedo boat Sergipe seen off Rio de Janeiro during one patrol sweep. Photo: http://www.naval.com.br/
---
Completed: 1910
---
Displacement: 560 tons. 640 (full loaded)
---
Length: 73,15 meters
---
Beam: 7,08 meters
---
Draught: 2,02 meters
---
Propulsion: 2 steam boilers Yarrow; 2 triple expansion engines with 8.800 hp, 2 shafts 2 screws.
---
Armament: 2 4 in. guns (102 mm) in two single mounts, 4 47 mm guns and 2 single torpedo tubes 18 in.
---
Fuel: 140 tons of coal.
---
Speed: 28 knots Max.
---
Range: 1.600 miles at 15 knots.
---
Complement: 104
---
Decommissioned on 28 Jul 1944.
---
Initially, the ships of the Southern Naval Force were employed in escort tasks to coal ships heading to the port of Criciuma, in the state of Santa Catarina. These coal shipments were vital to supply the most populous states of Brazil which were São Paulo and Rio de Janeiro and this lasted until 1944 when they were replaced by 6 newly launched corvettes, being relocated to the tasks of protecting the port of Rio de Janeiro until the end of the conflict.
---
FOLLOWING PAGES ON THE SAME ARTICLE