BRAZILIAN NAVY SOUTHERN NAVAL FORCE - SOUTHERN NAVAL FORCE
14)TORP BOAT ST CATARINA CT9
---
---
Photo.Diretoria do Patrimonio Historico e Documentação da Marinha
https://www.marinha.mil.br/dphdm/sites/www.marinha.mil.br.dphdm/files/SantaCatarinaContratorpedeiro1910-1944.pdf
---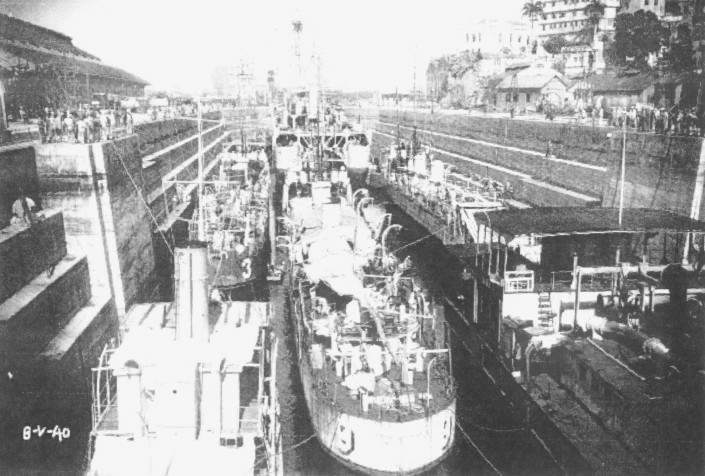 ---
Santa Catarina seen docked at Brazilian Navy Arsenal circa 1940. Photo: http://www.naval.com.br/
---
Completed: 1910
---
Displacement: 560 tons. 640 (full loaded)
---
Length: 73,15 meters
---
Beam: 7,08 meters
---
Draught: 2,02 meters
---
Propulsion: 2 steam boilers Yarrow; 2 triple expansion engines with 8.800 hp, 2 shafts 2 screws.
---
Armament: 2 4 in. guns (102 mm) in two single mounts, 4 47 mm guns and 2 single torpedo tubes 18 in.
---
Fuel: 140 tons of coal.
---
Speed: 28 knots Max.
---
Range: 1.600 miles at 15 knots.
---
Complement: 104
---
Decommissioned 28 July 1944.
---
Once the state of belligerence was recognized between Brazil and the Axis powers, the Southern Patrol Group, under the command of the Captain of Frigate Ernesto de Araújo and was created by Notice No. 1351 of August 25, 1942 and initially incorporated the torpedo boats Santa Catarina, Rio Grande do Norte and Sergipe. Thus, on August 26, 1942, Santa Catarina suspended with the flag of the Southern Patrol Group Commander, bound for Santos and Laguna. The ship remained in the South when she returned to Rio de Janeiro on October 21, where remained patrolling the adjacent waters until the end of the war. The Ministry of the Navy Notice No. 1,248 of July 28, 1944, determined that should be discharged from active Service of the Brazilian Navy.
---
OTHER ARTICLES YOU MAY FIND SIMILAR