BRAZILIAN NAVY NORTHEAST NAVAL FORCE * - NORTHEAST NAVAL FORCE IN ACTION
3)LIEUT FREIRE JOURNEY
---
Lieutenant (jg) Freire was graduated at the Brazilian Navy Academy 15/Jan/44. His first assignment was aboard the Corvette Cananeia, one of the five Minelayers built in the Brazilian Navy Arsenal at Rio and converted into anti submarine Corvettes.
---
His first mission began on 6/Feb when the Cananeia suspended from the docks at Ilha das Cobras (Snake Island) at Rio as part of a screen of Convoy JG-22 composed by the following merchants: HANLEY, WHITE CLOVER, BERA, LAURENTINE PARK, JOHN BUSSET, H. M. FLAGLER, MAUÁ, CHUÍ, FELIPE CAMARÃO and ALMIRANTE JACEGUAY.
---
When the convoy reached Salvador, Bahia, it was joined by the merchants COLTZMATHER, RICHARD DANA, LAKE FREELAND, CANTUARIA, EMILIA and NATINA. The rest of the voyage to Recife went uneventful despite several reports of sonar, with no effective contacts, having the escorts been replaced by other ships of the Northeast Naval Force (FNN) off Recife. Cananeia moored on 12/ Feb.
---
After a 4 days leave, Lieutenant (jg) Freire departed 17/Feb 6:30AM this time to participate in fire exercises and ASW along with Corvette Rio Branco, some 50 miles East of Recife. Both ships returned late in the afternoon. Next morning Cananeia left harbor to replace US escort vessel screening convoy TJ-23 with the following merchants: CARRETA, HOWARDT RICKETT, ESSO DOVER, TEXAS, CAMPOS SALES, ALM JACEGUAY and WEST KISKA.
---
The ships reached Rio on 1st March with no incidents and Cananeia anchored alongside the British Corvette WASTWATER. The voyage comprised 3336 miles due to the constant zig zagging procedures and 13 days.
---
On 7 March Cananeia left Rio harbor for escort duties at the convoy JT-25 with the ships ARATIMBO, ITANAGE, VITORIALOIDE and BANDEIRANTE. The convoy was added by the tanker EDWARD JOHNSON East of Salvador, Bahia and arrived safely at Recife 13 March.
---
On 22/May/44 Lieutenant (jg) Freire reported to the command of the Northeast Naval Force (FNN) to attend an update in ASW so that the high degree of preparedness of Brazilian Forces could take pace with the latest developments of ASW tactics and its new developments.
---
On 11/Jul/44 Lieutenant (jg) Freire was assigned for a temporary commission at the Cananeia's sister ship, the Corvette Cabedelo. In the following day Cabedelo took position ahead of the screen of the Convoy TJ-37 composed by 11 merchants mostly Americans and protected by 4 Brazilian escorts. 8 days later the merchants arrived safely at Rio.
---
On 21/Jul Lieutenant (jg) Freire returned to Cananeia having suspended on 4th/Aug for the port of Vitoria some 200 miles north of Rio where they arrived 7/Aug. Due to a damage in the Sonar system, Cananeia returned to Rio for maintenance on 12t.
---
With no time for delays the electronic department repaired the faulty system and Cananeia was ready for dispatch on 15/Aug. She left harbor that same day as a screen for the Convoy TJ-41 with merchants ANDREW STEVENSON, MOTORCARLINE, ADOLPH SUTRO, IDA, M. TARBELL, DOROTHY, ITANAGE, CEARALOIDE, ITAMARATY, MAUA, ALBERT RITCHIE, COMANDANTE RIPPER, JOSIAH QUINCY, MAUTO, WILLIAM DUNBAR and GERONIMO.
---
When the train was East of Salvador, Bahia, it was added by the merchants TIRADENTES, MANDU, CORALIA and MORMACRIO. On 21st/Aug, after covering 2750 miles Cananeia left her position after being replaced by another escort and demanded to Recife having arrived that same day on 05:10PM.
---
From then on, the brave sailor made 10 more escort convoy duties until the end of hostilities in May 1945. More than 150 merchants mostly US and Brazilians were safely escort until their destinations. After the war Lieutenant Freire went on his brilliant career having reached the rank of Captain. Today he is in his 87's in good shape and rendered us a warm welcome when we visited him late in Dec. 2009. In the occasion we presented him with a painting of an artistic rendition of what was the CAMP INGRAM RECIFE in 1944. That familiar image so many years later brought him many vivid memories. Long live to Capt. Freire.
---
---
Picture from Capt. Freire taken at his home in Rio de Janeiro 2011
---
This page is dedicated to Capt. Jose Freire, Brazilian Navy. His son, Francisco Freire kindly sent these pictures when his father was a young Lieutenant in a Brazilian Corvette, the Cananeia one of the vessels which composed the Northeast Naval Force, subordinated to the Fourth Fleet. These pictures are a vivid memoir of those hard days of unending patrols on the vast expanses of the south Atlantic, the convoy escort duties with ships of the US Fourth Fleet and the constant surveillance of the Sonar in search of a single"ping" that could detect the menacing presence of one u-boat.
---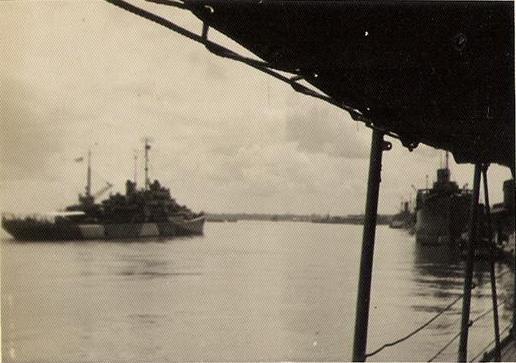 ---
Seaplane tender Rehoboth AVP 50, seen at Recife Harbor entrance. Picture take from Corvette Cananeia.
---
---
U.S. Fourth Fleet supply ship seen at Recife Harbor circa 1943.
---
---
Several Brazilian ships seen at anchor Recife Harbor.
---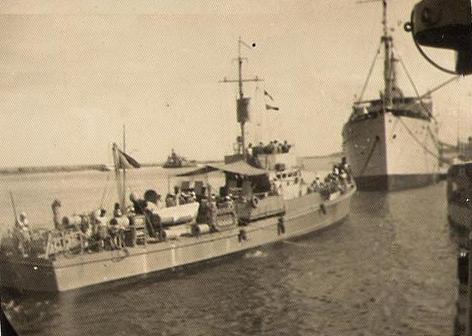 ---
Picture shows one Brazilian Patrol Craft (Wooden Hull) at inner quay Recife harbor. Tender Belmonte, also Brazilian Navy lays at the bottom.
---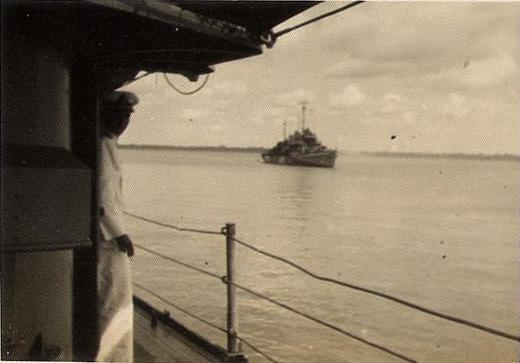 ---
AVP 50 Rehoboth seen when maneuvering to dock at Recife Harbor.
---
---
Lieutenant Freire at the foredeck of Cananeia having one U.S. transport at the bottom.
---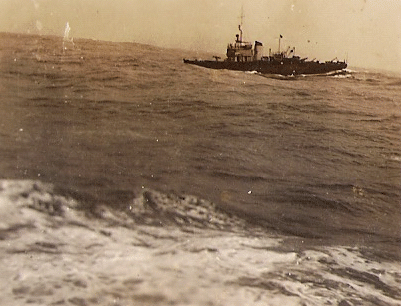 ---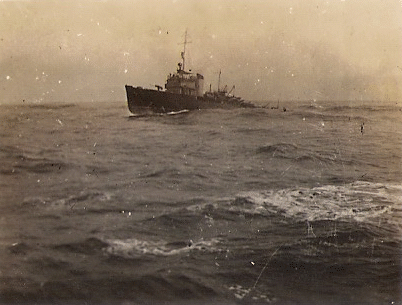 ---
Cananeia plying in a rolling south Atlantic. Brazilian crews showed a high degree of preparedness in all duties assigned to them.
---
---
Navy poster celebrates the launching of Brazilian Minelayers later converted to Corvetes
---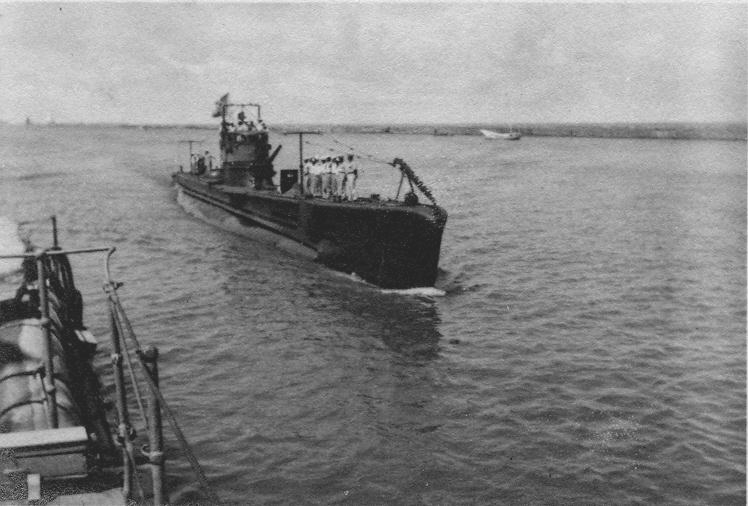 ---
Brazilian Submarine arrives at Recife Harbor after one exercise in ASW with Brazilian and U.S. Navy.
---
---
Picture shows a detail of Brazilian Navy Arsenal at Rio where Class C Corvettes were docked for upkeep, fueling, refreshments and supplies before their new assignments for convoy duties.
---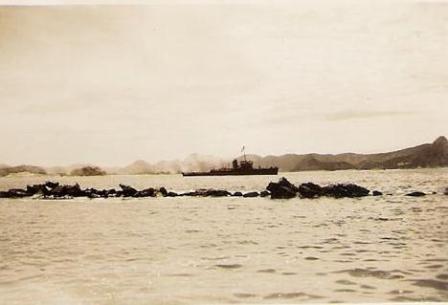 ---
View of one of the Class C Corvettes entering the mouth of Guanabara Bay into the harbor.
---
FOLLOWING PAGES ON THE SAME ARTICLE