BRAZILIAN NAVY NORTHEAST NAVAL FORCE * - 7 CORVETTES
3)CV CAMOCIM C3
---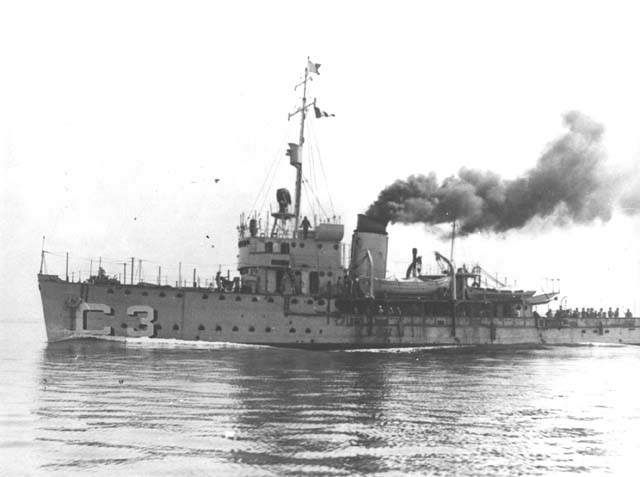 ---
Photo. http://www.naval.com.br/ngb/C/C031/C031-f01.jpg
---
Laid down 11/Dec/1937
---
Completed 28/Oct/1939
---
Incorporated 7/Jun/1940
---
Tonnage 550 ton
---
Length: 57 m
---
Beam: 7.80 m
---
Draught 2.50 m.
---
Propulsion: 2 boilers and 2 standby engines with 1.300 hp.
---
Fuel: 85 tons.
---
Speed: Max. 15 knots.
---
Range: 2.500 NM.
---
Armament: 1 4 in. Gun (102 mm/28), 2 Oerlikon machineguns Mk 10 with 20 mm/70 single mounting, 44 mines.
---
Complement: 70 men, 5 officers and 65 ratings.
---
The Minelayer/Corvette Camocim - C 3, was the second vessel to bear this name at Brazilian Navy after a river and a city at the State of Ceara. She was built at the Navy Arsenal, Rio de Janeiro, Ilha das Cobras, (Snakes Island). Laid up at 11/Dec/1937 and incorporated at 7/Jun/1940. In that occasion her first captain was Capitão-de-Corveta Américo Jacques Mascarenhas da Silveira. She served during war under command of Adm Jonas Ingram Fourth Fleet at Recife Camp Ingram.
---
On 13th January 1944, Camocim while escorting convoy JT 19, picks up the last 34 survivors (26 German and 8 Italian) of the three German blockade runners sunk on 3, 4, and 5 January, the Weserland, Burgenland and Rio Grande.
---
OTHER ARTICLES YOU MAY FIND SIMILAR