BRAZILIAN AIR FORCE FAB * - BRAZILIAN AIR FORCE
6)PBY 5-A CATALINA
---
The Consolidated Vultee 28 was an amphibian aircraft manned by a crew of five, and primarily developed for long range maritime patrols. It flew for the first time as (XPBY-1) in 1935, and was operated by a large number of countries in multi role missions long after the end of World War Two. Brazilian Air Force operated these sturdy, cumbersome but highly dependable aircrafts from 1943 to 1982, in Naval patrol missions and as a support for the C 47 at the Military Air Mail.
---
22 PBY 5A were received during the war. One of them was credited for the sinking of U -199 50 miles east of Rio De Janeiro. The Brazilian Air Force flew Catalinas in naval air patrol missions against German submarines began in 1943. The aircraft also performed air mail service. In 1948 a transport squadron was formed and equipped with PBY-5As converted to the role of amphibian transport. The 1st Air Transport Squadron (ETA-1) was based in the port city of Belem and flew Catalinas and C-47s in well-maintained condition until 1982.
---
Crew: 8 — pilot, co-pilot, bow turret gunner, flight mechanic, radioman, navigator and two waist gunners.
---
Length: 63 ft 10 7/16 in (19.46 m)
---
Wingspan: 104 ft 0 in (31.70 m)
---
Height: 21 ft 1 in (6.15 m)
---
Wing area: 1,400 ft² (130 m²)
---
Empty weight: 20,910 lb (9,485 kg) Max takeoff weight: 35,420 lb (16,066 kg)
---
Powerplant: 2× Pratt & Whitney R-1830-92 Twin Wasp radial engines, 1,200 hp (895 kW each)
---
Zero-lift drag coefficient: 0.0309. Drag area: 43.26 ft² (4.02 m²). Aspect ratio: 7.73
---
Performance: Maximum speed: 196 mph (314 km/h). Cruise speed: 125 mph (201 km/h)
---
Range: 2,520 mi (4,030 km)
---
Service ceiling: 15,800 ft (4,000 m)
---
Rate of climb: 1,000 ft/min (5.1 m/s)
---
Wing loading: 25.3 lb/ft² (123.6 kg/m²). Power/mass: 0.034 hp/lb (0.056 kW/kg)
---
Lift-to-drag ratio: 11.9
---
Armament
3× .30 cal (7.62 mm) machine guns (two in nose turret, one in ventral hatch at tail)
---
2× .50 cal (12.7 mm) machine guns (one in each waist blister)
---
4,000 lb (1,814 kg) of bombs or depth charges, torpedo racks were also available
---
---
US Navy and Brazilian officers in front of a group of PBY-5 for the occasion of the delivery of Catalina aircrafts to the Brazilian Air Force. Photo taken at Galeao NAF circa December 1944
---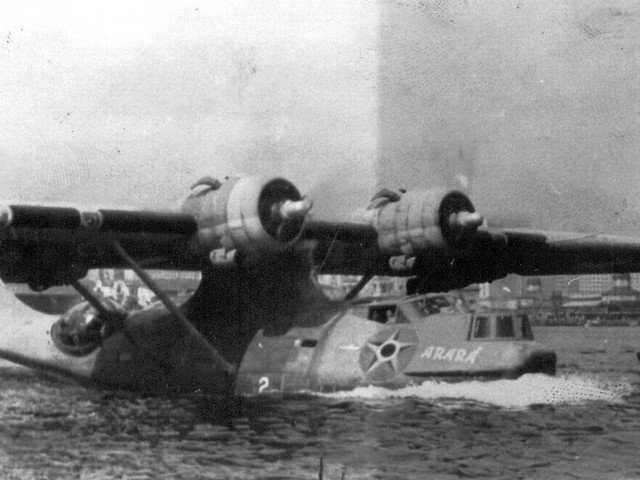 ---
Arara. The same was the first Brazilian aircraft to send to the bottom U 199 off Rio de Janeiro.
---
---
The Catalinas were the most suitable aircrafts for supplying military detachments scattered among the Amazon waterways. They reached places where only long range transport would dare to go. ETA-1 insignia was a winged turtle with the motto "Though slowly, I always get there". Today, the last Brazilian Catalina (ex-RCAF) is displayed at the Airspace Museum (MUSAL), in Rio de Janeiro.
---
OTHER ARTICLES YOU MAY FIND SIMILAR