BRAZILIAN AIR FORCE FAB * - BRAZILIAN AIR FORCE
26)NORTH AMERICAN AT 6B AT 6C
---
Total received: 144
---
Characteristics::
---
Dimensions: Span - 12.80m, length - 8.99m, height - 3.56m.
---
Type: two-seat advanced trainer/dive bomber.
---
Powerplant: one Pratt-&-Whitney R-1340-AN-1 Wasp engine. 600 HP
---
Performance: Max speed - 182 knots
---
Crusing speed - 126 knots
---
Operational range - 1014km
---
Service ceiling - 24,000ft.
---
Weights: empty - 1814kg, max takeoff - 2381kg.
---
Armament: 2 * 0.5cm machine guns * 50kg bombs under the wings, or a single 0.303 machine gun with, 4 * 50kg bombs under the wings.
---
81 aircrafts model AT 6B/AT 6C during war and 63 AT 6D / AT 6G incorporated after war.
---
The first aircraft acquired by Brazil was a batch of 30 A-27s, an attack version of AT-6 for the Aviation of the Brazilian Army, in 1939, taking advantage of the acquisition, by Aviação Naval Brasileira, of 12 BT-9, the precursor of the AT-6 , still with 400 hp engine and fixed landing gear. However, from 1942, with the entry of Brazil in the Second World War, the arrival of massive batches of airplanes for the newly created Brazilian Air Force (FAB) began. Brazil operated a total of 144 copies being 81 AT 6B and AT 6C from 1942 to 1955 assembled by the company Construções Aeronáuticas S.A., also known as "Fábrica de Lagoa Santa".and 63 AT 6D and AT 6G, from 1945 to 1975.
---
That legendary airplane also was distinguished until late 70's when served as a demonstration squadron affectionately named Esquadrilha da Fumaça (Smoke Squadron)
---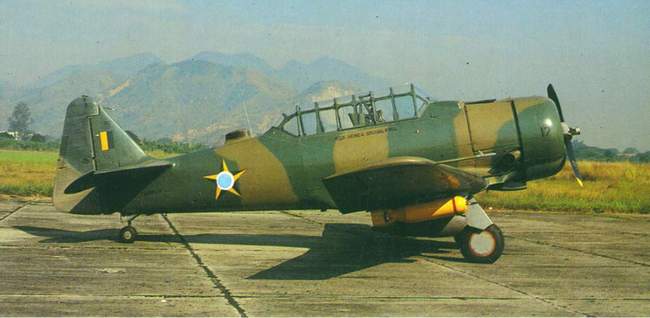 ---
One T 6 Texan with its load of 50 pound bomb underwing.
---
---
Aerial view of three T 6 Texan evolving over one of the famous postcards at Rio de Janeiro. The Sugar Loaf on top left.
---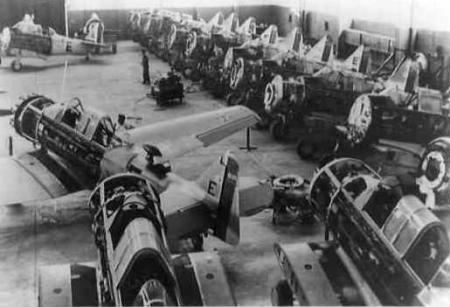 ---
---
The ramp and T-6 assembly line at Lagoa Santa.
---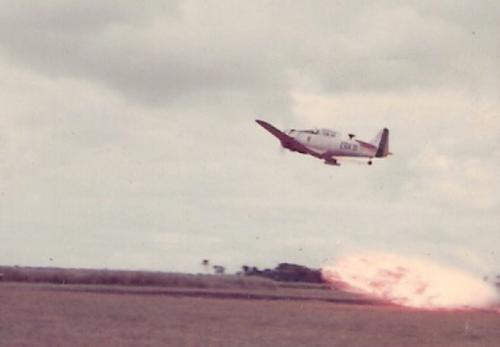 ---
Brazilian Air Force T -6 seen during bombing drill.
---
FOLLOWING PAGES ON THE SAME ARTICLE