BRAZILIAN AIR FORCE FAB * - BRAZILIAN AIR FORCE
24)NORTH AMERICAN NA 46
---
Total received: 12
---
Characteristics:
---
Crew: two,
---
Length: 28 ft (8.5 m)
---
Wingspan: 42 ft (12.8 m)
---
Height: 13 ft 7 in (4.1 m)
---
Loaded weight: 4,470 lb (2,030 kg)
---
Powerplant: 2× Wright R-1820-53 radial engines, 1,000 hp (750 kW) each )
---
Performance
---
Maximum speed: 215 mph (197 knots, 346 km/h)
---
Combat range: 999 nm (1,150 mi, 1,850 km) Ferry range: 1,800 nm (2,100 mi, 3,400 km)
---
Service ceiling 23,900 ft (7,280 m) Rate of climb: 1,030 ft/min (5.2 m/s)
---
Wing loading: 23.1 lb/ft² (113 kg/m²) Power/mass: 0.09 hp/lb (150 W/kg)
---
Armament: Guns: 3× .30 in (7.62 mm) machine guns. Bombs: 4,500 lb (2,200 kg)
---
The BT-9 evolved from the North American NA-16 (NA-19 production line), which first flew in April 1935. The BT-9 design first took to the skies in April 1936.Fabric covered the movable surfaces on the tail and wings, as well as the sides of the fuselage from just behind the firewall to the tail.
---
The remainder of the plane was metal-covered and featured fixed (non-retractable) landing gear. The Army Air Corps purchased a total of 199 BT-9s, BT-9As and BT-9Bs. Many foreign countries also used variants of this aircraft.
---
An improved version came along in the form of the BT-14. It featured a Pratt & Whitney R-985 Wasp Jr. engine versus the Wright R-975 Whirlwind on the BT-9, as well as metal skin replacing the fabric on the fuselage.
---
Brazilian Government ordered 12 planes in 1938 for the Naval Aviation Corp. In accordance with the manufacturer the designation was NA-46 (NA-16-4), having its original version as BT-9C. The aircrafts were short lived in Naval Aviation, as they were incorporated to the Air Ministry with the creation of the Air Force arm in 1941.
---
---
Picture shows two NA 46 sided by two Focke Wulf FW 58 AT Afonsos Field the craddle of Brazilian Air Force. Photo. http://castropr.blogspot.com/
---
---
NA 46 seen above taxiing for a training flight circa 1940. Photo http://castropr.blogspot.com/
---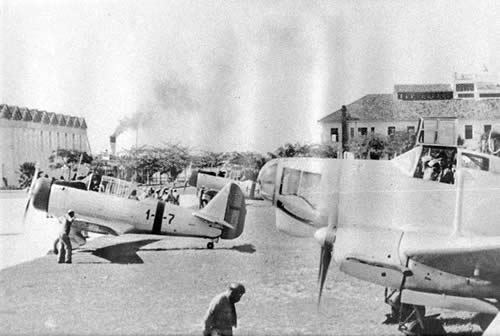 ---
Rare view of this NA 46 at the Naval Airbase Galeão in 1940, sided by one FW-58 and on the bottom left detail of the facilities where the latter was assembled. Photo http://www.armasnacionais.com/2018/03/north-american-bt-9-na-46-no-brasil.html
---
FOLLOWING PAGES ON THE SAME ARTICLE