BRAZILIAN AIR FORCE FAB * - BRAZILIAN AIR FORCE
12)FAIRCHILD PT 19
---
Total reeived: 405
---
General characteristics
---
Crew: two (pilot, student)
---
Length: 28 ft 0 in (8.53 m)
---
Wingspan: 36 ft 0 in (10.97 m)
---
Height: 10 ft 6 in (3.20 m)
---
Wing area: 200 sq ft (19 m2)
---
Empty weight: 1,845 lb (837 kg)
---
Gross weight: 2,545 lb (1,154 kg)
---
Powerplant: 1 × Ranger L-440-3 6-cyl. inverted air-cooled in-line piston engine, 200 hp (150 kW)
---
Performance
---
Maximum speed: 115 kn (132 mph, 212 km/h)
---
Range: 350 nmi (400 mi, 640 km)
---
Service ceiling: 15,300 ft (4,700 m)
---
Time to altitude: 17.5 min to 10,000 feet (3,000 m)
---
Regular maritime routes were severely affected by the Axis submarine menace, and in the ships which sailed in convoys laden with badly needed supplies to the allied nations, there was no room in their already overloaded cargo decks for aircraft destined to primary flight instruction, even if they were packed in crates. In view of this critical situation the Brazilian authorities decided to fly since their factories to Brazil, manned by Brazilian crews, despite the involved risks in over flying largely inhabited regions like the Amazon basin.
---
Given the urgent necessity to ferry these crafts and put them ready to fly at Brazilian Air Force Academy for the instruction of new pilots, the same were delivered to their available crews as soon as they rolled onto the factory ramp, and in groups of 5 planes they began the long and uncertain journey to Brazil. During 1942, 1943, 1944 and 1945 hundreds of airplanes of several types were ferried from the US factories with an unprecedented low percentage of losses, a fact that astonished everyone.
---
For the Brazilian pilots the previous experience acquired in the Naval and Military Air Mail when flying tiny biplanes across a continental country totally deprived from aeronautical infra structure with a few sparsely scattered makeshift airstrips hundreds of miles distant from each other and with no radio communication system, this experience exerted an overwhelming importance.
---
More than 300 basic and advanced trainers were ferried from the US. For the occasion of the first flight the American officers when learned on how the airplanes would fly to Brazil, they issued a grim prognosis on the number of crafts and crews that would eventually fail to survive the long adventure. Conservative voices assured that no less than 40% of them would be involved in accidents and did not reach their final destination.
---
The fact is that the total losses did not peak to 3% in the case of primary instruction planes ferried to Brazil. Moreover, the numbers attained by basic and advanced instruction planes ferried were negligible. PT 19 was the smaller aircraft ferried from USA to Rio de Janeiro Afonsos Field; they leaped across 3 continents performing 46 stops between the factory at Hagerstown, Maryland and Rio. There was only one total loss to register when one PT-19 piloted by 1st Lieutenant Kenneth L. Molineaux crashed into the jungle at the northern state of Amapa during a severe rainstorm. In all, 103 PT-19 were ferried to Brazil, by Brazilian crews with the following stops:
---
HAGERSTOWN – WASHINGTON – GREENSBORO – ATLANTA – MOBILE – NEW ORLEANS – BEAUMONT – SAN ANTONIO – BROWNSVILLE – TAMPICO – VERA CRUZ – MINATITLAN – TAPACHULA – SALVADOR – MANAGUA – SAN JOSE – GOLFITO – DAVID – RIO HATO – TURBO – BARRANQUILLA – MARACAIBO – CORO – LA GUAIRA – BARCELONA – CIUDAD BOLIVAR – TUMEREMO – GEORGETOWN – PARAMARIBO – CAYENNE – OIAPOQUE – AMAPA – MACAPA – BELEM - BRAGANÇA – SAO LUIS – PARNAIBA – FORTALEZA – MOSSORO – NATAL – RECIFE – MACEIO – SALVADOR – ILHEUS – CARAVELAS – VITORIA – RIO DE JANEIRO (CAMPO DOS AFONSOS) an average of 110 flight hours, 25 days and 8 000 miles elapsed. During the war and until 1947 Brazilian factory at Galeao Airbase produced 232 PT-19 under license.
---
---
Above several PT 19 seen during one training flight for young cadets at Brazilian Air Force. Photo castropr.blogspot.com.br
---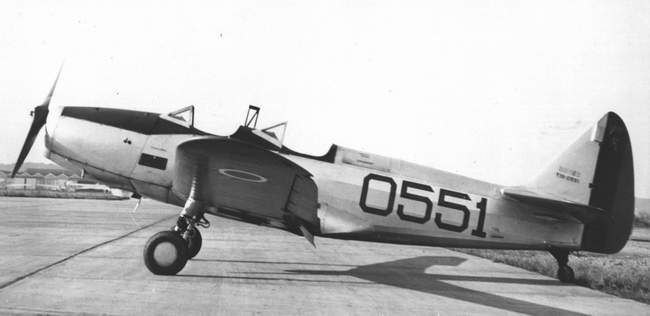 ---
One PT 19 at the ramp
---
---
View of the assemby line of PT 19 produced under license at the Galeao factory.
---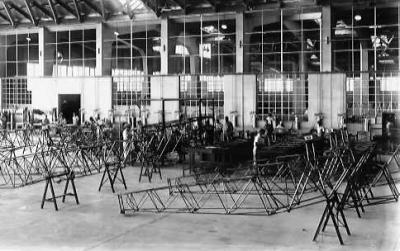 ---
Another view of the factory showing PT-19 assembly line.
Pictures by MUSAL Museu Aeroespacial
---
FOLLOWING PAGES ON THE SAME ARTICLE