AIRPORT DEVELOPMENT PROGRAM - A.D.P. AIRPORT DEVELOPMENT PROGRAM
2)PAN AM AT NATAL AND RECIFE
---
The vulnerable eastern hump of Brazil, which sticks out sore-thumb-like on all maps of U.S. grand strategy, is for one U.S. corporation already an active fighting front. The corporation: Pan American Airways. On the hump, Pan Am lines parallel Axis airlines; and there, at U.S. Government behest, Pan Am last week was busy improving or building twelve air bases, ringing the hump. The difficulties in Pan Am's way are as real as war and not unlike it. Pan Am men confront Axis agents, spies and businessmen every day.
---
The twelve bases are at Amapá, Belém, Sao Luiz, Camocim, Fortaleza, Natal, Recife, Maceió, Bahia. Seven are land ports, five sea. (Pan Am is still negotiating for another land base at Bahia.) At each project, 500 to 800 men are at work. For a construction program of this size, which requires 6,000,000 barrels of asphalt emulsion for the runways alone, Pan Am (a transport company) was not at first equipped. It formed a subsidiary, Airport Development Program, took on Haller Engineering Associates as consultants on soil stabilization, and got Bitumuls of Brazil, Inc. to build plants for making and mixing the surfacing material.
---
Jumping-off point to Africa, the South American Lisbon, is Natal. There Lodestars for the British take off for Bathurst 1,850 miles away. There Pan Am's Capetown Clipper paused last week on an 18,290-mile proving flight from Manhattan to Leopoldville in the Belgian Congo—a flight that will soon lead to regular fortnightly commercial service. Normally a quiet town of 56.165, Natal is crowded and a-boom.
---
For the Natal land base (at Parnamirim) Pan Am is building two runways, each a mile long; a radio station; underground gas tanks; a warehouse, loading sheds, etc. Right next to this field, and probably later to be included in it, is another one built by Air France for its Paris-Buenos Aires run. One hour out of Natal over the Atlantic, a U.S. pilot in the first group ferrying planes to the British at Bathurst noticed a cylinder "missing." He was able to return to Natal and land, though beacon and runway lights were out, the field deserted. Mechanics discovered one very loose spark plug, several wiggly ignition wires.
---
One night a mysterious stranger appeared at a warehouse storing Pan Am gasoline. Sending the simple-minded watchman to phone the manager, the stranger set a World War I-type fountain pen incendiary bomb near some kerosene cans, then disappeared. At Recife, on Brazil's eastern bulge, A.D.P. took over another Air France field, flanked by an extremely powerful Lati radio station. Lati planes still use this field too, almost grazing the heads of A.D.P. workmen. The soil at Recife is nearly pure sand, must be watered down to keep it from blowing away. From a nearby quarry clay is hauled, spread over the sand base in a six-inch layer. Over this go two three-inch layers of soil stabilization mixture.
---
Recently four top-flight Pan Am troubleshooters, on a survey flight were forced to return to the Caribbean without going south of Natal. Despite such obstacles, Pan Am's work progresses both aground and aloft. Two years ago Pan Am operated 35% of South America's airlines; now it operates 63%. Axis espionage and sabotage will be lessened if & when Lati and Condor pack up and leave, as other Axis lines in South America have already.
---
This week Lati. at least, seemed to be on its last legs in Brazil. A progress report on the new airport network, which arrived in Manhattan last week. read like a war communiqué. Then it was delayed by Pan Am's own inexperience, by the late arrival of machinery, by an excess of executives (at Natal for a time they outnumbered the men in overalls). No field is yet complete.
---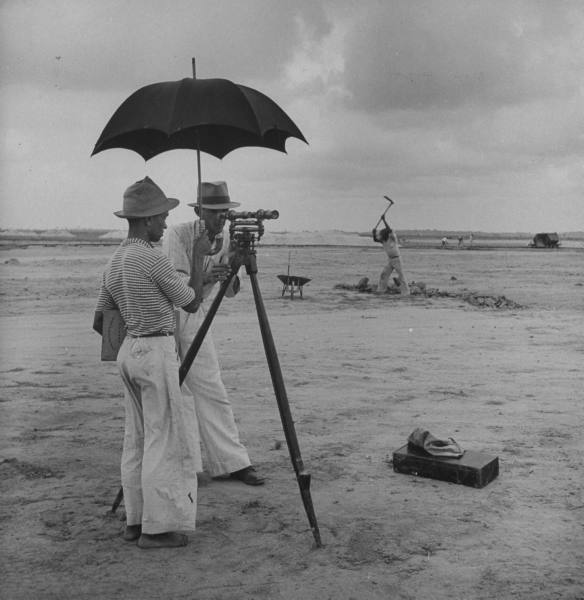 ---
One American engineer takes some ground data for the building of one runway at Parnamirim Field at Natal circa 1942. Photo LIFE
---
Out of deference to Brazilian feelings, no U.S. Army engineers we're involved, but the whole project was delayed at the start by Brazilian doubts. Its hospital is a dormitory for the airport builders; its hotel overflows with engineers, ferry pilots, tractor drivers, Axis spies. Two U.S. bulldozer operators took rooms in a high-class brothel, although they do not like the food. Eventually Pan Am hopes to build a hotel near its field, eleven bumpy miles from town.
---
The watchman discovered the fire before more than slight damage was done. The gasoline was needed for Lodestars that were shortly to leave for Africa. The result is equivalent to good cement, but is cheap, quick and resistant to the equatorial sun. When Pan Am starts its South Atlantic Clipper service, there will be no more reason for Brazil to tolerate Lati. But from now on any more delays will be Axis-caused—as some have been already. (Pan Am's Natal chief occasionally gives him a conto or two.) But he still keeps a tarpaulin well spread over France's only plane at Natal, an old Fokker; he cuts the grass on the runway; and every night, over his radio, he reports "weather conditions" to Dakar.*
---
There at Natal Pan Am is building two bases, one land, one sea. From it Savoia-Marchettis of the Italian Lati line this week still took off for Rome. A hulking Frenchman named Reynaud, in charge of this field, likes to remember how the big Air France boats used to go through every few days with gifts for him, fresh vegetables from Argentina, wine and fruit from Dakar. Since France fell, he has not even received his salary.
---
Since then airport lights shine all night and pilots stand two-hour watches over their planes. To enlarge the runway from 800 to 1,550 meters, A.D.P. is moving by hand labor 120,000 cubic meters of soil, cutting and filling spots often 20 feet off-grade.They were flying a Grumman amphibian which required special flight permissions, and these the Brazilian Aeronautics Ministry, which is a cumbersome body, including some Nazi sympathizers, refused to grant. But Superintendent Fred Wohn had trouble getting enough of the necessary small, hand-pushed dump trucks. A German contractor had some; when Wohn tried to rent them for the A.D.P. project, he flatly refused. Wohn finally got his trucks by sending an intermediary to lease them for an anonymous project.
---
Whether or not they are using this Frenchman, the Axis has plenty of ways to communicate ferry-bomber take-offs from Natal: a Lati radio, a Condor radio, two commercial telegraph companies.
---
---
Above, a rare view of one Pan American Sikorski S-42 "Brazilian Clipper" seen at Recife circa 1940. The long journey extended as far as Buenos Aires.
---
FOLLOWING PAGES ON THE SAME ARTICLE